DePaul women's basketball rolls in final exhibition with 137-76 win over Robert Morris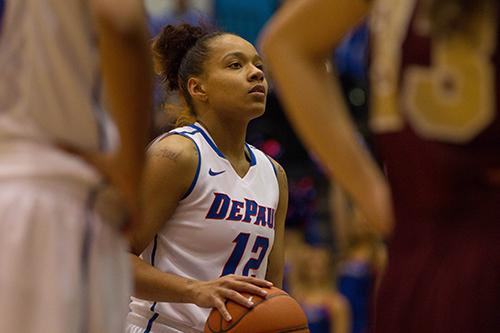 It was another show of preseason dominance as DePaul women's basketball rolled through Robert Morris 137-76 in their final exhibition of the preseason.
"I thought our players were ready to play," Head Coach Doug Bruno said. "We just have a lot to learn and a lot to get better at."
Freshman Mart'e Grays lead the team with 22 points while senior Brittany Hrynko also put in 18. Megan Podkowa also put in a double-double with 15 points and 11 rebounds.
"I think my main focus tonight was getting as many rebounds as I could and cleaning up on the defensive end," Podkowa said. "My shots weren't falling against Saint Xavier but that'll come with my game as long as I can do the little things."
After trading buckets in the first minute of play, even going down 6-5 at one point, DePaul started to pull away. They scored five quick points to go up 11-6, which was the start of a 31-8 run that would carry the Blue Demons through most of the first half.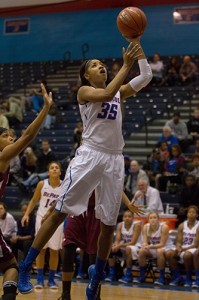 With their lead already in double-digits, DePaul continued to bury the Eagles with offense. By the end of the first half, the Blue Demons had nearly doubled their point total with ten different players registering points. Jessica January was the only Blue Demon with double-digit points.
On the defensive side, the Blue Demons were also beating the Eagles statistic-wise. With nine steals and thirteen defensive rebounds, compared to the Eagles' one on offense, DePaul limited Robert Morris to 28 first half points, leading 71-28.
It didn't take too long for the Blue Demons to pass the century mark in the second half. With 13:50 on the clock, Chanise Jenkins hit a three to put them at 100 points, then a quick bucket by Mart'e Grays sent them past the mark. At the media timeout with 11:30 to go, the Blue Demons held a 106-48 lead.
DePaul kept the offense rolling for the final eleven minutes of the game, putting in 137 points altogether. By the end of the game, eight Demons were in double-digits. The final score was a large margin of victory at 137-76 but Bruno maintained that the Blue Demons had things to work on before their season-opener against Texas A&M.
"There's a lot of things we have to fine tune," he said. "We have to get better defensively for sure and we're still trying to find the lineup."
Sophomore Brandi Harvey-Carr got the start this game over Mart'e Grays, a switch from last week's exhibition lineup against Saint Xaiver. Harvey-Carr posted eleven points and nine rebounds in her 18 minutes on the court.
"Brandi shows flashes," Bruno said. "We have to really pull it together. She's got to be more consistent, more competitive, more combative and we'll see how she grows."
Grays came off the bench and ended up leading the team in points, as well as posting 8 rebounds in a team-high 30 minutes.
""I thought Mart'e really grew in front of our eyes tonight and that's what freshmen do," he said. "She's a really talented player."
DePaul will open their regular season next Friday when they take on Texas A&M, the team that ended their season in last season's Sweet 16.
"We're still a team in evolution," Bruno said. "We're still finding ourselves and figuring ourselves out so we'll find out for real eight days from now."