Chicago Humanities Festival hosts famed poet Eileen Myles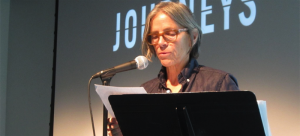 As part of the decorated Chicago Humanities Festival, American poet Eileen Myles read at the Poetry Foundation
Nov. 2. Myles has published more than 20 volumes of poetry, memoir and narrative since the 1980s.
Her most recent book, "Inferno: A Poet's Novel," is about a young female writer living in New York City.  Myles' style is irreverent and dynamic, embracing a sort of modern stream-of-consciousness. Novelist Dennis Cooper described her as "one of the savviest and most restless intellects in contemporary literature."
She is currently working on a memoir, "Afterglow," about her dog, along with a compilation of new and selected poems from 1975 to 2013, titled "I Must Be Living Twice."
The Poetry Foundation's historic reading room was filled to capacity with more than 100 guests in attendance. Myles was introduced as a writer involved with connecting art to its social reality, "on the margins of public and private."
Informal in her casual clothing and thick Boston accent, she began to read from a selection of poems before giving the audience a preview of her upcoming novel, "Afterglow," which she received a Guggenheim fellowship to complete.
"This is one of those times when I thought, 'Wow, I'm writing a beautiful poem,' " Myles said of her poem, "And Then the Weather Arrives." "And then I put the word 'f—ing' in it and thought, 'It won't go in The New Yorker!' "
Myles' narration was fluid and personal; the snappy nature of her poems created a stand-up comedy effect.  The audience was engaged, punctuating her every line with a laugh, gasp or smatter of applause.  She read three poems from different periods of her life and then launched into her explanation of "Afterglow," which she described as a "dog book."
Myles explained "Afterglow" as a project she began after the death of her pit bull Rosie in 2006.  She packed Rosie's belongings into a box that had been forgotten until she moved years later.  She then took out each item and wrote about it as if in a catalog. She described her association of Rosie with her father, who died years earlier of alcoholism.  The passage she selected to read was one in which she and Rosie were in a conversation describing a sort of tapestry.
"Remember, this is the dog speaking," Myles said playfully.  "Afterglow" is poetic, complex and challenging.
She waxed poetic about cadet blue, the rich history of the shade and its eventual adoption by the United States Postal Service.  The motifs of mail, letters and dogs continually appeared.  "The last good thing about letters was cursive.  Cursive was a photograph of the nerves of the writer," Myles read.
Her vibrant oratory style stunned the audience. When she finished theatrically dropping each finished page to the stage's floor, listeners erupted in applause.  She took one question about her writing process.  Myles said she had to "trick herself" into writing through a series of prompts or routines.  Myles' dog memoir "Afterglow" will be released in 2015.