Tribune's first Black sportswriter shares experiences with DePaul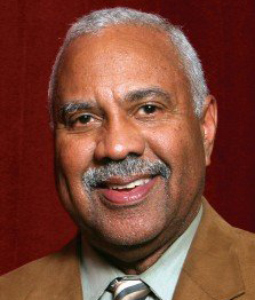 One of the most renowned athletes at DePaul isn't a student — Frederick Mitchell is a sports communications professor known for his extensive experience as an athlete before becoming Chicago Tribune's first Black sports writer from 1974 to 2015. 
Before his success as a sports journalist, Mitchell, like many young adults, was uncertain what his future held. 
"You know, I think, when I'm at school, in college, like most young people, you have a plan A and a plan B and a plan C, not knowing exactly what's going to work out for you," Mitchell said. "I was an athlete in high school and college, I was a place kicker in college and set a lot of records and got a lot of notoriety for that. Kind of in the back of my mind, I was hoping for a professional career as a place kicker."
During the 1960s, Mitchell became one of the nation's first prominent small-college place kickers at Wittenberg University in Springfield, Ohio. He is now the namesake for the Fred Mitchell Award, which the National Football Foundation awards annually to top college place kickers. 
Shortly after graduating from Wittenberg with an English degree, Mitchell accepted a position at Ohio Grove City High School teaching english and coaching football, track and wrestling. He assumed the position in 1969, which qualified him to defer from the military draft during the Vietnam war.
"And that turned out to be a tremendous experience for me, teaching English and coaching," Mitchell said. "I did that for five years and developed some lifelong relationships with students that I taught and athletes that I coached and teachers and other coaches that I worked with, even though it was just a five year period."
After leaving his teaching position, Mitchell decided to look for possible jobs in Chicago. With the help of William Lowry, a prominent Black executive, Mitchell landed a job at the Chicago Tribune's sports copy desk in 1974.
"It was hard for me to articulate it at the time, because I didn't think it was a possibility, but I say, 'well, I'd love to be a sports writer,'" Mitchell said. "Part of the reason it was difficult for me to say out loud what I wanted to do is because there were no role models, and no other Black sports writers at the Tribune certainly… so that had a lot to do, I think, with me thinking that was a realistic possibility for me at that time."
Mitchell spent three years as a copy editor before getting the opportunity to cover high school sports in Chicago and the suburbs. The experience soon landed him an opportunity to cover the Chicago Bulls, followed by the Cubs as well as the Bears. He became the first Tribune writer to cover those three major teams as his main beat, and remains the only person to do so. 
In 1984, Mitchell became a columnist and spent the last 20 years of his time at the Tribune using his extensive network to write about various athletes. 
Mitchell credits his success at the Tribune to his tenacity to overcome unprecedented obstacles. Being the first Black sports writer, an integral accomplishment, posed its own challenges in the workplace. 
"My philosophy always was, let me sort of put my head down and work as hard as I can and be cooperative, be a team player and show people what I'm capable of doing," Mitchell said. "And that's all that I can control. I can't control how other people might feel about the color of my skin. 
"And I was determined to let that be their problem and not my problem if that was the case," he said. "I felt like through my writing, through my work ethic and willingness to work hard, all of that stood out above anything else. And I think most often, when people are given an opportunity to work with people who don't necessarily look like them, they find out that they have much more in common than they have differences."
Despite his persistent work ethic, Mitchell recalled when he almost lost his position at the Tribune after a new sports editor told him he would be better suited to write at an all-Black newspaper instead. 
"So that stunned me, obviously," Mitchell said. "I went over his head and explained that I was not given any reason for this, and long story short, I was told to stay. Eventually, I got the chance to write [and] to prove myself. So this was a traumatic experience from someone who hadn't even sampled my work. He decided on his own that I did 'fit in' which sounds like sounds like discrimination."
Mitchell also highlights the importance of having increased diversity and representation in news rooms, specifically in sports. 
"If you look at sports teams, players that are covered on a daily basis, there's a large percentage, almost overwhelming percentage, in sports like football and basketball are African Americans," Mitchell said. "In some instances, people relate better to someone who looks like them. I think it is important that there's a representation of the types of players and people that you're writing about among the media that's covering them."
According to The Guardian, for the 2018 season, Black athletes accounted for over two thirds of the NFL players, yet only 19 percent of that year's sports broadcasters were Black. Similarly, according to The Institute for Diversity and Ethics in Sport, the NBA comprised 74.3 percent Black athletes during the 2015-16 season. While the majority of these athletes are Black and people of color, sports journalists are largely white. 
"I've said for years that news organizations should be more intentional about reaching this level of diversity," Mitchell said. "Way back when I started, I felt uncomfortable even attempting to be included in such a position with a major newspaper. And I can't help but feel that there are many other capable minorities who felt the same way and never got the opportunity that I got."
Mitchell points out that news organizations can expand their diversity efforts by hiring journalists with nontraditional backgrounds. According to Mitchell, a good sports writer does not necessarily need a journalism background because there are other qualities that make someone a good reporter. 
"If you don't have this kind of connection over your lifetime, with people of color, you're going to miss out on some opportunities to hire some super talented folks," he said.
Mitchell now shares his career advice with his students, whether they want to pursue sports journalism or something else entirely. He tells young people of color that they too can be successful in careers dominated by white professionals, no matter how intimidating it may be.
"I tell my students that invariably, at some point along the line, you're going to come up with someone who questions your ability," Mitchell said. "You have to have confidence in yourself. Take a stand and continue to work hard."
In addition to being the first Black sports writer at the Tribune, his renowned athletic career and awards and achievements, Mitchell has written 12 books, runs his own blog and is an executive documentary producer. According to Mitchell, his 40-plus year career is far from over. 
"I always say that I need a reason to get up every day and be motivated," he said. "So as long as I'm happy, and able, I'll keep looking for projects to either help young people in this field and share the knowledge and experiences that I've had. I always say that I'm a work in progress, even at my age. Despite some of the things I've been able to accomplish, I'm constantly trying to get better."