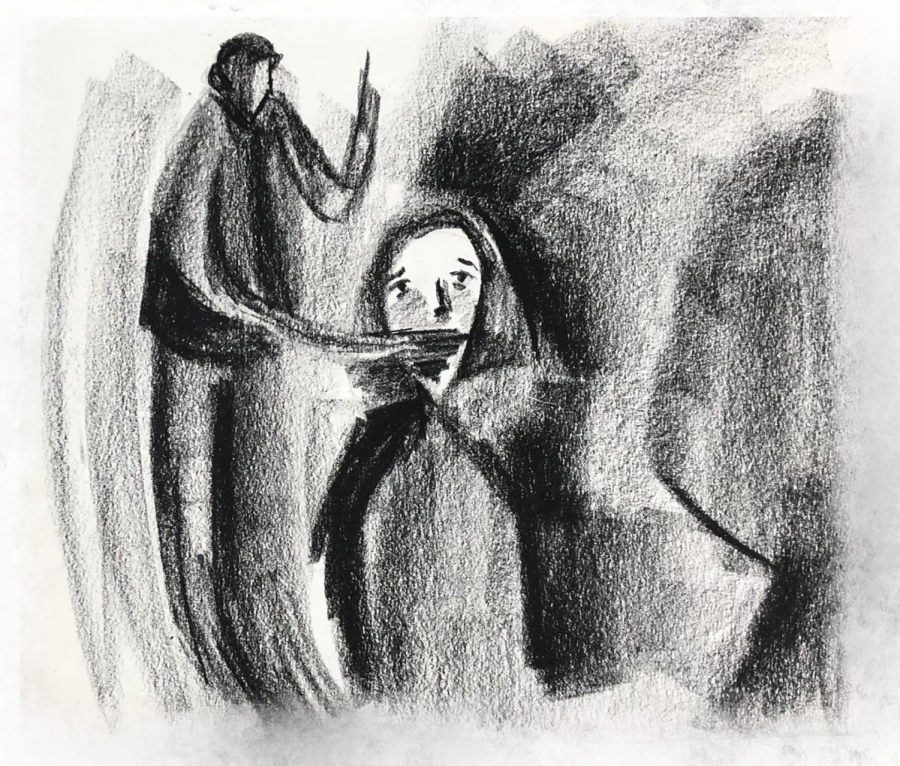 Alicia Goluszka
Content warning: This story includes mention of domestic and emotional abuse, sexual harassment, sexual assault and rape. If you or someone you know have been abused, resources are available via the Rape, Abuse & Incest National Network (RAINN) at www.rainn.org. The National Sexual Assault Hotline is 1-800-656-4673.
Disclosure: Most of the names of survivors have been changed by The DePaulia for their privacy. The names of some alleged perpetrators of sexual misconduct have been changed by The DePaulia due to their status as students at the time of the incidents. 
Rebecca sometimes works in the same DePaul building as her alleged abuser.
Amber's perpetrator was found in violation of the university's sexual and relationship violence policy — and was still promoted.
Jack had lewd photos taken without his consent in a DePaul bathroom.
Lauren didn't want to report her assault — but rules at DePaul stopped her from making that decision for herself. 
All four survivors, some of whose names have been changed to protect their identities, have more in common than their ties to DePaul. Each was failed by the systems put in place by the university intended to protect them from sexual and emotional violence and abuse.
In 2019, The DePaulia reported on the Title IX office's accessibility and conduct when students suggested their cases had been mishandled. A two-year investigation by The DePaulia into the university's handling of Title IX cases uncovered a pattern of negligence and disregard for the safety and emotional well-being of the DePaul community regarding sexual and relationship misconduct. 
Title IX is a federal civil rights law that was passed as part of the Education Amendments in 1972. The law protects people from discrimination on the basis of sex in education programs or athletics that receive federal funding. Managing sexual violence cases is a large portion of the responsibilities universities hold under Title IX. 
The new federal Title IX rules, put into effect in August 2020, altered preexisting university guidelines, adding a requirement of cross-examination — questioning by the opposing counsel — for both plaintiffs and defendants and eliminating all universities' responsibility for handling sexual harassment "occurring off-campus, in a private setting, and outside of the university's education programs or activities," according to DePaul's updated policy. 
The university has said it will continue processing all reports of sexual misconduct, regardless of where they took place. 
DePaul's Title IX office is tucked in a corner of the third floor in the Student Center, a small space with fewer than 10 offices and a mid-sized conference room. Established in 2015, it provides protection on sex and gender-based discrimination such as "sexual harassment, sexual misconduct, sexual violence and gender-based dating and domestic violence and stalking," according to DePaul's website.
The office —  presently made up of the Director of Gender Equity (Title IX coordinator), two investigators, a case manager and five deputy Title IX coordinators who offer support to the primary coordinator — has seen significant turnover in the last several years. The current Title IX coordinator, Kathryn Statz, is the third individual to hold that role in the last two years, and the other three individuals whose primary duties lie within the Title IX office joined during or after March 2020. 
Incidents of abuse are not unique to DePaul. But the ways in which the university interacts with survivors of sexual and emotional violence and misconduct is in direct contradiction with the university's Vincentian code.
While each story of abuse is different, each is reflective of a system that creates barriers for survivors of abuse at DePaul.