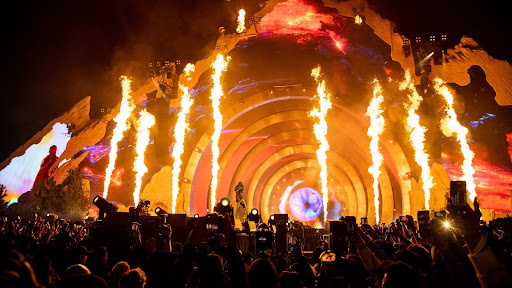 Eight people were killed and hundreds injured in a deadly crowd surge during Travis Scott's performance at the Astroworld Festival. Several victims, including 9-year-old Ezra Blount, were seriously injured. Scott is now facing numerous lawsuits after the disastrous music festival.
Footage from every angle of the crowd — which swelled past expected capacity after dozens of fans broke into the festival — was posted on social media by hundreds of traumatized fans. Graphic videos of medics performing CPR on unconscious festival goers, piles of people knocked over by the force of the crowd and fans dancing on top of medical vehicles crowded TikTok and Twitter feeds the day following this tragedy.
Kevin Vilchez, 22, was one of the many in the packed crowd. To Vilchez, an entrepreneur from the Chicagoland area, Astroworld was just one of many activities he had planned to enjoy during an anticipated vacation to Houston. First and foremost, however, he just wanted to spend time with old friends. Things at the festival started to look concerning, Vilchez says, hours before Scott took to the main stage.
"Around 1 p.m., a huge wave of people started to come in," Vilchez said. "It's crazy because there's no video of it, but there was a mass group of teeangers that just kept teasing the security guard — faking them out as if they were all going to barge in."
After that, Vilchez and his group of friends went to see Don Tolliver at 4 p.m.. The crowd was much denser and rowdier than Vilchez and his friends — who had attended previous Astroworld festivals — expected.
"There were just waves of people," Vilchez said. "No music would even be playing and they would just start this wave that had people falling to the ground. People would just be pushed and shoved against each other. I honestly had to get out."
As Vilchez cleared a path through the crowd, he was surprised when his vision went dark for a brief moment. Even after staying hydrated all day, he started to pass out. "It came out of nowhere," he said.
Vilchez kept pushing through the day, however, and ended up against the railing of the friends and family section for Scott's performance, which was set to start at 8:45 p.m. He chose the spot by the VIP tent for a reason — it was an area to escape into if the crowd became too much.
Numerous accounts from concertgoers state that the crowd grew rougher and rougher once a timer counting down to Scott's performance appeared on the big screen. "Once the timer got down to 10 seconds, things started to get very crowded and I could not breathe," said Astroworld attendee Gabi Simeoni in a TikTok video posted on Nov. 6 that now has over 250,000 likes.
"It was just so many people cramped, I've really never experienced that many people crammed into me," Vilchez said.
In Simeoni's video, she recounts how she began noticing unconscious bodies after the third song. Vilchez noted the same: a mass wave of people surging his way shortly after Drake made his surprise appearance. "People who had been helped up from the floor or people who were passed out were all coming towards us," he said.
Scott has a history of inciting chaos during his concerts. The rapper was arrested during his performance at Lollapalooza in 2015 after he encouraged attendees to break down the barricades and charge past security. Footage of Scott's performance captured the rapper telling the crowd, "Middle finger to security right now. We want rage."
Ilona Willsey, 22, attended Scott's Lollapalooza performance with her stepsister and witnessed the chaos unfold. "He definitely made a dangerous environment and it was really scary," Willsey, a political science student at DePaul, wrote. "He kept trying to hype things up beyond what was safe (or) necessary."
Willsey watched from the back of the crowd as fans began to charge the barriers and run to the stage. Her stepsister, who was deeper in the crowd, was caught in the stampede and trampled.
"These two huge guys had to pull her up and run her to the medic tent where she received basic first aid," said Willsey. She recalls Scott getting arrested mid-performance and being escorted off stage.
Attendees recorded all aspects of the distress in the crowd. Numerous videos show fans screaming out for help in between songs.
"Hundreds of people ripped their vocal cords apart screaming for help," wrote Seanna Faith, an attendee who went viral for climbing onto a platform and pleading with a camera operator to stop the show. "The screaming intensified, as more people realized they could not breathe. We begged security to help us — for the performer to see us and know something was wrong. None of that came. We continued to drown."
Although Scott did pause the show and point out a fan climbing into a tree, he did not end the show even after a mass casualty was reported to the Houston Police Department. In another viral video, it appears that Scott is gazing down at the medics performing CPR on an injured young man. He turns away and continues to sing.
Fans were enraged by his negligence and compared this to footage of Scott halting his performance in 2015 for several minutes after a fan stole his shoe.
Vilchez noticed that the unconscious people from deeper in the crowd were being pushed to the front of the section — toward the railing where he was standing. He estimates that he saw over 20 unconscious people during the show. "I kinda lost count," Vilchez said.
Vilchez said he observed a line of teenage boys preventing unconscious bodies and panicked attendees from moving forward.
"They saw all these helpless people coming towards us," Vilchez said. "We were trying to lift [people] and put them into the VIP section. And these teenagers were pushing them back."
Vilchez noted that the boys were making fun of attendees who had fainted or were injured. "The [wave] of unconscious people kinda stopped there, which probably made their situation worse," he said.
Despite the chaos, Vilchez stayed until the performance ended. In addition to weak cell phone service while trapped in the crowd, Vilchez noticed that the security guards were mainly young adults who appeared inexperienced and unprepared. Vilchez remembers seeing the distraught faces of attendees as he left the venue.
"I saw a bunch of people broken, crying — they were all just really sad or really angry," Vilchez said. "They were angry that no one else would help them, or sad because they were trying to help someone and couldn't."
The image that remains on Vilchez's mind is that of a man who was severely upset after the show.
"It's kinda scarred me," he said. "He had the most broken face ever. He kept saying, 'I failed him. I couldn't help him at all.'" Vilchez said that this man explained how a young boy was unconscious in his arms during the performance.
"All the people that came went there to have a good time," Vilchez said. "No one knew this was going to happen."
After headlines of the tragedy broke Saturday morning, conspiracy theories surrounding the festival began to take shape on social media. TikTok was the breeding ground of theories claiming that Scott's deadly concert was a demonic ritual or an Illuminati initiation. The theorists cite the dark imagery and ample pyrotechnics used by Scott to claim that the concert purposefully resembled hell. Another TikTok user posted a video that amassed nearly 75,000 likes stating that low-vibrational frequencies created an energy-harvesting, mass mind control of the crowd.
"The flyer was full of Freemason occult symbolism. This was a Satanic energy harvesting ritual that resulted in eight people dying," one Facebook user wrote.
The imagery and slogans used by Scott at the festival were scrutinized by these conspiracy theorists. At the show, the sentence "See ya on the other side" was displayed on the screen. Those who believe that Scott conducted this festival as a part of a demonic ritual claim that this phrase foreshadowed the deaths that would later occur.
"Astroworld was a DEMONIC RITUAL!" one Twitter user claimed. "Please don't be blind."
Even the structures on stage and around the festival were examined for demonic reference. One of the recurring landmarks of the festival is the iconic gateway which resembles Scott's head with an open mouth. Twitter theorists have compared this imagery to a variety of demonic depictions, such as the painting "Christ in Limbo" by Hieronymus Bosch.
Doesn't seem far off that people believe Travis Scott #AstroWorld festival was a sacrifice.

Nothing is a coincidence right?

Exhibit A: Mouth of Hell, referenced in Dante's Inferno.

In a conspiracy world, you all entered hell. pic.twitter.com/h6xf0iXaqW

— Nero 🇵🇷🧛🏼‍♀️🦇 (@NerosUNDRWRLD) November 7, 2021
To Vilchez, this imagery is a coincidence. "I think people are thinking too deep on it," he said. "That's just Travis' artistic view."
DePaul alumna Carla Marie also disagrees with conspirators. "Astroworld was a horrific, preventable tragedy of capitalistic greed," she said. Marie, an occult practitioner who makes spiritual TikTok content, does not believe that there was any satanic or demonic motive behind the tragedy. She blames human error, narcissism and negligence on Scott's part.
After the catastrophic crowd surge, the remaining days of the festival were canceled. Scott, who refunded all attendees and promised to cover funeral costs of the deceased, is partnering with counseling app BetterHelp and offering a month of free therapy sessions to the survivors.
Marie has a theory of her own. "[The concert was] intentionally poorly planned so that Travis could profit off of partnering with BetterHelp and exploiting the traumatic experiences of those who were affected by the tragedy," she said.
Theories aside, those who attended the concert are still reeling. Hundreds of those in attendance have shared their experiences on social media, detailing the crushing crowds, lack of medical assistance and screams of desperate attendees.
After the show, Vilchez and his friends sat silently in the car on the way back to their Airbnb. He said that although they were shaken up after witnessing the disaster, they wanted to remain positive and uplifted. After the other festival dates were cancelled, Vilchez ended his vacation early and returned to Chicago on the morning of Nov. 7.
#AstroWorld WAS DEMONIC RITUAL pls dont be blind ! pic.twitter.com/2m8i1PCY0c

— Miran (@Miranmstfa) November 6, 2021
"We were baffled by what happened," Vilchez said. "My friends and I are still processing it."