ASL interpreters give voice to DePaul's Theatre School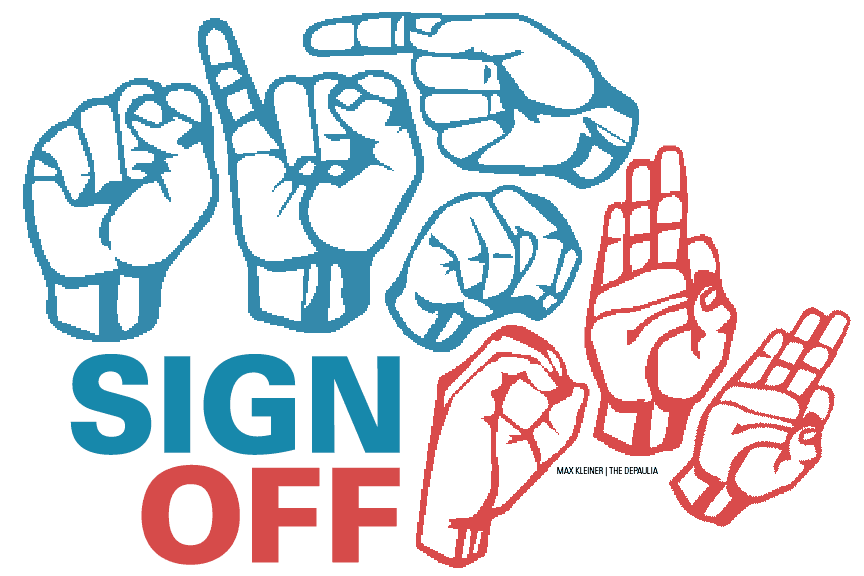 The Theatre School earlier this month brought to life "The Phantom Tollbooth," Norton Juster's vivid children's novel of a young boy who adventures to learn the meaning of time. But as one spotlight illuminated Milo and his watchdog Tock, another shined on two women to the far stage right who were engaging another audience.
These theater fans were deaf, watching as two interpreters signed an "M" to the forehead to signify Milo as he traveled through the Kingdom of Wisdom. The show was one of many accessible performances that The Theatre School hosts.
The program began in 1982, the same year that Theater Manager and Access Coordinator Leslie Shook began working at DePaul. The 2014-2015 season includes 15 accessible dates.
Those who are blind may arrive early for a "touch tour" of the performance, during which they can feel the on-stage props and listen to an audio description of each character. Throughout the performance, a trained audio describer relays what is happening on stage to the guests through earpieces.
For deaf theater fans, this includes live American Sign Language interpretation or audio captioning. As opposed to medical or legal interpreting, Shook said artistic interpretation requires a different, more creative skillset.
Interpreters are given the script in advance to prepare for the part they are assigned, much like actors memorize lines. For most plays, Shook said, they interpret for the same role throughout the performance. They are also given a CD with the audio of the play and attend the performance in advance to practice their given roles.
"I try to visualize what that looks like, but it never looks the same on the page as it does when you go and see the show," Sheila Kettering, ASL interpreter coordinator for Theatre School productions, said. "(When I get the CD), I listen to it everywhere I go. I won't listen to anything else."
Once Kettering receives the script, she takes notes on how it might be interpreted more creatively. If there are multiple interpreters, they meet and  practice together to bounce ideas off of one another.
"You can convey things with facial expressions and body language, and the way you produce the signs that gives the flavor," she said.
Susan Rangel, a modern languages faculty member who teaches ASL, said it can be difficult for interpreters to ensure that their messages are conveyed with the proper formality.
"ASL has the ability to convey any and all messages in whatever situation," she said. "But this is very difficult for hearing interpreters because it requires processing and mediating between the two parties."
Some words, especially names, are not easily translated into ASL. Shook provides a playbook insert, which describes the premise of the play and informs guests about how certain words will be translated. "The Phantom Tollbooth" presented a few of these difficulties, because there is no sign language word for Azaz (the word king) and Mathmagician, but Shook said it often works in the context.
"(The interpreters) have given them the names 'Word King' and the 'Numbers King,'" Shook said.  "The kids will know what 'words' and 'numbers' are in sign language. After a couple of times seeing who the people are and getting that indicator, they'll know who is speaking."
The League of Chicago Theatres publishes a calendar to communicate when events are scheduled, to ensure that similar accessible shows are not conflicting. Still, the loyal but selective audience pushes The Theatre School to continue to improve the quality.
"Not everybody likes every play, so not everybody is going to like every interpreter performance either," Shook said. "But I think just making it possible for someone to understand what is happening on stage is something that people appreciate."
In the future, Kettering is looking to include a more diverse set of interpreters with different skillsets. For "In the Heights," she included Latino interpreters to contribute to the flavor of the Latin-American musical.
One of Kettering's most ambitious plans has yet to come to fruition. Next year, she is hoping to use a deaf interpreter for one of The Theatre School's plays, especially a children's performance.
"I just want the children in the audience to look at the deaf interpreter and think, 'I can do that,'" she said. "That's my goal."
Kettering would sign to the deaf interpreter to relay the timing and give cues. To some, it might seem counterintuitive, but Kettering said this would produce a better audience experience.
"It would be fabulous because (the deaf) are fabulous," she said. "They're so much more visual than I am, or any hearing person."
Though working for The Theatre School is not Kettering's only position, the collective work and ongoing push for better performances has captured a bigger audience to grow over the years.
"It's my passion. If I could do theater all of the time, I would. I feel so lucky every day that I get to do this work," Shook said.