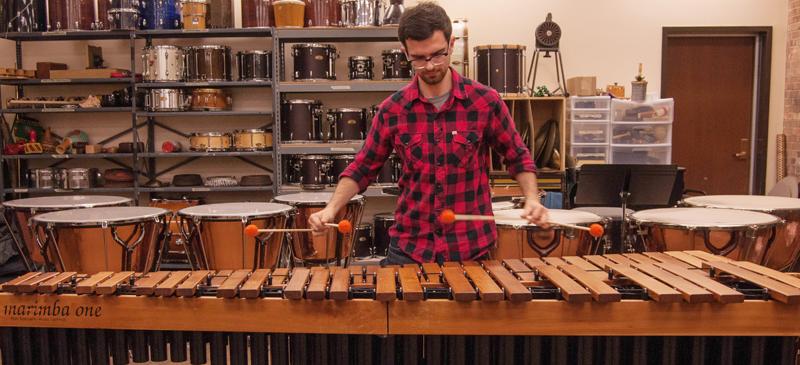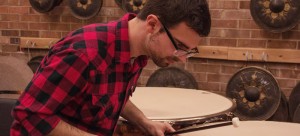 The School of Music at DePaul University has more than 100 pianos, large percussion instruments, and an inventory of other highly specialized instruments. With so many instruments, the School of Music has to keep up with maintenance and repairs.
The School of Music has three main groups of instruments kept on the grounds: pianos, percussion and harpsichords. They also have the collection of specialized instruments and 50 "elementary- level, music education instruments" such as trumpets and flutes, according to Associate Dean for Administration of the School of Music Robert Krueger. 
Krueger said they have a piano technician staff of just four people.
In the two concert halls, there are four pianos total, two at each location. These pianos are tuned once per week, Krueger said. The studio grand pianos the professors use are tuned every two or three weeks, while the upright pianos in the practice rooms are tuned two or three times per quarter.
"These pianos get used all day long," Krueger said. "So they do have an emergency 24/7 hotline just in case."
Other than tuning, which happens periodically throughout the year, the School of Music tries to have one major rebuild on a piano every summer, Krueger said. Because it can take up to two years, according to Krueger, for a piano to be overhauled and rebuilt, the best time to send them out is during summer break.
Similar to the pianos is the harpsichord. Jason Moy, the harpsichord and keyboard coordinator, said it "is a keyboard instrument," but unlike the piano its "strings are plucked by quills rather than struck by hammers."
Moy said the school has three harpsichords, a large double-manual (two keyboards), a smaller single-manual (one keyboard) and an even smaller one called a spinet. He said harpsichords can have up to three keyboards, but this is rare.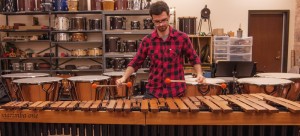 Maintenance such as replacing strings or the plastic quills used to pluck the strings can be done by Moy or his student assistant, as well as the tuning of the instruments. 
"Our harpsichords need to be tuned several times a week in order for them to be in tip-top shape for lessons and ensemble rehearsals," Moy said.
However, Moy said the instrument is "almost entirely made of wood, which makes it much more susceptible to changes in humidity and temperature," so larger repairs with the wood cracking or warping are done off campus in a workshop.
The pianos and harpsichords aren't the only instruments that have to be sent out to be repaired either. The music school has a selection of specialized instruments, such as two piccolos,  three bass clarinets, four basset horns and many more which are also sent out, Krueger said.
Many students don't have these specialized instruments and others they can't carry their instruments to school every day, so the School of Music also has a collection of percussion instruments.
Whereas the pianos are sent out to be repaired, but are tuned in house, the percussion instruments are the opposite. They are sent out for tuning and larger repairs, but some fixes can be done at the school, Michael Green, percussion coordinator, said.
Fixing wires that get loose or replacing the heads on drums can be done at the school, Green said. He said that drum heads need to be replaced almost every year.
Other than that, Green said "hardware is a big issue."
"There's just a million little pieces and moving parts," Theo Kalaitzis, a grad student who helps with the maintenance and repair of the percussion instruments, said.
This is true not only for the instruments, but for the variety of stands that go along with them. These can bend or break, and sometimes the felt on the bottom can get lost, Green said.
"It's like socks," Kalaitzis said about the missing felt on the stands. 
Other problems include the leather straps, such as on hand cymbals. Green said he once went to a concert and the strap broke on one of the hand cymbals, and it flew out of the performers' hand.
Gongs can have the same type of issue with the ropes that hold them up. Kalaitzis said he went to a concert where one rope broke in the middle of the show, so for the remainder of it the gong was held up by just one rope instead of two.
With instruments, one can never know when there is going to be a problem, whether it is in class or during a performance. 
"If you ask any professional performing harpsichordist, they will tell you that some instruments are almost as finicky as people," Moy said.