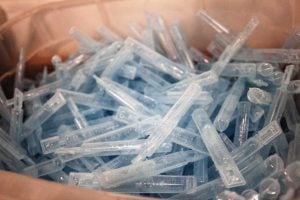 On a dark corner in Humboldt Park, Chicago's forgotten drug users — or junkies, as some critics refer to them — search out a small form of sanctuary in what seems like the unlikeliest of places.
A mobile clinic run by The Chicago Recovery Alliance (CRA) sits many nights near this corner at Division Street and California Avenue, or around other locations such as in North Lawndale or Englewood, and operates with the ultimate mission of harm reduction for heroin users. Within the confines of this small truck — comparable to the size of a blood drive trailer — volunteers work hard to prepare supplies for safe drug use, such as sterilized needles, cotton filters, kits of naloxone used to treat heroin overdoses and clean "boilers," which are used to prepare heroin for use.
Among the other vital services provided are educational pamphlets used for disease and safety awareness, testing for various infectious diseases, condom provision and assistance for those who express the desire to reduce drug use.
The services operated by the CRA are representative of a small movement in the United States meant not to stigmatize drug users, but to safely educate and assist drug users with the ultimate purpose of reducing risk and eliminating drug-related complications and deaths.
"We don't tell people what to do or not do," Suzanne Carlberg-Racich, a DePaul public health professor who helps administrate the clinic, said. "What we are here to do is provide the tools to let people do what they need to do safely, as well as help them get clean if they wish to do so."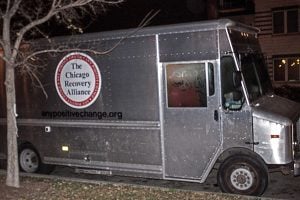 Drug users who wish to receive services at this clinic are asked of their age, date of last drug injection, purpose of visit and whom they share their supplies with. Subsequently, they receive a card that legally protects them from certain paraphernalia charges should they be approached by an officer upon leaving the clinic.
Harm reduction clinics and educational initiatives focusing on safe use for other "hard drugs" exist sporadically across the nation as well. "Crack-cocaine users, for instance, may use hot metal pipes that burn their lips and create unsafe open sores," which Carlberg-Racich explained can especially create disease risks for sex-workers. "If (our program) had more money, we would help provide safer glass pipes that don't get as hot."
Similarly, a program named DanceSafe provides ecstasy-testing services, primarily because MDMA — the main active compound in ecstasy — is often unknowingly purchased while cut with other harmful substances.
Drug policy has been a hot button issue recently across the United States. In addition to widely publicized debates regarding marijuana, the public eye has focused on other drugs as well. For example, ecstasy use — popularly known as "molly" — has come under heavy scrutiny after a multitude of high-profile hospitalizations at electronic music events because of complications stemming from improper use.
With regards to heroin, reported national use has risen from approximately 373,000 users in 2007 to 669,000 users over the past year. Especially in recent years, much attention has focused on the prevalence of heroin users among young suburban teens. A study by Roosevelt University in 2010 reported that the nationwide average age of first use was 18, and that 76 percent of youth entering public treatment for heroin were white. Similarly, the report stated, "Participant drug knowledge was low, particularly in regard to heroin."
An NPR survey claimed that many drug-using respondents turned to heroin because of its cheap price, relative to prescription opiates. Street prices for OxyContin pills were reported to be about $80, while heroin can be as low as $10 per dose.
"A crackdown on illicit prescription drug use has, surprisingly, been a big factor in (many users') turn to heroin," Dan Bigg, director of CRA, said. "(Heroin) drug demand may even grow in the future, and we as a society need to do a better job in putting our resources where the need is."
The Roosevelt University report said that in the Chicago area, more people are admitted to the hospital for heroin-related complications than in any other metropolitan area.
Despite the general uptick in overall heroin use, however, the number of heroin-related deaths in Cook County has fallen. Overdose deaths decreased from 465 per year to 308 per year in the first seven years of the CRA's opiate overdose prevention program's existence, and needle exchange programs have been shown to reduce rates of HIV and hepatitis as well.
"The fact that heroin is the most common injected drug is a main decision for why we chose to focus our efforts (on heroin), as injection is such a risk factor for diseases," Bigg said.
Although the midterm elections' legalization of marijuana in new states (Alaska, Oregon and Washington, D.C.) indicated a possible liberalization of attitudes on "soft drugs," public opinion may continue to be uncertain of policies regarding "harder drugs."
"People who argue that (these programs) encourage drug use is fallacious, research hasn't supported that sentiment," Carlberg-Racich said. "When people in the media ask me this, I tell them, 'Do these needles make you want to shoot up?' It's similar to the argument that condom education promotes sex."
The use of federal funds for needle-exchange programs was legalized in 2009. However, funding has often been cut because of variances in political opinions.
"Many politicians may be afraid of presenting an image of 'being soft on drugs," Carlberg-Racich said. "Funding repeatedly swings up-and-down, and with our new governor it doesn't look terribly promising for the near future. At times I've paid for things out of my own pockets, but there's only so much we can do."
"Roughly nine out of 10 people would accept methadone treatment if it were readily available," Bigg said, describing the method used to assist with heroin withdrawal symptoms. "People would ideally be able to pick this up similarly to how diabetics can easily go to clinics to pick up insulin … but as it is, we are not always funded for what I would consider to be 'reasonable coverage.'"
The CRA's clinic has received some fundraising help from the DePaul Chapter of Students for a Sensible Drug Policy (SSDP), and DePaul students within this organization intend to stay involved in the future, either through fundraising, awareness efforts, or provision of volunteers to prepare cotton filters for drug users.
"Our last fundraiser wasn't as great as we really hoped for it to be," Kari Semel, co-founder of SSDP, said. "But we think every bit helps and intend to help out more in the future. Besides, even the mere presence of fundraising efforts for (harm reduction clinics) helps people within the student body become more aware that these services and policies exist, and we hope to do more movie screenings and awareness efforts as well."