DePaul men's basketball upsets Stanford 87-72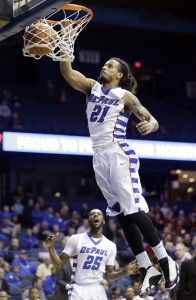 Myke Henry leads the Blue Demons with career-high 29 points
When Myke Henry transferred to DePaul from Illinois, he switched universities to be able to play high quality basketball at a fast pace — a style that would be able to utilize his athleticism.
Henry had individual success on Wednesday where he scored 24 points, but the overall quality he envisioned was lacking as DePaul dropped a loss to previously winless Lehigh. Henry and the Blue Demons said they had a chance to play at a higher level when they faced Stanford on Sunday, a team that reached the Sweet Sixteen last season.
Mission accomplished.
Henry scored a career-high 29 points, Jamee Crockett had 19 and DePaul men's basketball knocked off Stanford with an astonishing 87-72 upset.
"I just moved without the ball and when I saw an opening, I took it," Henry said. "We bothered them and they're a big team. We just used (our athleticism) to our advantage. This was the type of basketball I transferred here for."
The Blue Demons (3-1) were able to bother Stanford with an up-tempo pace that succeeded on both sides of the ball. DePaul crashed the paint, scoring 36 points inside and then used that to succeed from shooting the ball well from beyond the arc.
On the game, DePaul shot 54 percent, including 50 percent (7-14) from the 3-point line.
But it was defensively where the Blue Demons were able to standout as well. DePaul forced 12 steals and 21 turnovers, which led to 25 points off of them.
Stanford (4-2) was held to 21 percent (4-9) from beyond the arc, down from their season average of 38.8.
"I am very pleased with how our team responded from the other night where I felt like we didn't have a tremendous effort," DePaul head coach Oliver Purnell said. "We contested Stanford from the start on the perimeter, which I felt was key into getting us off to a strong start."
DePaul went into halftime with a 41-30 lead, in part due to a burst of energy in the last two minutes of the half. A Henry dunk capped off a 7-0 run as the teams went into the locker room.
In the second half, the Blue Demons carried their momentum. They led by as many as 18, taking a 52-34 lead with 16:30 remaining.
But Stanford, a team that went 23-13 last season, stayed composed and made a run of their own. Stanford cut DePaul's lead to five, 60-55, with just under ten minutes remaining, but that's as close they would come.
Five Cardinal players finished in double figures, including Rock Island's Chasson Randle. Randle, who had a crowd of supporters at the Allstate Arena, had 16 points and six assists.
The Blue Demons, however, were able to limit Randle as well, forcing seven turnovers.
"He's had a few turnovers if you look at the stat sheet, not just this year, but last year he's struggled with that," Purnell said. "He's the head of their team, so pressuring him was the first thing on our minds."
Down the stretch, DePaul's athleticism kicked into a second gear. Guards Billy Garrett Jr. and Durrell McDonald were able to find Henry and Crockett, who both had the ability to convert of get to the free throw line.
A pair of Crockett free throws gave DePaul a 13-point lead , 78-65, with 2:30 remaining. The Blue Demons shot 75 percent from the line (18-24), and 21 of those attempts came in the second half.
"I was more aggressive and also had more patience as a whole," Crockett said. "As a team, we just played with a lot more enthusiasm. In practice, we had an emphasis on defense, defense, defense."
The loss for Stanford was just their second loss of the year, who had only lost to No. 4 Duke. It was the type of win that DePaul's men's program had been missing over the years.
And unlike year's past where the Blue Demons would play well in stretches, this wasn't a game where the team melted down either. When asked if this was the type of win that would lead to the program's relevance again, Purnell said he thought so.
"We definitely need a few more of those (to be relevant again)," Purnell said. "They were a good team, and we had to play well to hold them off. I thought we did a good job of closing the game out.
"I thought we played much improved from the last time out, and that's what we want to do," he said. "We want to keep getting better each game and each month, so we're playing our best at the end."
DePaul returns Tuesday at 8 p.m. against Northern Illinois University.