'I'm so incredibly humbled:' Joyana Dvorak featured as one of DePaul's 125 faces.
Room 311 in the Student Center radiates a sense of warmth and welcome. At first glance, the well-worn couch and communal kitchen could be mistaken for a community lounge rather than the Division of Mission and Ministry.
While the department may appear to be far from the vaulted ceilings and stained-glass windows that many associate with Catholic architecture, the essence of tradition for Joyana Dvorak, the associate Director for Student Engagement & Mission Integration, resided in the answer to the question of what must be done.
"When I think about Vincentian heritage or the legacies that Vincent DePaul and Louise de Marillac left for us, I think the heart of it for me is this idea of believing that another world is possible and using our hands, using our hearts to be part of co-creating that other world," Dvorak said. 
Recently named one of the 125 faces of DePaul, Dvorak's commitment and passion to embracing the Vincentian values can be felt by anyone within her presence.
In recognition of the university's 125th anniversary, students, staff, faculty and alumni nominated individuals who exemplify DePaul's values.
Dvorak's cheerful personality shines through every ounce of her tall stature and bright smile, even from a distance.
Throughout the 15 years since she stepped into her role as, Dvorak has never lost sight of her desire to create a sense of community and belonging within the division.
She initially oversaw the university's immersion trips for seven years, but it wasn't until after the birth of her son that Dvorak knew she wanted to create something new for DePaul.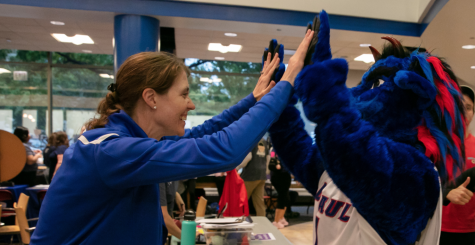 Meet Me at the Mission, an undergraduate program founded by Dvorak alongside a group of student leaders in 2015, exemplifies this goal.
"The whole point of it is that no matter if you — whatever faith or religious background or none — I really believe that there is something about the Vincentian values that all of us as humans can connect too," Dvorak said. "Part of why Meet Me at the Mission was started was actually to reach out to students who would never necessarily come to the division of Mission and Ministry."
Throughout her time at DePaul, Dvorak has not only reshaped the university's perception of Vincentian values but also become a grounding presence in students' lives.
"One of my favorite things about her is how truly she cares about the well-being of every person, and that's a value of the Vincentian mission," said Elizabeth Amaya, a DePaul senior and member of Meet Me at the Mission. 
Since meeting Dvorak during her freshman year, Amaya has remained candid about her impact during her four years on campus. 
"One thing that I just always carry with me, is whenever I see Joyana, she'll always ask me, how are you doing? Have you had time to breathe?" Amaya said. "Usually, the answer is no. Like, I let out an exhale."
While it is not every year that faculty and staff are so openly recognized for their presence on campus, it is evident that Dvorak deserves her place among the other 124 nominees.
"She incredibly deserves it," Amaya said. "She is the person that always sees people that always see students and will always generally care about how they're doing, and their well-being is."
DePaul alumna Alicia Zapart articulated similar praise for Dvorak's ability to create a sense of community within the division of Mission and Ministry. 
"I was part of the DePaul Community Service Association, so I was thrust into Mission Ministries workings a little bit, and this was something that I wouldn't have gotten into if it wasn't for my scholarship," Zapart said. "Joyana specifically was one of my mentors, and she was just someone that loves celebrating small wins with you."
Although Zapart may not have interacted with Mission and Ministry on her own accord, Dvorak's uplifting presence made her feel welcomed and appreciated. 
"Joyana absolutely deserves that award," Zapart said. "She is somebody who knows how to welcome others and how to lift up people's spirits, so she's totally deserving of recognition for that."
Dvorak expressed nothing but humility when discussing the university-wide recognition. 
"It's not really about Joyana," Dvorak said. "It's really not, but I think it's more about how the impact has come through how the students [and how] each of you find ways to use your gifts and bring life to this mission."