Closing of Englewood Whole Foods provides residents with more questions, fewer options and even fewer solutions
After less than seven years of operation, the Whole Foods grocery store at the intersection of 63rd St. and Halsted had shut down operations and boarded up its windows on November 13th of last year.
The large green fluorescent lettering was removed and now has a Save-A-Lot advertising tarp garnishing the building instead, signaling a bleak and controversial near future of the space.
Before the official opening in September 2016, on April 2, 2014, former Chicago Mayor Rahm Emanuel said, "I am proud to move forward on this critical investment in the Englewood neighborhood and to work to ensure that all Chicagoans have access to fresh, healthy groceries in their communities," alluding to the new store.
Almost nine years after this announcement, easily accessible, healthy and fresh food in the Englewood community is still scarce in comparison to other parts of the city. Following the controversial response to the planned opening of Save-A-Lot, there is not much certainty among residents that this problem will see many positive changes.
"It almost was like the Whole Foods was supposed to be like some beacon that Englewood wasn't the neighborhood that people thought it was. But I don't think that that's the way to necessarily, like show people outside of our community what our community is necessarily," Ashley Johnson, the Re-Up Program Manager at the Resident Association of Greater Englewood (R.A.G.E.) said. "It's just like, 'Oh, well we have an upscale grocery store.' That doesn't show who we are as people."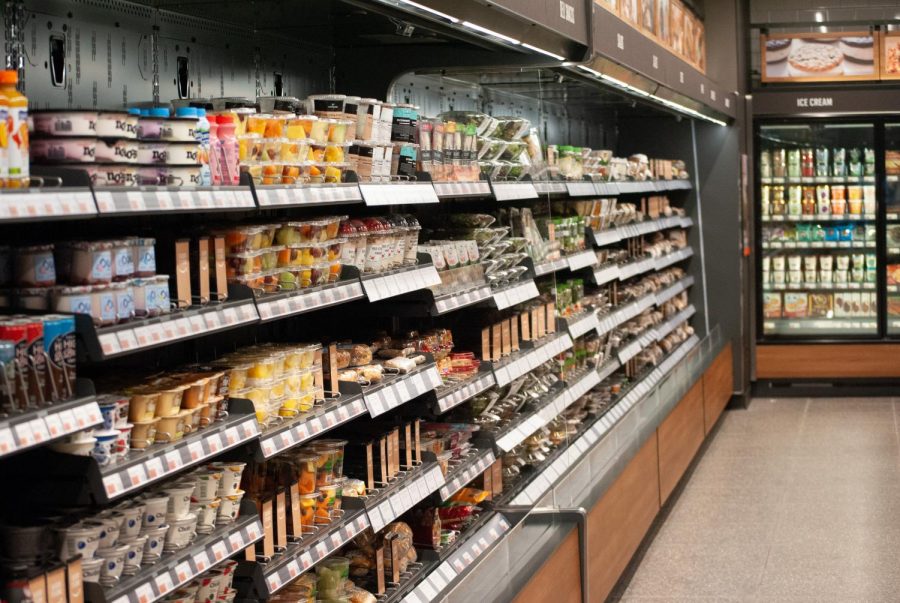 Being in a position where her workplace is located near the former Whole Foods location, Johnson mentions that she used to shop at the store often. Now, to purchase goods at the same price point and caliber, residents are required to travel much further.
Johnson mentions that in terms of the new store specifically, she does not believe that problems of food insecurity will see solutions, specifically, because Team Englewood – a non-profit organization that has been serving their community for over 20 years – conducted a survey to see what stores residents of the community did or did not want. 
"They overwhelmingly did not want Save-a-Lot," Johnson said. "So it just doesn't seem that if that's not what people want, they're not gonna go there. I know that I will never step foot in that store." 
This is a familiar rhetoric though, as companies and organizations are already disconnected from the communities they aim to properly serve. Determining the outcome of how and what kind of foods will be accessible to residents without engaging with the community, something that proves to be more harmful in the long run. 
"If they had just gone to the community and said, 'Hey, what grocers should we lease out in this space?' We probably would've been able to voice our opinions about the ones that we wanted," Johnson mentioned the grocer names that frequently came up in the survey were Mariano's, Pete's and Cermak Fresh.
An Englewood resident who wished to remain anonymous mentioned that before the opening of the Whole Foods in 2016, the community was looking for a more accessible grocery store, like a Jewel-Osco or Mariano's. 
"Residents feel like; 'Oh, so this is all we're worth. It's a Save-A-lot'," they said. "You guys take away Whole Foods where we can actually get quality, and put something where it's cheap and generic." 
Fresh, good food is widely available in many parts of Chicago, and yet Englewood is one of the neighborhoods that has to turn to community driven initiatives such as urban gardens and community markets. Although such resources do provide support to the neighborhood, they don't replace the need for a full service quality grocery store. 
"They feel as if this is all that we are able to, you know, receive. It is everyday life. It's everyday life for, you know, for communities like this. They take away good things and you know replace them with watered down things," the resident said.
Calvin Wheeler is another Englewood resident and owner of the iconic Chicago's Chicken Shack, located just a few blocks away from the former Whole Foods at the intersection of 63rd and Racine. Wheeler mentions that the community does not know why the Whole Foods had left in the first place, but does know that his community needs access to healthy and quality foods and the opening of the Save-A-Lot has left many unanswered questions.
"Right now, it's like a toss up. What do you get? Do you tell Save-a-Lot not to come? Then if they don't come, who do we have to come? What's our next option? Who at all wants to come?' That plays a big part in what goes there and how it helps and works with the community," Wheeler said.
These questions are far from new, yet they continue to be at the forefront of continuously underserved Chicago communities. Wheeler also makes a note of the high senior population currently living in the neighborhood, further emphasizing that the availability of fresh and quality food items is incredibly important. 
In 2014, when the first steps of development were first announced, the City of Chicago released a news release on its official website that stated, "A commercial complex anchored by a Whole Foods grocery store will move forward in Englewood through $10.7 million in Tax Increment Financing (TIF) approved today by City Council."
According to the City of Chicago, TIF funds "put vacant properties back to productive use, usually in conjunction with private development projects," aiming to address neighborhoods' needs citywide. However the Englewood communities' needs are still not being sufficiently met.
As Johnson explained, since the development was made with TIF money, residents initially hoped to see that their need for easy access to healthy, quality and affordable food was going to be adequately met.
"It's like, so you took our money that is supposed to for our needs, and developed your personal want that does not satisfy any need, and has basically been contested ever since it was built," Johnson said. "I mean, there are people who shop there, but I don't think that in anyone's eyes, Whole Foods was the adequate solution for that space."
Dr. Winifred Curran is an urban geographer and professor at DePaul University's geography department, whose research has focused on understanding the effects of gentrification on communities and the urban landscape. When asked if there was a better way for developers and policymakers to go about approaching the initial development in the first place she notes that community engagement is a key piece missing in this case. 
Approaches like being more responsive to neighborhood needs, improving the lack of accountability, better marketing and actively trying to fix issues rather than ignore them, are all measures that could have been taken into account to provide Englewood residents with solutions to their needs and wants.
Curran notes the importance of having both more accountability regarding the use of TIF funds and community engagement between residents and developers. Ensuring that developers keep prior promises made is important, she suggests, while additionally proving observations as to how this specific allocation of TIF funds may not have been the best example of addressing community needs.
Curran also mentioned the importance of the store holding itself accountable in terms of addressing community needs, whether it is through cultivating a welcoming space as a brand or directly engaging with neighbors.
"What do developers owe for having this very measurable public benefit? What very measurable thing can they give back, and have they given back? And if they haven't, then maybe they have to pay back some of that money, for example," Curran said. "I think accountability here is really the big missing piece."
Johnson makes note of the fact that since Englewood is not necessarily a food desert according to the R.A.G.E. CEO, it is rather the lack of accessible healthy food options that makes this a prevalent issue. After conducting surveys with neighbors and regularly meeting with developers, community members and organizations like R.A.G.E. and Team Englewood were hoping to see more changes in the way future developments are approached.
"We are finding out now, and this is the piece, that the developer and Whole Foods may have, and it seems like we got kind of close to kind of cracking this nut, but it's not 100%, but we do know for sure because the developer said it, that a Save-A-Lot was actually in the lease," Johnson said when explaining the process of the initial Whole Foods opening. "That Whole Foods signed that Save-A-Lot would take and occupy the space if Whole Foods were to fail or leave. So they knew this all along. Like we've been having these conversations for almost a year since they announced the closing in April." 
A quit claim deed available on the Cook County Clerk's online records shows that on September 15, 2015 the City of Chicago conveyed ownership of vacant property to Englewood Square LP, stating "From the Opening Date through the expiration of the Initial Compliance Period, a lease between Grantee and Whole Foods Market for the Grocery Store is in full force and effect, or another full-service grocery store has entered into a lease with Grantee to replace Whole Foods Market, has opened for business, and is fully operational."
The lack of transparency and engagement with residents mirror the additional lack of accountability, all which point to questions being left unanswered. 
"So why do you have us running around and spinning our gears and doing all this legwork and trying? For what? For what?" Johnson said. 
Although residents are left with far too many questions, they note that it is important to be talked about. "I'm glad to see that debate is worldwide, that people want to know what the community thinks about what's coming here, that's the best part about it. So that's good," said Wheeler. "What we would like to know is what are our options? Do we have any options? Or if we stop Save-A-Lot, then so it'll just be nothing? That's what we need to know."