'Women of color taking political power': Four Illinois legislators speak with DePaul students about working in politics
Four Illinois legislators spoke with DePaul students the evening of Thursday, Feb. 16 about the value of working in government as women of color. 
Students filled a McGowan South lecture hall eager to hear the words of U.S. Congresswoman Delia Ramírez, State Representative Lakesia Collins, Cook County Commissioner Josina Morita, and State Representative Lilian Jiménez.
Attendees received a warm welcome from Valerie Johnson, interim associate provost for DEI.
Jesse Mumm, a DePaul professor in Latin American and Latino studies, introduced the legislators by highlighting the milestones which the panelists have forged in Chicago politics.
"This is a departure in political history in the city and this country," Mumm said. "In just the past five years, more women of color have risen from grassroots organizations and movements into elected offices than ever before in U.S. history, and nowhere can this better be seen than in the political landscape of Chicago." 
Mumm's words were impactful for audience members. Sitting before students was recently-elected Ramírez, the first Latina woman to represent Illinois 3rd district in Congress.
"My name is Delia Ramírez," she said. "I am the congresswoman for the 3rd District, and I still get goosebumps when I say it." 
Celebratory cheers erupted throughout the audience.
Ramírez was elected into Congress in the 2022 Midterm Election. She spoke candidly about her experience breaking into electoral politics.
"There's a reason why I'm the first Latina in the Midwestern Congress," Ramirez said. "It's not designed for us, but there are those that stand with you in every single corner … and it reminds us, we've done some really great work." 
Although the legislators painted the road to being in office to be a somewhat lonely one, all four agreed the journey is worth it.
"I didn't always have a lot of trust in government … but little by little, seeing people not only step into these roles, but actually be impactful … that's what inspires me," Jiménez said.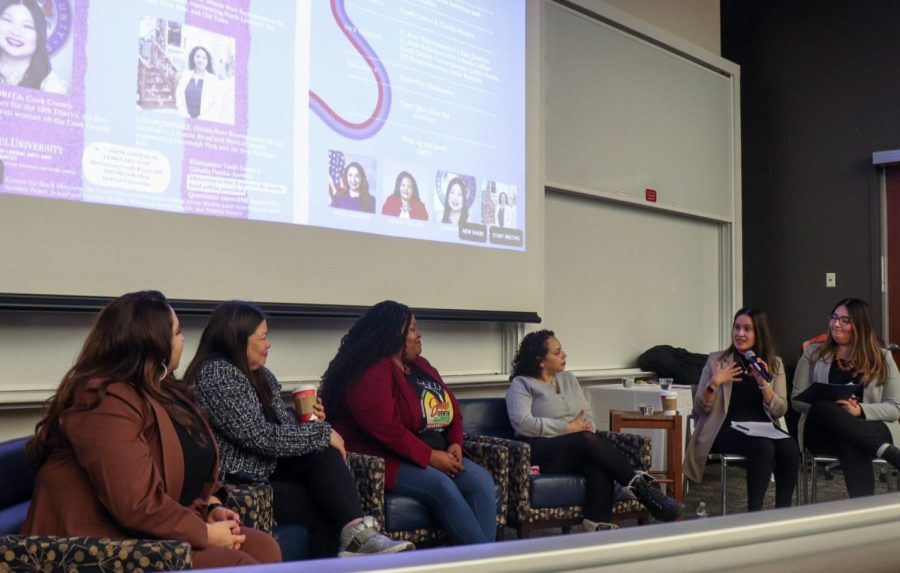 Jiménez, an alumna of DePaul, triumphed over Ramírez's recent legislative win regarding health insurance for immigrant seniors. 
"[I] received phone calls of people crying with happiness," she said.
"You're able to see yourself in that moment, and say 'I'm not less than, I'm equal to, and I can be more than,'" Jiménez said. 
Also serving on Thursday's panel was Josina Morita, Cook County commissioner representing the 13th District.
"I spent a lot of my life working around racial justice issues," Morita said. "Coming from California, where having Asian Americans in politics was 'normal,' coming here and being down in Springfield and realizing, 'why are we trying to convince people who don't care about us to care about us?'"
Morita emphasized the value of having representation in politics.
"You're either at the table or on the menu," she said. "Having no Asian Americans in Springfield, no Asian Americans in city council, no Asian Americans on the county board, it was just time. That's when I decided to run."   
Collins, who represents the 9th District in the Illinois House, echoed this sentiment. 
"We show up differently [in politics] because we are," Collins said. "We are accessible, we're authentic, we're transparent and we are connectors." 
Following the discussion, students flooded the front of the room hoping to speak with the legislators and their staff one-on-one.
Attendees ranged from freshman sociology students to longtime political science professors.
Rebeca Acosta, a freshman sociology student, attended the event at the request of her Constructing Latino Communities professor. Much like the rest of the audience, Acosta was captivated by the discussion.
"I came [to this event] because it's something I deeply care about. Hearing about representation not only from elected officials, but from elected officials who had to fight tooth-and-nail to get where they are and break through barriers, it's inspiring to me," John Kaiser, a second-year political science major said. 
Much like the other students lining up to ask the legislators questions, Kaiser found the event to be inspiring. 
"What I took away from this is to be true to yourself, don't be ashamed of where you came from. Be willing to be authentically yourself," Kaiser said.