Missed free throws cost No. 25 DePaul vs. No. 5 Notre Dame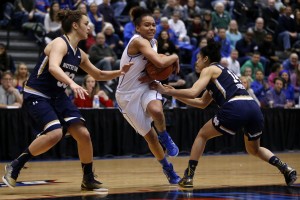 On the day after they were both named as candidates for the Naismith Trophy watch list, DePaul guard Brittany Hrynko and Notre Dame guard Jewell Loyd battled back-and-forth Wednesday night at McGrath-Phillips Arena.
Hrynko and Loyd each carried their team down the stretch on seemingly every possession. Hrynko finished with 32 points while Loyd tied an Irish career-high with 41. The two displayed a fantastic array of skills that made them a no-brainer for being named among the best players in the nation.
But there's no getting around it, DePaul women's basketball blew Wednesday's game at the free throw line.
Hrynko missed four consecutive free throws in regulation and then the team went 3-for-10 from the line in overtime to lose 94-93 to No. 5 Notre Dame (9-1).
There wasn't much to say from DePaul head coach Doug Bruno afterward.
"I'm really proud and I love my basketball team. They did a lot of great things tonight," Bruno said in his opening statement. "Questions?"
And silence.
There were a lot of questions that needed to be asked. How does a team that shoots normally 64 percent only shoot 30 percent in overtime from the charity stripe? What do you say to Hrynko when she misses five consecutive attempts?
Simply, what happened?
"Free throws are an individual deal," Bruno said. "That's all they are. They are one of the only selfish functions in the sport. We recruit great shooters, all right?
"Everyone on our team can shoot the basketball so…," he added with a shrug.
The message Bruno gave to his team immediately after the game didn't mention the missed the free throws. Instead, he left only a short message in brevity for them to think on.
"I said 'great job, great win tonight. Together we will beat Loyola,'" he said. "And I walked out. There's nothing to talk about."
The loss was a shame because before the missed free throws, the Blue Demons (6-3) played some of their best basketball of the season. From the beginning, the pace was set by DePaul.
DePaul forced 22 turnovers against a team whose season high before that was 18 turnovers. While DePaul had 14 steals with their pressure, the Irish shot 41 percent. Normally, the Blue Demons hectic pace causes opponents to shoot higher than what DePaul ends up shooting from the field. DePaul previously let up 45.4 percent, yet the fifth-ranked team in the nation shot well below their average of 50 percent.
The play was good enough for the Blue Demons to be ahead in multiple moments in the final minutes, including leading 93-92 with five seconds left in overtime. The Blue Demons also led by a game-high eight points with 7:31 remaining, up 71-63 from a Megan Rogowski 3-pointer.
However, it was Hrynko who was the primary scorer for DePaul. The Blue Demons trailed 40-35 at halftime, and Hrynko hit two of the team's three 3-pointers to open up the second half.
Her play was part of a 17-4 run after halftime for the Blue Demons. Forward Megan Podkowa also had a big night, finishing with 20 points and eight rebounds.
But it was Loyd who led her teammates down the court, often responsible for closing the gap and then taking the lead.
"I thought Jewell was simply amazing," Notre Dame head coach Muffet McGraw said. "She was phenomenal and poised at the free-throw line. It was really amazing to come out of here with a win on that game."
On the final possession for the Irish, Loyd drove to the basket and was fouled on a Chanise Jenkins steal attempt. Loyd, who was 13-for-16 before that, calmly made both and DePaul then rushed down the court to miss a layup, taken by — who else? — Hrynko.
Despite each player being the primary closer down the stretch, Loyd said she didn't feel like she was in a battle with Hrynko.
"It was a team effort," Loyd said. "She made some threes and attacked the basket pretty well, but we were worried about what we needed to do. I stayed poised.   That's why you practice a lot and do a lot of repetitions. I'm used to having the ball and pressure like that."
Notre Dame avoided their second consecutive defeat, having lost to No. 3 UConn on Saturday. Instead, they finished with three players with double-doubles, the first time that's happened in a game for the Irish since 1995. Guard Madison Cable finished with 20 points and 11 rebounds while forward Taya Reimer finished with 15 points and 11 boards.
For the Blue Demons, they will now, once again, have to learn from a tough loss. In his 41 years of coaching, Bruno said losses like this one are the ones that stick with him.
Bruno has had highs — getting to the Sweet Sixteen twice, upsetting No. 2 Stanford — but said he doesn't think about them. What sticks with him, he said, is the time they almost upset powerhouse Tennessee or No. 1 UConn.
"In the grand scheme of things, I'm fine," Bruno said. "Now how to get that our players are fine, that's hard to do. There are no answers in free throw coaching. … It's a tough situation.
"You never deserve to win — you have the right to work hard to deserve to win," Bruno said. "Our players deserved the right to make it happen, but we didn't make it happen. They stepped up and made their free throws. We didn't.
"Notre Dame wins. DePaul loses."
DePaul returns Dec. 17 at 11 a.m. at Loyola.