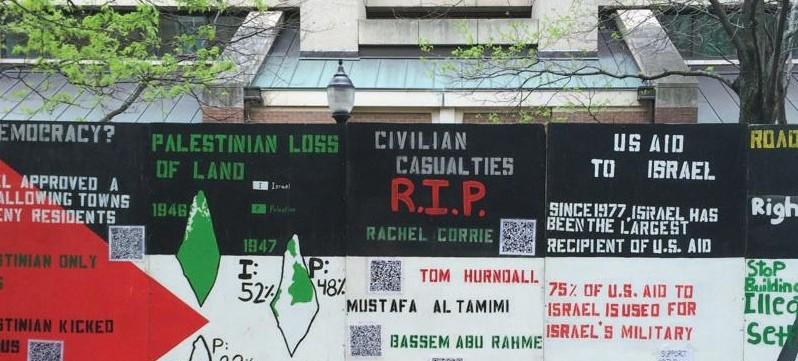 When the 2012-13 school year ended, the talk of the new basketball arena was dominating the conversation. Groups were forming, faculty and staff were speaking out, and it seemed like protests of the university's newest investment would dominate the 2013-14 school year and beyond.
But anger against the arena was just the beginning of a tumultuous year at DePaul. After just six months the provost the university hired after a year-long search resigned, which was followed by more resignations in the administration, a leave of absence was announced by President Rev. Dennis Holtschneider, C.M. and the basketball
team's star player disappeared under mysterious circumstances. The year culminated in a sea of protests — the first round demanding transparency in sexual assault reporting and the second to urging the university to divest from corporations that do business with Israel.
It's been a rocky year.

The DePaul Arena
Plans were announced for a new home for DePaul basketball May 16, 2013, but the process of building the arena finally came to fruition as the 2013-14 school year began. After months of deliberation, the board of the Metropolitan Pier and Exposition Authority (McPier) selected Pelli Clarke Pelli Architects Sept. 23 to construct the arena. The firm was also the group that built DePaul's new Theatre School, and a sleek, lowrise design for the arena soon followed which displayed a 10,000-seat structure in the South Loop.
The announcement faced plenty of pushback. A meeting was held Oct. 6 where around 60 students, faculty, and members of the community voiced their displeasure. Furthermore, the Contingent for an Alternatively Funded Arena (CAFA) did a study that found overwhelming negativity toward the arena's funding plans.
A wrench was thrown in the original plans after McPier failed to acquire essential parcels of land, leading to an allocation of TIF funds to pay for an additional Marriott Hotel that would be connected to the arena. DePaul's contribution of $70 million to the project did not change, but the allocation of the funds was looked at as a positive step by critics. Some still disagreed, though, saying that while moving the TIF funds was a good idea, it was still essentially for the same project since the Marriott wouldn't be built without the promise of the arena.
Community perception and town hall meetings revealed that the reaction is still mostly negative, but the arena is still on track to be completed by 2016. All that remains is for DePaul to name the arena.
A six-month provost

In December, DePaul's new provost Donald Pope-Davis resigned after a brief six months on the job.
"I was shocked," junior Connor Lillis said to The DePaulia in January. "I assumed he would be in it for the long haul and he was going to come in and he was going to make major changes throughout the university so that we could operate better."
Upon Pope-Davis' departure, Patricia O'Donoghue returned to the interim provost position after holding the position for the year during the search.
Faculty Council pushed for a new provost search to start this fall, and Holtschneider supported that decision. With an inconsistent person in the provost position — who is second in line to the president — Faculty Council said they felt it was hard to get things moving forward.
A new provost search will begin this fall with a committee of five Board of Trustees members, four faculty members, two staff members, one dean, the SGA president and one member appointed by Holtschneider from his own staff, according to Faculty Council Secretary Roshanna Sylvester.
"Our main concern has been that a prolonged period with an interim provost would not be consistent with trying to bring some semblance of stability and consistency to DePaul, especially given the changes in leadership we have seen recently and also because the uncertainties in DePaul's financial situation," Faculty Council spokesperson Bamshad Mobasher said in an email in May.
Following his resignation, Pope-David received a sabbatical until Autumn Quarter 2014 when he was slated to return as a professor in the psychology department. As of right now, however, Pope-Davis is not scheduled to teach any psychology classes.
Three deans resign
Out of the 10 deans at DePaul, three announced they would be leaving their positions over the past two quarters.
Gregory Mark, the dean for DePaul's College of Law, announced Jan. 23 that he would step down to  "pursue other scholarly and professional opportunities," O'Donoghue said in an email to staff. Donald Casey, School of Music dean, and Charles Suchar, College of Liberal Arts and Social Sciences dean, both announced their retirement May 7. Casey served as the School of Music dean for 20 years and Suchar served as dean for nine years with 43 years as a faculty member.
Bruce Ottley was named interim dean for the College of Law starting June 1, but interim replacements have yet to be announced for the other two positions. To find permanent replacements, the university typically conducts a search committee, and with the provost search beginning this fall too, there is the potential for up to four search committees for administrator positions at DePaul requiring extra time from faculty, staff and others who serve on the committees.
The College of Communication was operating with an interim dean this school year as well, with assistant dean Jean-Claude Bruno Teboul acting as interim since March of 2013 when Jacqueline Taylor left. Salma Ghanem has been named the dean of the College of Communication and will assume the role Aug. 4.
Cleveland Melvin leaves

A bumpy season for DePaul men's basketball got even rockier Feb. 10 when star senior Cleveland Melvin was mysteriously dismissed from the team after serving a long suspension for undisclosed reasons. The story made local headlines and even got some national coverage due to the nonexistent reasoning for why Melvin was taken off the team.
"I can't comment on that because of student privacy acts and that kind of thing," Head Coach Oliver Purnell said following the decision. "Cleve' won't be with us and that's just the way it is. We've just got to move forward."
Melvin averaged 16.7 points per game and 6.4 rebounds at the time of his departure. He finished sixth in career scoring and appeared in 110 games in his four years.
The Erie BayHawks of the NBA's D-League signed Melvin to a contract March 5, meaning he will be eligible to enter the 2014 NBA Draft.
When athletic director Jean Lenti-Ponsetto was asked about Melvin's departure, she wished to no longer comment on the topic, wanting to not bring any more attention to it. She did say, however, that it gave a chance to other players to have a more active role in leadership for the team.
"That's really all you can do when you're in that kind of situation," Ponsetto said. "I think the coaches do the best they can to try and fill whatever sort of vacancy gets left but it's never the same."
A leave of absence announced by Fr. Holtschneider

Passing the 10-year mark in his position as president, Holtschneider announced he will take a five-month academic leave for the"president-in-residence" position at Harvard's Graduate School of Education beginning Aug. 1.
With the president position essentially being a 24/7 job, Holtschneider said this opportunity "gives me an office and full library privileges at Harvard so that I can write."
However, his time away continued this year's administration shuffle. Current interim provost O'Donoghue will be the Interim President during his absence and then retire. David Miller, dean of the College of Computing and Digital Media (CDM), will retain his position and take on the interim provost position, which has raised some concerns among faculty.
At the April Faculty Council meeting, one representative said "The fact that I've just heard that David plans to stay as dean of CDM while being provost is an inherent conflict of interest."
Miller will be the third person to hold the provost office in the past two years. Despite some instability, Holtschneider reassured that he will only be gone for the fall.
"This is a job with a pretty steady stream of 'tugs and pulls' from within the organization," Holtschneider said. "I'm going to enjoy a less frenetic pace of life for the fall term before returning to the fray."
Sexual Assault Awareness
Every year DePaul recognizes sexual assault awareness month in April, but students were much more active this year than years past.
Arts and Letters Hall was the site of the year's most buzzed-about event, a banner drop calling out the athletic department saying, "DPU Athletics, we know what you did #RapeCulture #YouCantHide" and another with a checklist asking what causes rape, with the box indicating rapists checked.
SGA hosted a panel the following night addressing many of the concerns, bringing more than 100 students and Bob Wachowski, Public Safety director; Rima Shah, sexual health and violence prevention coordinator; and Ellen Herion Fingado, assistant dean of students together to discuss policies, though many questions were unanswered.
Even though the panel was extended 15 minutes, it ended abruptly when someone from the audience asked a question about the athletic department.
Fingado responded, "We can't comment on specific cases, and I believe Casey, we are way over our time."
Though many students were upset with the amount of transparency the university had in regard to its sexual assault policy, some continued to work with administration, sitting in on roundtable discussions with Cindy Summers, interim vice president of student affairs.
"This is one of the top priorities on our campus and we are working together on one goal, the elimination of sexual violence on our campus and beyond," Summers said "On that I believe we stand united."
Protests continued into just last week, with a new group, DPUnite, staging a silent protest, also having complaints with the administration, including inadequate procedures for dealing with sexual assault.
DePaul Divest

A referendum calling on DePaul to divest from corporations that work with Israel's military and in the West Bank and Gaza easily passed 1,575-1,333 on May 23 during SGA's annual elections. The "boycott, sanctions and divestment" vote followed several weeks of campaigning on campus by pro-Palestinian groups leading the vote against Israel's alleged human rights abuses, while Jewish groups led counter-demonstrations and handed out fliers urging students to vote "no."
The pro-divest displays included an "apartheid wall," a mock "refugee camp" and a Palestinian flag drop in Arts & Letters Hall. Jewish group Demon PAC and fraternity AEPi set up counter demonstrations, including banners in the Quad highlighting Israel's achievements in humanitarian efforts, technology and human rights.
In an email, Holtschneider said that the divestment issue is complicated as DePaul's investments are in mutual funds and trusts, involving a broad portfolio of many companies' stocks packaged together. He also said the issue was contentious because "what is socially responsible to one organization or set of interests may be objectionable to another."
The Fair Business Practices Committee will take up the issue next school year for further study, and Holtschneider encouraged all interested parties to "present their case to the committee" in the fall.
But certainly DePaul is no stranger to protests. In the past decade the university saw protests against Coca-Cola regarding the company's violence against Colombian trade unionists and environmental policies, outrage at Norman Finkelstein's denied tenure and a decision to no longer sell Sabra hummus. While the protests are nothing new, there's no denying there's a sense of unrest around campus as the university moves into the final week of the year.
"I think what was different this year was that two of the issues were clustered at the end of the spring quarter, and that the rise of social media has given relatively small groups stronger voice," Holtschneider said.
While the upcoming summer break will quash problems for the next couple of months, the unrest around campus is sure to be present when the 2014-2015 school year begins.
Things are just getting started.
Written and reported by Michael Corio, Courtney Jacquin, Kelsey Lawson, Grant Myatt and David Webber.
[hr]
[related_posts limit="3″ image="100px"]