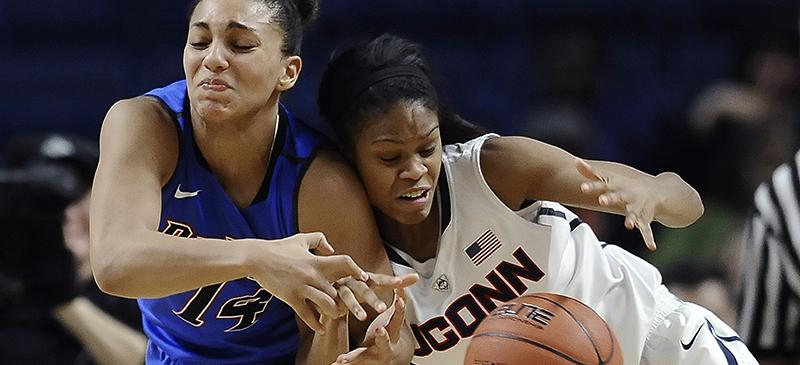 AP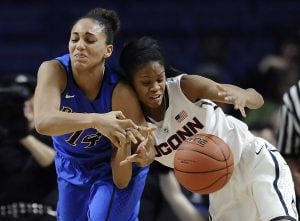 In September, Connecticut women's basketball head coach Geno Auriemma and DePaul head coach Doug Bruno helped lead the United States women's basketball team to the gold medal at the FIBA World Championships.
Friday night, it was back to business for the old Big East coaching rivals as No. 2 Connecticut downed No. 25 DePaul 98-64 in Bridgeport.
DePaul dropped to 7-4 with the loss, while the Huskies improved to 7-1.
Breanna Stewart led the game with 25 points, scoring 21 of them in the first half. Brittany Hrynko led the Blue Demons with 17.
Despite the unevenness of the final score, the first half was evenly matched for the start, at least. DePaul went 6-6 from the field to open up the game and matched scores with the Huskies going into the first eight minutes of the game. With just over 12 minutes to go, DePaul and Connecticut were tied 24-24.
From there, the Huskies showed why they were the number two team in the nation, ending the first half on a 29-9 run as they went into the locker rooms with a 53-33 advantage. Connecticut continued to dominate to open up the second half, scoring the first five points and never looking back.
The Huskies would build their lead in the second half, finally settling down with a final score of 98-64. This would be the 12th straight time that Connecticut has beaten DePaul, improving their all-time series record to 21-1 over the Blue Demons.
This loss became the third of four losses to come to a top five team for the Blue Demons. They lost to No. 5 Texas A&M in their season opener and lost to No. 5 Notre Dame in double-overtime in early December.
This was the first meeting between the two schools since Connecticut was left out of the Big East conference when DePaul and six other schools formed the new conference before the 2013-2014 season.
DePaul will take on Hampton in their next matchup on Dec. 22 in their final home game of 2014. They will then go to Illinois State on Dec. 28 before opening up their conference schedule in January.