Billy Garrett's double-double helps DePaul knock off Xavier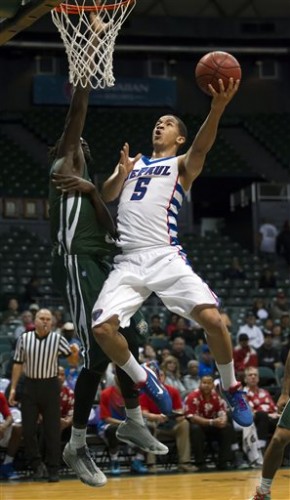 Asked if his team would have won Saturday's game against Xavier last year, DePaul head coach Oliver Purnell pondered the question before he answered honestly.
"No, how about that?" Purnell said, laughing. "Probably not."
Yet, here the Blue Demons are. After a disastrous end to their non-conference schedule, DePaul men's basketball team improved to 2-0 in the Big East, thanks to a 71-68 upset over Xavier at Allstate Arena.  That record put the Blue Demons tied for first in the conference, and marked the best conference start for the Blue Demons since the 2008 season.
And it was the way that DePaul (8-7, 2-0 Big East) upset Xavier (10-4, 1-1) that marked another reason why this year's team is such an improvement over last year's, or even over the team that closed the non-conference schedule. The Blue Demons didn't collapse a late lead like they had known to. The defense held the Musketeers to only 42 percent shooting. Best of all, DePaul got meaningful contributions from the more talented players on their roster.
Once again, there was no player more talented for the Blue Demons than guard Billy Garrett Jr.
Garrett had the second double-double of his career, scoring 15 points and tying a career-high 10 assists. Following his 19-point performance against Marquette, Garrett was again the factor for driving his team to the finish line. This time, he was finding teammates and keeping them collected when it appeared that DePaul might blow it.
"2-0 is a great start for us," Garrett said. "Hopefully we can keep it going. We made shots and got stops when we needed. We stayed together, fought off a couple of runs. It's nice to see that. It shows we're growing as a team."
Heading into the game, Xavier was ranked in the top-25 of Ken Pomeroy's advanced college basketball statistics, which ranks every division-1 team in the country. By comparison, DePaul was ranked all the way down at No. 197.  For as much as the game appeared to be a mismatch on paper, DePaul stuck with it.
In the first half, Xavier jumped out to a 16-7 lead with 11:44 remaining. The Blue Demons were settling for long 3-pointers early in the shot clock and weren't getting the ball to the rim.
But the team answered. Down 20-13, the Blue Demons went on a 10-0 run over 2:11 to get their first lead since the opening basket.
Individually, players answered to Purnell's coaching as well. Midway through the first, a struggling Forrest Robinson started the game 1-4 and was benched for a turnaround jumper over a smaller guard. When he went to the bench, he received a strong choice of words from Purnell.
The lecture worked as Robinson checked back in and made his next few shots. The senior forward finished with a career-high 17 points on 50 percent (6-12) shooting, including going 4-9 from deep.
"I was in a little slump, but I've gotta keep shooting and it will fall," Robinson said. "I just had to get spaced out, take a deep breath and knock the shots down."
Xavier led 28-26 at halftime, and both teams came out of the locker room energized. The two teams fought tooth-and-nail for the first nine minutes of the half, being tied at 45.
A pick-and-roll with Garrett and Robinson created a lot of space on the floor, leading DePaul to find its shot.  The Blue Demons finished the half shooting 65 percent and the team went on an 8-0 run to go ahead 53-45 with 7:44 left.
The Mustakeers weren't done. Xavier guard Trevon Bluiett scored all 19 of his points in the second half, which proved to be a problem for the Blue Demons. Xavier ran an effective pressure in the final three minutes and tied the game at 66 with 39 seconds remaining due to a Bluiett 3-pointer. Bluiett led the Muskateers in points.
However, it was DePaul's defense that earned their second victory in a row. The Blue Demons limited Xavier's bigs in the paint and forced 15 turnovers, scoring 20 points off of them.
"We realized they were a very physical team and it was important we matched that thrust from them," Purnell said. "I thought our guys stood up early, and then it became a trench warfare battle for the entire game.
"If you stay together like we did through this tough stretch and believe you're going to win, it puts you in a pretty good place," he added.
The next challenge for DePaul will be if they can now take the success they've had at home to on the road. The Blue Demons have won seven of their eight games at Allstate, their lone win coming at Chicago State Dec. 4.  During the team's six game losing streak, five of those losses were away from their home arena.
With their next game on Wednesday at 8 p.m. against Creighton, the Blue Demons will face another road test.
"We haven't performed on the road this year, so that's another area we need to improve on," Garrett said. "It's always nice to have your first Big East road game too."