DePaul gears for tough road test at Creighton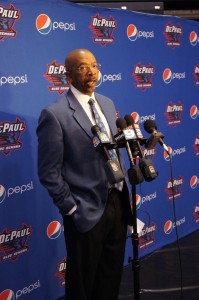 Sitting at 2-0 in the Big East conference, DePaul's next challenge to stay at top of the Big East standings is to do something they haven't done this season — win away from Chicago.
The Blue Demons are 1-7 on the road or in neutral territory this year, their sole win coming on Dec. 4 against Chicago State. DePaul will have a chance to correct their problems on the road when they take on Creighton tonight at 8 p.m.
But to do so, they'll have to go into the territory of one of the best home crowd advantages in the Big East. To add further pressure, Creighton is looking for a win after starting 0-2 in the conference and to avoid the team's fourth loss in a row.
"We're playing a team that's a desperate team," DePaul head coach Oliver Purnell said. "This is the first conference home game for them. This is a team that's 0-2 and they've shown they're capable in their non-conference play. It's going to be a dog fight."
Creighton (9-6) is trying to rebuild after their star and 2014 National college player of the year Doug McDermott graduated. McDermott was the team's main source of offense last season and led them to the third round of the NCAA tournament.
This year the Bluejays started off strong with a Nov. 18 win over No. 18 Oklahoma. They were ranked No. 23 in the nation for the first month of the season, until a loss to Tulsa dropped them out of the top-25.
Still, the Bluejays are a powerful team at home. Creighton is 7-1 at home and average just over 17,000 fans per game.
"They're a real talented team," DePaul guard Billy Garrett Jr. said. "Last year, it was probably one of the biggest games that we played in. It was probably the best atmosphere I've played in since I've been in college."
The Blue Demons will have to stop Creighton's 3-point centered offense in order to be successful. The Bluejays leads the Big East in 3-point attempts with 379 shots.
"That's a staple of theirs so they're looking to get open for three's, even in transition," Purnell said. "They're looking to put you in help defense with a dribble and drive penetration, but they look to kick to the three.
"And sometimes that's kind of counterintuitive when you run back versus their fast pace offense," he added. "Then you've got to get back to the basket, but then you also have to get to the corners where they'll spot up their 3-point shooters."
DePaul, however, aims to be riding their own confidence. The team is coming two upset victories against Marquette and Xavier since closing out the non-conference schedule with six straight losses.
DePaul forward Forrest Robinson said "the sky is the limit right now."
"We're feeling real confident, but we know we have a lot of hard work ahead of us," Robinson, who is coming off a career-high of 17 points, said. "We needed just a kick to get us jump started. And now it's time to get on the right path."
Robinson credited Purnell with turning the team's mindset around. Purnell went over multiple areas, including technical flaws, the importance of league play and the willingness to stick together in challenging times. Both said it provided a spark.
Garrett also said that the team has emphasized they haven't arrived yet.
"Every season has its ups and downs," Garrett said. "The interesting thing about college basketball is that conference play means so much. If you can do well in conference then you have a chance to have a successful season. We're doing that so far and are trying to continue that."