World records: Bands connect on Gary Records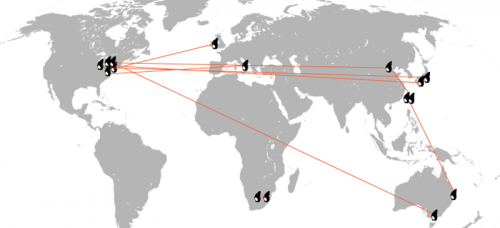 A few years ago, Gary Records founder Robyn Chang gathered her possessions and traveled to Taiwan for a job at Groupon, the coupon company. Her interest in local music scenes followed her there, where she began doing research. The language barrier was a problem.
"There was one website that was in English," Chang said. "All the other ones were in Chinese."
The band names were primarily listed in Chinese as well, which proved difficult in finding homegrown bands. Chang relied on one of her friends in Taiwan, who introduced her to a few groups, but this struggle of discovering international bands led to the birth of Gary Records.
Named after drunkenly searching for pictures of a man named Gary on Google, Gary Records produces "international splits," in which two bands from different parts of the globe are paired on the same 7-inch vinyl.
In addition to representing bands from Taiwan, Australia and other countries, local Chicago DIY leaders, The Lemons, also got a piece. The summery pop band was chosen  specifically because she is a fan, and it seemed like a no-brainer that this would be the local Chicago band on Gary Records. Max Epstein, member of The Lemons, said Chang approached them at a Milwaukee show and explained how she already had an idea for their vinyl mate in mind.
"We knew we wanted to be with a band from Japan," Epstein said. "Our band has a lot of little jingles, which is normally popular in Japan."
A Japanese man happened to be at the Milwaukee show, and gave Chang a list of Japanese bands, from which Teen Runnings, a rock group with surf influences, was chosen.
The two bands partnered on the vinyl aren't necessarily matched by genre, but rather are designed to complement each other.
"We go on Bandcamp and search by city and listen to tons and tons of bands," she said. "Bands we like we just put on a list, and then we kind of paired bands up."
The Lemons and Teen Runnings were coordinated together because their warm sound paired well for a summer mix.
"You don't have to feel like you're listening to the same band on both sides, it just has to parallel each other," Chang said.
The international splits seem to be fulfilling the purpose Chang set out. Bands such as The Lemons and Teen Runnings are attracting attention, not just in their own country, but across the water, as well. Epstein said this is one of the most beneficial factors of being on Gary Records.
The groups represented are being showcased to bigger record labels and to fans across the world. Chang refers to the bands as pen pals, adding that in addition to being recognized bands also get the benefit of meeting some other cool music buffs and forming friendships.
Chang continues to create the splits, the next one boasting local punk legends ONO and Chicago band piss piss piss moan moan moan. This split is breaking the international rule, mostly because this project was aimed to be released more than a year ago. Another pairing that Gary Records is producing hosts Todayshits (with James Swanberg of The Lemons) and Japanese band Boys Age. Other future plans include blog and zine inserts, and describing the local music scenes of the bands. Chang is enthusiastic about giving people glimpses into the culture by illustrating the venues, labels and art surrounding the international bands.
Chang is also picking up the pieces of Gary Records and putting them back together in Taipei later this year, where she is moving the headquarters. While the plans are not set yet, Chang is following in the footsteps of other labels such as Burger Records, and believes the music industry should take note of China's large economy. Chang first plans to take a rigorous Chinese language program in Taipei. Once there, she will be able to book more international tours. She's also taking a peek at the logistics of pressing vinyl overseas. 
Gary Records is based on connection, whether it be connecting fans of local music, connecting bands from all across the globe or forming friendships with people who just love getting involved with smaller bands and the local music scene. Even though the Gary who inspired the record label doesn't know the name of this project, keep Gary Records in mind because Chang is spurring a new kind of local music scene.