DePaul women's basketball facing challenges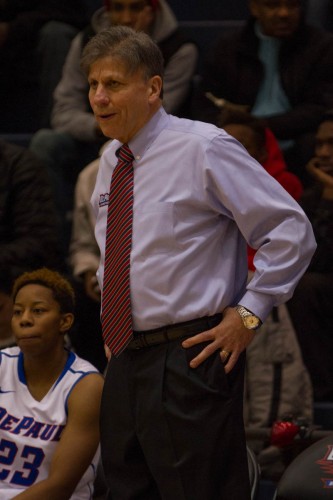 As the 2014-15 women's basketball season turns into conference play, DePaul has already faced its fair share of challenges. With inabilities to close out close games, tough conference opponents and losing players to injury, the team has had to adjust to each game.
"The focus is on continuing to get better," senior guard Centrese McGee said. "Coach always preaches getting better and in the last practices we've been working on getting better since it's a new team now."
The new team excludes starting senior guard Megan Rogowski who is out for the year due to an anterior cruciate ligament (ACL) tear suffered Jan. 2. According to head coach Doug Bruno, the team has had to "re-tool," and adjust to a new lineup.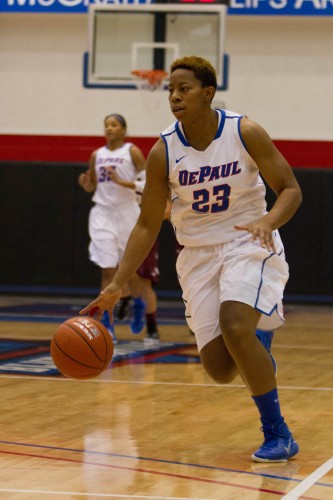 "When you lose a player as good as Megan and a player who spreads the floor with her three-point shooting, it's not like you fix it by inserting another player," he said.
So far, DePaul has replaced Rogowski in the starting lineup with McGee who doesn't bring the same three-point proficiency as Rogowski. Nonetheless, Bruno said McGee brings different strengths to the court.
"Centrese McGee has done a great job for us and she's going to fill that void differently," he said. "However, that puts the team in position to re-tool, so you don't fix this overnight."
The team, however, does not plan to move away from their offensive tactics of using the three-point shot to spread the floor.
"It's kind of the same plan. We have good three-point shooters, not as good as Megan, but having a three-point presence is huge for us," senior guard Brittany Hrynko said.
Bruno said the process will take about three to four weeks for the team to fully adjust. This will come on top of working on other issues that have been plaguing the Blue Demons this season. They have lost three games this season in which they have led with less than a minute to go, including a near-upset of Notre Dame.
"It's what separates good teams," Bruno said. "We've put ourselves to be in position to be 14-1 right now, and we know that we've given away probably four games in the last couple of minutes."
To counteract the struggles, the team has been working on similar types of games in practice.
"In practice we've been working on close games scenarios," Hyrnko said. "So just practicing that and knowing what to do when that time comes."

Bruno also laid out some of the issues the team needs to work on to win close games.
"Defending and rebounding are really keys, playing with intelligence down the stretch and making free throws," he said. "These are all things we need to get better and we've been working on them."
The scheduling hasn't been nice to DePaul either, starting off their conference table with three straight road games and five out of their first six games after Christmas away from Chicago.
"It's always easier to play at home than on the road," Bruno said. "But at the same time, leagues are won by taking care of your home court and winning on the road."
According to McGee, preparation for a stretch like this is key to remaining focused.
"It's always tough going to different places and playing at these different schools, but having the focus like Bruno had us prepared for four straight road games," she said.
"You can look at this as tough, but you can also look at this as an opportunity," Bruno said. "We have an opportunity to make progress on the road."