Finalists for DePaul provost search announced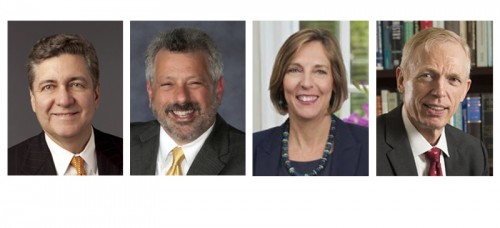 ---
DePaul's Provost Search Committee announced the four finalists for the open provost position along with their visitation schedules in an email to the DePaul community today.
The four candidates: Nancy Brickhouse of the University of Delaware, James Coleman of Virginia Commonwealth University, Marten denBoer of California State Polytechnic University, and Alan Ray of Elmhurst College, beat out more than 100 other applicants to get to this stage.
The candidates reviewed by the committee were considered not only by their commitment to the DePaul Vision 2018 plan, but also by their diversity.
According to the committee website, the search produced "the strongest and most diverse pool of candidates that we have seen for this position in recent history."
A majority of the candidates were white and male, 71 percent and 73 percent respectively. The final candidates include one woman and one Native-American.
According to the website, the committee also omitted sessions from the candidates' schedules dedicated to diversity issues due to "the tight schedule of the visits."
This concerned some members of the university's Faculty Council, who agreed at their meeting last week to factor in diversity during their sessions with the candidates.
The search committee consists of trustees, faculty, staff, a student, a dean, and representatives from the President's Office, Academic Affairs, and Human Resources.
As is standard operating procedure, the committee hired an outside search firm to collect potential candidates. The total cost remains confidential, however.
DePaul has not had a permanent provost since 2012 when Helmut Epp retired. Donald Pope-Davis was hired in 2013 following another National search, but he left after only six months on the job. In that time, there have been three interim provosts as well as an interim president and an interim dean of the Law School.
The provost is the chief academic officer at the university and is immediately responsible for the intellectual life of the institution, including the quality of education, research and service. They are the university's second in command and work closely with the president and the executive vice president.
Faculty on the committee came from the colleges of communication, business, education, and liberal arts and social sciences.
Two staff members, from the Center for Students with Disabilities and the Office of Institutional Diversity and Equity, were included, along with Dean Gerald Koocher from the College of Science and Health and SGA President, Matthew Von Nida.
Each candidate follows a tight two-day schedule on both campuses to meet with faculty, staff, and students and to answer questions. Students have a total of four hours over the two days to meet and question each candidate.
The committee website is open to students to view information about the candidates, the applicant pool, and submit feedback that will be considered in the final decision.