'Rose Tattoo' at Shattered Globe Theatre highlights the heartfelt, heritage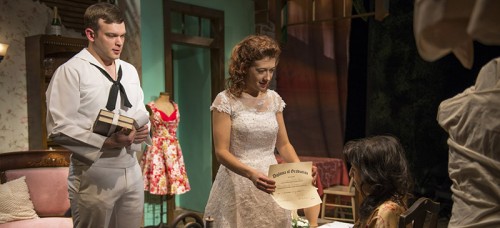 This season, Shattered Globe Theatre took on Tennessee William's matchless and beautiful "The Rose Tattoo" and is sure to deliver a treat for each audience who has the privilege of seeing it. Directed by Greg Vinkler, the production is wonderfully crafted, moving and filled to the brim with talented DePaul Theatre School alumni.
"The Rose Tattoo" chronicles the lives of an Italian-American family living in Louisiana. Seraphina is a strong and passionate woman whose husband dies as her daughter, Rosa, begins to experience the beauties of love and life simultaneously.
"It is very much a mother-daughter struggle," Daniela Colucci, who plays the role of Rosa, said. "It's all about love and passion and the struggles of losing love and discovering love. It's a really beautiful play. It's very poetic."
Colucci's excitement to be part of the production lies within the world that the cast and crew have created on stage and the message that the show has to tell its audiences. But it also stems from somewhere very personal.
"Half of my family is Italian, and I've never gotten to do any type of art or production that has anything to do with my heritage," she said. "This is my first time working with a bunch of people who are Italian-American. I feel like it has put me in touch with my heritage."
Though the production's writer is widely known and the show itself has garnered praise and several Tony Awards, it is rare that audiences have the opportunity to experience "The Rose Tattoo."
"It's an exciting project to be part of because it is a rarely produced piece of the Williams repertoire," Debra Rodkin, who portrays a wise and respected woman named Assunta, said. "That in and of itself attracted me to it because it is not something that you get an opportunity to see very often."
Though the show tackles enormous themes, the cast and crew have approached them with poise and gusto. While the production is unafraid to plumb the depths of despair, it is deeply funny too.
"I was amazed at the amount of humor there is in it," Rodkin said. "There are some falling down on the floor, rolling around, funny kind of moments in this that are just hilarious."
While the members of the cast share varied professional backgrounds, many of them have graduated from the prestigious DePaul Theatre School and have been touched by the lessons that it taught them.
"I think that the training I got at DePaul has affected who I am as a rehearsal actor," cast member Noah Simon said. "I do a lot more script analysis and imagining the world around the play. I probably approach theater a little bit more academically now, and I feel the difference in the characters that I portray. They are richer and have a better understanding of the world they inhabit."
This winter, The Shattered Globe offers an infrequent yet incredible production that is not to be missed. The story that it has to tell is deeply human, and the message that it has to impart is profoundly buoyant. Where there is loss there is always resilience.   
"Open your hearts and be accepting of what we are going to show you," Rodkin said. "Allow us in."
"The Rose Tattoo" runs at Theater Wit through Feb. 28.