DePaul Club Football looks for next step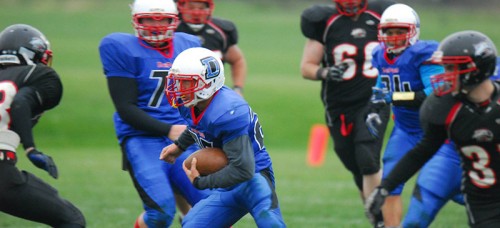 DePaul Club Football will move into their second season of play in 2015 in a period of transition. The club announced they would move in a new direction, letting go of head coach Carlos Jones after he spent two years working with the club.
"It just seemed like the right time for the board and we just decided we wanted to move into a different direction with the team," club president John Measner said.   "It's just we decided a new direction might be a fresh take on this upcoming season."
The fresh take will not only involve looking for a new head coach but also replacing the seniors who will not be at DePaul for the 2015 season.
"The big thing is recruiting kids to get out there on that field," he said. "We had a lot seniors graduate this year so the big thing right now is getting people on that football field to play for us."
The recruiting for a club that requires a lot of time commitment, including some multi-hourlong road trips for away games, will take a variety of tactics to find new players.
"It's going to be a team effort," he said. "It can be from finding a guy in the gym, holding big events, holding fundraisers, fliers."
The biggest thing for Measner going forward, however, is building on what the club accomplished in 2014.
"I personally think it was a great season for DePaul," Measner said. "We had some tough games but if you look at a lot of other club programs they won't make it through their first season, a lot of them forfeit their first season."
The expectations for the inaugural season,  senior running back Tevin Harris said, were around establishing the program and getting it off the ground.
"It was definitely as tough as we thought it was going to be," he said. "Nobody in that room thought it would be a cakewalk or we'd win all of our games."
Having the year of practices without games in 2013, according to Harris, was helpful in terms of just establishing the team.
"We went in with quite a few players who had never played football on an organized team before so having that year to find out where you line up on the line, this is where you stand," he said. "It was good so that we didn't just throw people into a game not knowing what they needed to do."
The  2015 season, however, will be focused on building in terms of record and proving themselves among other club teams who have either folded or lose players.
"We're looking for wins," Measner said. "Our record didn't show it this year, but we worked hard, we got out there and played every game."
As for the coaching search, the club will be holding interviews in the next few weeks.
"The interview is going to be the big thing," he said. "We have a couple of names lined up that have been floated around. They're going to need to impress us in the interview, and it's going to need to be on multiple different levels."
 The biggest thing will still be the ability to build off 2014.
"We're a legit program, he said. "A lot of people were really doubting, like 'DePaul's not going to have a football team, they're not going to get people out there,' and the fact that we got out there is big."