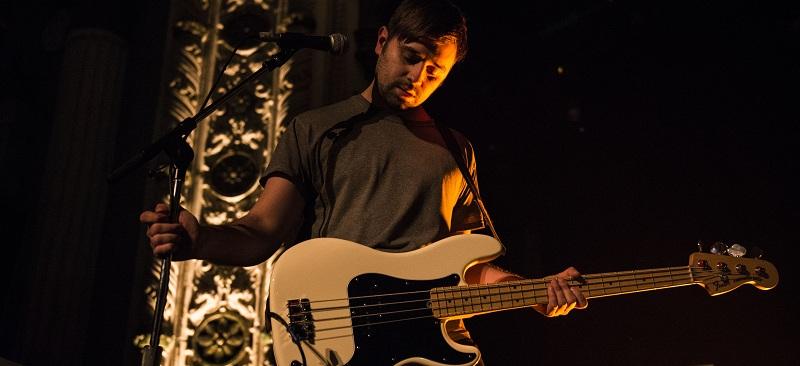 [slideshow_deploy id='8752′]
For a band whose stage presence is generally reserved, Cloud Nothings certainly know how to rile an audience. Even now, nine months after the release of 2014's acclaimed heart-tugging headbanger, "Here and Nowhere Else," the deceptively unassuming opening chug of "Now Hear In" throttled the crowd into a tangle. Most in attendance had numerous opportunities to catch their set in Chicago, even in just the past year. But Tomorrow Never Knows has a knack for pulling from the previous year's best-of's, and pairing them with a couple to look out for in days to come.
Local outfit Oozing Wound opened with a mesmerizing set of gritty and hyper-charged tracks spanning thrash metal and sludgy psychedelia. Admittedly an odd pick for an otherwise pop- or post-punk show, their recent momentum since emerging on label Thrill Jockey in 2013 warranted them perfect for a Tomorrow Never Knows booking.
The same goes for Bully, who have popped out of Nashville and gained traction in 2014, a year heavy in like-minded female-fronted punk bands. Armed with a huge vocal breadth, lead Alicia Bognanno's alternating growly screeches and croons pulled the band through midtempo and terribly catchy tracks. When they follow last year's EP, it's certain to make waves.
But after last year's "Here and Nowhere Else" proving to be a worthy contender for album of the year and an extensive tour, it's clear where Cloud Nothings stand. They need no light-show crutch or stage antics, and despite his confessional lyricism, lead Dylan Baldi is ironically a reserved figurehead, puffing out snarls behind a mop of hair and beard.
The year has turned them into a practiced act — their Metro set sounded quite like their Pitchfork Music Festival one last summer — but not a dull one. As their studio album's strength is a raw build into whirling and diving melodies, the threesome packed a gritty punch. The 8-minute slow burner "Wasted Days" built into a deafening, hypnotic jam to close out the set.
Drawing a packed house is one thing, and so is pushing hundreds in the audience into a chaotic state. But there's something to be said for a band who can so aptly translate their last few studio albums into a blistering set, and continue to awe and energize devotees after such a long tour. If 2014 was Cloud Nothings' biggest year, I can't wait for what's to come.