President Obama's State of the Union: Continuing a vision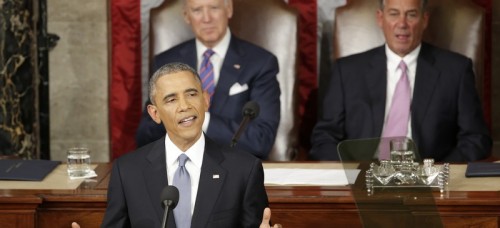 On Tuesday night, President Barack Obama addressed his State of the Union toward an entirely GOP-controlled Congress for the first time.
Despite the White House administration having released most of his upcoming proposals in the preceding weeks, his speech rang loudly with calls to bipartisan effort and a fight on behalf of middle class America. The president was assertive, hopeful and relaxed as he told America, "We are a strong tight knit family who has made it through tough times."
Here are some of the highlights:
Education: The president reaffirmed his plan to make the nation's community colleges "as universal as high school" by cutting the cost of its tuition to zero. In the address, Chicago got itself a shout out for its free community college system created by a Democratic government, and was paired with a counterpart policy enacted by the state of Tennessee's Republican government.
Supporting the Middle Class: One of the president's top priorities for the remaining two years of his presidency will be "restoring the link between hard work and growing opportunity for every American." With $320 billion total in tax cuts for the middle class, President Obama proclaimed cuts that could be worth up to $3,000 per child for qualifying families. The slack will be made up by taxing the "top one percent's" accumulated wealth and closing loopholes that allow the affluent to keep their wealth overseas.
Infrastructure: Instead of reprimanding Congress for its inability to approve the Keystone XL pipeline this past year, the president instead upped the ante by calling for a "bipartisan infrastructure plan that could create more than 30 times as many jobs per year (as Keystone XL) and make this country stronger for decades to come."
Wages: In another attempt to help the middle and lower class, the president asked Congress to raise the minimum wage. He poked at a Congress that has not done so in more than five years, saying that if any of them believed a family could survive on less than $15,000 a year, they were welcome to try. In addition, President Obama told Congress to end the infamous gender pay gap, citing the year being 2015.
Policy Abroad: After affirming the United States' support to its allies afflicted by terror in the last few months, President Obama asked Congress to pass a resolution authorizing the use of force against ISIS. He went on to condemn Russia's aggression and thanked Congress for its successful sanctions against Putin, but sternly warned that slapping Iran with any more sanctions could lead to a breakdown in talks to end their nuclear program.
The president ended the speech by addressing critics of the last six years who have claimed his inability to accomplish some of the biggest items of his agenda function as proof that his "vision" of national unity has been foolhardy and misguided.
"I still believe that we are one people, that together we can do great things, even when the odds are long," Obama said.