DePaul men's basketball loses 68-55 to No. 7 Villanova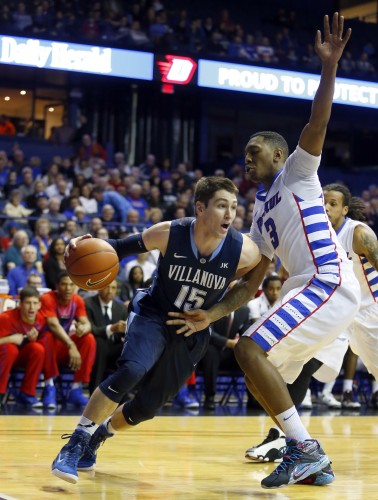 For the first half, DePaul men's basketball competed with one of the best teams in the nation — up 37-31 against No 7 Villanova.
It was the second half, however, that plagued the Blue Demons again.
Villanova guard Ryan Arcidiacono scored all 18 of his points after halftime and DePaul shot just 30 percent in the second half as the Blue Demons fell 68-55 Saturday at Allstate Arena. The loss was DePaul's third in a row and the Blue Demons (11-12, 5-5 Big East) fell below .500 for the first time since December.
"We tried to throw the first punch in the second half because coach told us that it depended on the first four minutes," DePaul forward Rashaun Stimage said. "We just didn't get the job done. We needed more energy. We need to run our stuff and execute. We just need to score the ball. That's all it came down to — execution."
Villanova (18-2, 6-2) cracked down on defense to prevent DePaul from getting easy opportunities. They hammered the boards, out-rebounding the Blue Demons 35-18, which limited DePaul's ability to get out and run the break.
More than anything, the Wildcats swarmed DePaul guard Billy Garrett Jr. After scoring 10 points in the first half, the Wildcats trapped Garrett in the corners to limit his chances to drive to the basket. Garrett finished with 14 points and eight assists, but also four turnovers.
"We didn't do a good job in the first half of getting everybody to 'load' to him," Villanova head coach Jay Wright said. "You just can't let (Garrett) see open space because he's too good. In the first half, we were trying to (trap him),  but he was making his moves quicker than us. In the second half, I thought we were just quicker at loading to him. We had all five guys come to him."
DePaul head coach Oliver Purnell said that his team didn't have the same drive and energy that they did in the first half. It was again another performance where the Blue Demons' offense stopped flowing and they committed sloppy turnovers in the half court, similar to how they lost the lead in a Jan. 24 loss against Xavier. DePaul committed eight turnovers, four in each half.
"Arcidiacono was really good in the second half," Purnell said. "I thought we did a great job on him in the first half, but he really keyed their offensive resurgence. And then, you can't give them two or three opportunities. It's not like we fell off the table guarding the ball. But when you give them two or three opportunities at the basket, they sometimes finished it off with a three, it really hurt you. That's a big swing."
Part of Villanova's success was the Wildcats getting to the free throw line. They made 85 percent from the charity stripe, including 14-of-15 in the second half.
In the first half, DePaul outplayed Villanova in large stretches because of the way they were able to stop Villanova from penetrating the paint or kicking it out to the outside. Purnell went with a new starting lineup of Garrett, Myke Henry, Jamee Crockett, Tommy Hamilton and Stimage, which put mostly DePaul's biggest players on the floor.
Hamitlon and Stimage gave Villanova forwards Daniel Ochefu and Jayvaughn Pinkson all they could handle early. Ochefu started the game 0-of-3 and ended the half with five points while Pinkson was limited to just two.
DePaul's offense also clicked with Garrett facilitating and finding shooters open. DePaul hit 52 percent of their shots, and 45 percent from 3-point range in the first. The Blue Demons led by as many as 11, 28-17, with 6:55 remaining before halftime.
"I told our guys that this is the best league in the country and you've got to go the full 40 minutes defensively," Purnell said. "20 won't get it done with anybody."
DePaul returns Tuesday at 8 p.m. against Seton Hall.