Former presidential candidate Mitt Romney not to run in 2016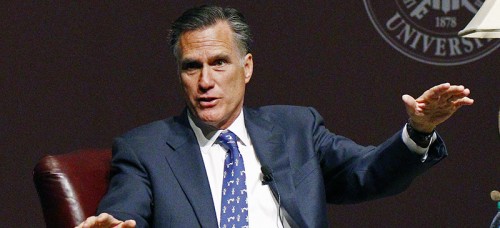 After a three-week flirtation with a new campaign for the White House, Mitt Romney announced Friday, Jan. 30 that he will not seek the presidency in 2016.
"After putting considerable thought into making another run for president, I've decided it is best to give other leaders in the party the opportunity to become our next nominee," Romney told supporters on a conference call.
The exit of Romney, who was the Republican presidential nominee in 2012, comes after several of his former major donors and a veteran staffer in the early voting state of Iowa defected to support former Florida Gov. Jeb Bush.
Bush and New Jersey Gov. Chris Christie would have served as Romney's most likely rivals for the support of the Republican Party's establishment-minded voters.
In his call with supporters, Romney appeared to take a swipe at Bush, saying it was time for fresh leadership within the GOP.
"I believe that one of our next generation of Republican leaders, one who may not be as well-known as I am today, one who has not yet taken their message across the country, one who is just getting started, may well emerge as being better able to defeat the Democrat nominee," Romney said. "In fact, I expect and hope that to be the case."
The former governor of Massachusetts, who is 67, had jumped back into the presidential discussion on Jan. 10, when he surprised a small group of former donors at a meeting in New York by telling them he was eyeing a third run for the White House.
The exit of Romney from the campaign most immediately helps those viewed as part of the party's establishment wing, including Bush, Christie, Florida Sen. Marco Rubio and Wisconsin Gov. Scott Walker.
The more conservative side of the field is largely unchanged, with a group of candidates that will likely include Kentucky Sen. Rand Paul, Texas Sen. Ted Cruz, former neurosurgeon Ben Carson and former Arkansas Gov. Mike Huckabee.
In the three weeks since the meeting in New York, which caught several in attendance off-guard, Romney made calls to former fundraisers, staff members and supporters, and gave three public speeches in which he outlined his potential vision for another campaign.
But as Romney sounded out his former team about putting together a new national campaign, he discovered that several former fundraisers had already made plans for 2016 and were now committed to Bush.
Aides who gathered in Boston last week offered Romney a blunt assessment of his chances, suggesting there was a path to victory but highlighting signs of eroding support in early states such as New Hampshire.
Romney's decision against running clearly pained him, and he took no questions from supporters on Friday's call.
"You can't imagine how hard it is for Ann and me to step aside, especially knowing of your support and the support of so many people across the country," Romney said. "But we believe it is for the best of the party and the nation."