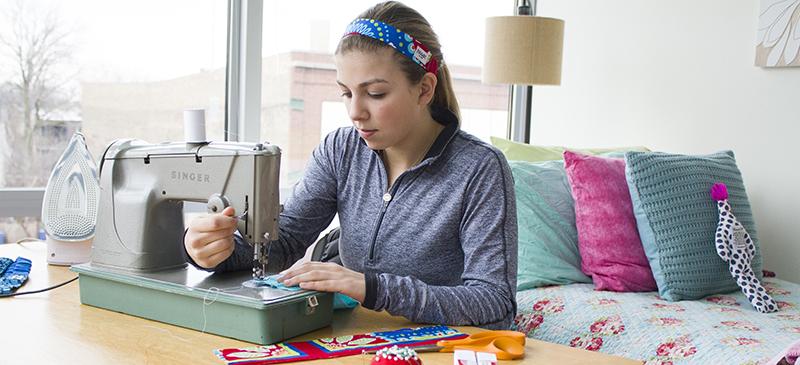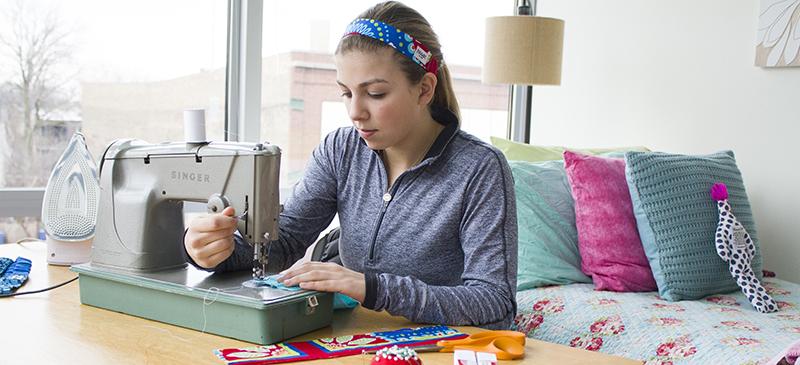 Sophomore Bianca Perry constructs a BBand in her bedroom workspace. Perry began her headband business in 2012 while she was in high school. (Grant Myatt / The DePaulia)
A career-ending injury ended up being the start of something even better for DePaul sophomore Bianca Perry. After being recruited to play soccer at DePaul, she tore her ACL for the third time just two weeks into her freshman preseason. But the energetic midfielder propelled her energy from the soccer field into the business she started in high school.
Inspired by a need for headbands that were both fashionable and functional, Perry started her own company, BBands, in 2012 while still in high school. The no-slip headbands come in a variety of vibrant colors and bold patterns. But instead of simply producing a fashionable product, they are "headbands designed to inspire."
Bringing her business from Lincoln, Nebraska to Chicago, Perry — now a marketing student — found a way to connect BBands to DePaul.
Perry gives a portion of the proceeds from each headband to the Sid Feldman Fund, a scholarship charity fund that partially funds high school students' tuition at DePaul. The fund provides students a chance to learn valuable sales skills. DePaul students created the fund so that Chicago Public School students would be given the opportunity to receive a higher education at DePaul.
One student is awarded the Sid Feldman Fund in a scholarship every year, receiving $16,000 for four years. Students awarded the scholarship also are given a mentor to help them become accommodated to life at DePaul. Over the past five years, $400,000 has been raised, allowing six students to attend DePaul. Senior Juan Lopez, one of the recipients of the scholarship, said it has been life changing.
"I always knew that I wanted to pursue a higher level of education," Lopez said. "If it weren't for the scholarship, I wouldn't be here or be as accomplished, or even gotten the different experiences that I have without it."
Lopez was motivated to apply for the scholarship because of what he saw on a day-to-day basis in his Englewood neighborhood. He saw poverty and violence all the time and realized that wasn't the lifestyle he wanted to live. As a result, Lopez has thrived in the renowned Honors Marketing Program and is expected to graduate in June.
BBands is an online-run operation shipping the two-tone fabric bands to customers all across the United States. Perry heads the operation out of her bedroom in her 1237 West apartment on Fullerton Avenue. Perry said the business is slowly growing and has additional sewers working for her to complete all the orders.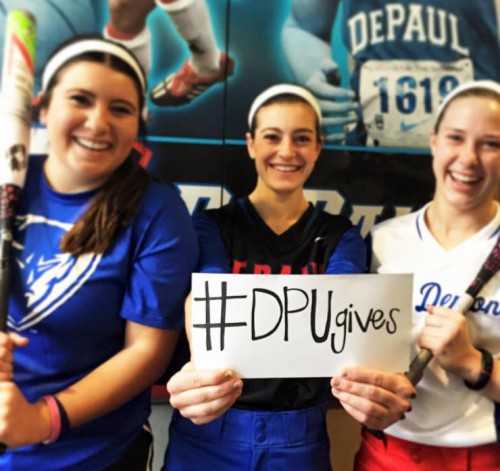 Custom BBands can be ordered for teams, clubs or upcoming events online as well. The DePaul women's softball team has already made a difference by ordering custom BBands. Freshman Hannah Hosty is on the softball team and thinks purchasing the BBands was a good idea.
"(Ordering BBands) is for a good cause and (they're) pretty unique," Hosty said. "It's nice that all of us have the same (headband), but it's also different than what other teams are wearing."
Hosty's teammate, freshman Haydn Christensen, also believes her team made a good choice in supporting Perry and her headbands because they give back to students.
"(The money) is coming to DePaul itself," Christensen said. "The (Sid Feldman Fund recipient) will be coming here. So in a way when you order the headbands, you're not already supporting this cause, but you're also supporting the school."
Both Hosty and Christensen also said part of the reason they're glad the softball team received BBands is because Perry is a former DePaul athlete.
Regardless of Perry still being in a sport or not, Hosty and Christensen consider her part of their athletic family and believe supporting her will have a positive outcome.
"I really consider our entire athletic community to be like a family," Christensen said. "You want to support them and when you support them, you're supporting yourself (too)."
Perry became more motivated to fundraise after hearing how the Sid Feldman Fund has impacted the lives of its recipients. 
"I've talked to a lot of the recipients such as (Lopez) and hearing a lot of their stories, you can connect and just want to do whatever you can to give back," Perry said. "Professor Clancy uses Vincentian values to motivate (the class) to give back to the DePaul community and the surrounding area. If we harness the power of the student body, we can make a huge difference!"
Lopez said it's "absolutely amazing and a fantastic idea" that Perry is using her business to give back to students. He also gave her some advice in trying to reach her goals.
"I told (Perry) the key idea to this is to really motivate yourself because when you start the class, you're really motivated, you're fired up and ready to go," Lopez said. "As the weeks start dwindling down, that's when you start losing motivation because you don't know who to talk to and you don't know who to sell to."
Between work and school, Lopez doesn't have time to fundraise for the Sid Feldman Fund, but he makes it a goal to talk to students such as Perry to help out. Lopez also wants to share his experiences in the future with students that were in the same situation as he was before coming to college.
"Growing up, a lot of people really told me that I would never amount to anything and the way I looked at it was I don't really want to be pissed off at the world," Lopez said. "I wanted to use that as my motivation or the tip on my shoulders. The message that I really try to get across is that I've been through hell and back and somehow I'm still here standing. There's really nothing that (students) can go through that can stop them from reaching their goals or that vision that (they) want to accomplish."