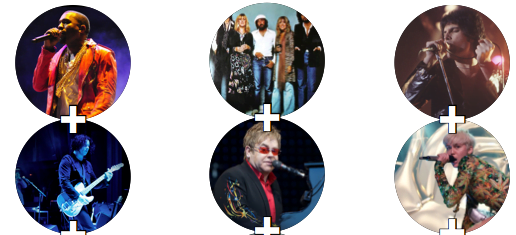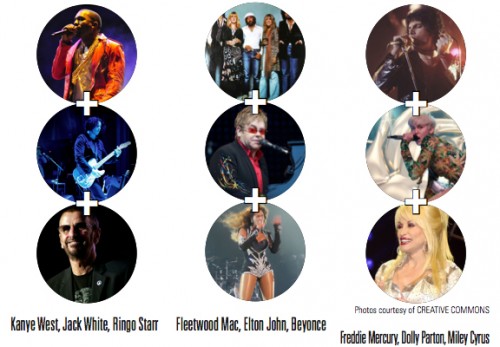 The Grammy's are famous for pairing unlikely musicians together for a performance, and Sunday's awards were no exception. Kanye West  and Rihanna tapped Paul McCartney for the stripped-back "Four Five Seconds," Hozier paired with Annie Lennox, and Lady Gaga and Tony Bennett resurrected their 2014 duets.
This certainly isn't the first time for such odd performance couples. Remember Kendrick Lamar and Imagine Dragons, or the horn line of Chicago backing Robin Thicke in 2014? On screen, it appears like a sweet moment of  musical camaraderie, a time for artists to set aside any differences and create odd mashups of the year's hits together.
While it might be hard to top Kanye, Rihanna and McCartney, we're hoping the Grammys continue this tradition. Here's who we would like to see on stage together in 2016.
Kanye West, Jack White, Ringo Starr
Let's face it: Kanye and Jack White are two of the most arrogant and headstrong popular musicians. Likewise, this pairing has the potential to go horribly wrong: Can you imagine White and Yeezy attempting to rant about the music industry at the same time?
If by some miracle, these two shook hands, it would be explosive to say the least. They would need to be partnered with someone content to flash peace signs from behind a drumset.Thanks for bringing the love, Ringo.
— Kirsten Onsgard
Fleetwood Mac, Elton John, Beyonce
Nothing and everything makes sense about this. The megaband would perform Elton John's "Funeral for a Friend/Love Lies Bleeding" with Fleetwood Mac as the band and Beyoncé as Beyoncé. There would be a lot of flowy black clothes and Stevie Nicks and Bey would be the best of friends, trading off vocals with John on the epic opening to  John's "Goodbye Yellow Brick Road." I'm crying just thinking about it. This feels like a real thing that could actually happen, so please Grammys 2016, make this happen.
— Courtney Jacquin
Freddie Mercury, Dolly Parton, Miley Cyrus
The Grammy's are a time to diversify your musical tastes through strange medleys, and remembering those who have since died. So here's what you do: create a Freddie Mercury hologram, pair it with Dolly Parton and throw in a little Miley.
Why? Why not? The teens want to see Hannah Montana gone wild, and grandma goes nuts for Miley's godmother, Dolly. Plus, we haven't had a hologram at the Grammys, and it's about time. It's a win for everyone, but mostly for advertisers.
— DePaulia Editors