Oscar-nominated short films: Animated
Here's a look at animated short films nominated for Oscars this year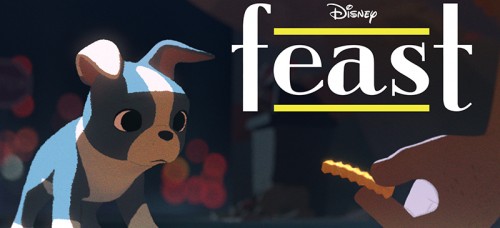 1. "The Bigger Picture"
This film is a rather quiet British film chronicling the relationship of two brothers who must care for their ailing mother in her final days. She adores one for being successful, but is cold to the other, even though he's been the one taking care of her. It's a very heartfelt film, and while the story occasionally drowns in its own sentiment it does succeed in getting its message across. What is fantastic is the animation style, which combines real-life objects, paper mâché and paintings on walls to create a very surreal environment. The characters pop in and out of the walls in a jarring but unique take on typical 3-D animation.
2. "Me and My Moulton"
Director and Oscar winner Torill Kove's Canadian and Norwegian film follows a young girl living day-to-day life with her crazy architect parents and two sisters who desperately want a bike. Classic hand-drawn animation encompasses this autobiographical short, making everything look clean, but also sterile. Though the story is genuine and heartfelt, the art style destracts its audience from the film's overall success, leading to a rather boring and tame 14 minutes.
3. "A Single Life"
This Dutch film, like "Me and My Moulton," is also more minor, and probably the weakest of the five. While the 3-D animation style is very fun and goofy, the overall story, which follows a single woman who plays a record that causes her to age rapidly, is very strange, and ultimately ends on an unsatisfactory and morbid note. It is worth a watch, but not an essential short film.
4. "Feast"
Like many of Disney's films, "Feast" follows a dog that is continually spoiled by his owner in the form of leftovers and junk food scraps. All is well until the man dates a woman who makes him eat healthier, and the scraps, too, become heathier and more unappealing. The animation style is typical Disney, parading a wash of colors across the screen and making every bit of food unimaginably appetizing. Each scene flows seamlessly into the next, never falling victim to a dull moment. The story is fun and imaginative, making for an enjoyable short and a fine addition to the Disney canon.
5. "The Dam Keeper"
Easily one of the best of the five films this year, "The Dam Keeper" revolves around a pig with a crucial job that keeps his town safe, and his interactions with a kind fox that changes everything. Using digital brush strokes to give the canvas a pastel-like look, the screen is flooded with a barrage of bright colors that are a treat for the eyes, like a children's book brought to life. Here, the directors have crafted a traditional animated film that puts recent Disney and Pixar efforts to shame, with a well-constucted story and a twist that sends the bright art into a temporary fit of darkness. It's gorgeous and utterly transcendent.