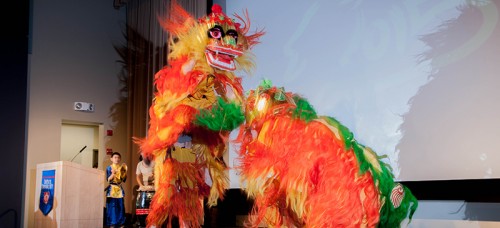 Over 630 students, faculty and members of the DePaul community packed the Student Center to celebrate the annual DePaul Chinese New Year Gala co-hosted by the Chinese Studies Program and the Center for Intercultural Programs on Thursday evening.
The event kicked off with traditional Chinese food and then moved into a period of cultural performances with an intermission of Chinese New Year trivia, leaving nothing but smiles on the faces of the attendees.
Alexa Reghanti, a sophomore majoring in International Studies, was one of many DePaul students who came to show her support for the Chinese Studies program, to enjoy the cultural festivities and to eat the free food, which was an added bonus.
"I think it's really nice that DePaul can host an event like this" Reghanti said. "I was adopted from China and went to an all-Chinese immersion school, so a lot of the culture that I learned about the Chinese New Year and tradition was all through the academic lens and I am really excited to continue that at DePaul," Reghanti said.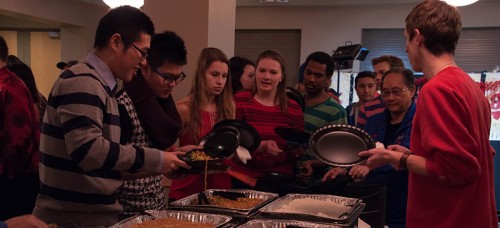 DePaul has hosted the event since 2009 and it was started by Professor Li Jin, the director of the Chinese Studies Program as an extracurricular activity for students who were taking Chinese language courses.
"It then sprawled and grew into this large-scale university-level cultural event," Jin said. 
"This event provides a perfect opportunity to make our international students from China feel included and build connections between friends with Chinese heritage and those interested in Chinese culture and society," Jin said.
Junru Wang, a first-year international graduate student from China, shared her feelings about being away from her friend on China's biggest holiday.
"It sucks that I am not at home, but I am really grateful that DePaul had this wonderful event," Wang said.
A common tradition of the Chinese New Year, or the Lunar New Year as some refer to it, is to celebrate with immediate family and close relatives. In the Asian culture, this holiday is a celebration that lasts around two full weeks and is a time when people take off of work or school in order to go home to celebrate with their families.   
Nina Wang, a DePaul alumnae and one of the performers at the Gala, compared the Chinese New Year to how American's celebrate the Thanksgiving and Christmas season and said, "No matter where they are (referring to family), they always come back home."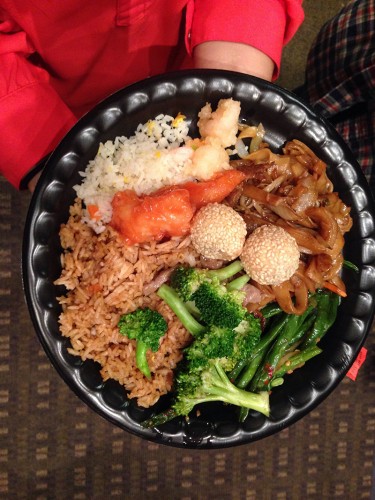 Food is another Chinese tradition that seems to be a key factor in ringing in the New Year. At the Gala, the local restaurant, Sweet Station, served common favorites such as beef and broccoli, orange chicken, fortune cookies and more traditional dishes such as la dofu, chow mian and sesame balls with red bean paste.
When asked what her favorite part of the holiday was, Sara Frankiewicz, a sophomore Chinese studies major, said, "I love the firecrackers, the lion dance and definitely all the food. My favorite is the spicy tofu."
Not only did the food spark conversation throughout the night, but the "Year of the Goat" controversy did as well. There was much speculation over whether the official Chinese zodiac animal is a goat, sheep or ram. Even Google added to the confusion by displaying a graphic on their site on New Years day that appeared to some as a sheep.
Frankiewicz said the Year of the Goat is a bad year and most people don't want to be a sheep or a goat. However, another DePaul student, Alex Nguyen, a junior majoring in secondary education, said, "When it comes to the goat, they are very caring, very durable in terms of personality wise, but they are also very shy."
Whether the zodiac sign brings good or bad luck, and whether it is actually a goat, a sheep or a ram, one thing is for sure: DePaul will need a bigger space to hold the event for next year because of the sizable turnout. In her opening remarks, Jin said, "My New Years resolution is to find a bigger place for next year's celebration."