Challenger Caroline Vickrey pushes for development reform in 43rd Ward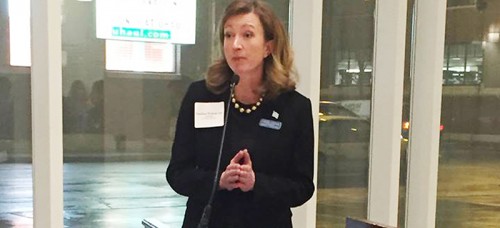 Lincoln Park is at a crossroads. While not facing as severe of problems compared with crime-ridden and economically depressed South and West side neighborhoods, the wealthy residents of the lakeside neighborhood have engaged in heated conversation over issues such as development and education.
Incumbent Ald. Michele Smith has an extensive record that has won her praise as well as criticism. While Smith could very well win on the first ballot, it is no guarantee. And it will certainly not happen if Caroline Vickrey, Smith's strongest challenger, has anything to do with it.
Vickrey, who supported Smith four years ago, broke ranks after she said the alderman broke campaign promises with regards to development, specifically the project at the former Children's Memorial Hospital site on Lincoln Avenue.
"As soon as she was elected, she started talking about building a crossroads and the language she started using was immediately different," Vickrey said. "Instead of getting the neighborhood groups that should have on board at the very beginning and should have been expressing their opinions, and she should have understood where they stood right at the beginning of the process, that was left to the very end."
Despite never having run for public office before, Vickrey has held her own throughout the campaign. Perhaps it's the attorney in her. Or the Local School Council member. Or maybe the Oz Park advisory council president. Whatever the case, Vickrey knows the neighborhood through and through and has suggested that it distinguishes her from the other candidates.
Raised in the city's Rogers Park neighborhood, Vickrey made a point of staying in the city she loves, settling in Lincoln Park 22 years ago and with her husband and raising their three kids here.
"I wanted to be closer to my husband's work, downtown, my work, it was an easier commute and then really it was the schools," Vickrey said. "We started out a Park West co-op, which is a great nursery school and a neighborhood institution where lots of people send their kids."
"We fell in love with the pre-school, and then we started at Lincoln Elementary School, our kids started there, and we did consider moving at one point, but then we just really loved the school and it was great," she said. "We decided to work and to improve it."
Education is an important issue for Vickrey. She was elected four times to the Local School Council at Lincoln Elementary, served as the PTA president and coached tennis for a number of years.
This sets the stage well for the aldermanic election, where education is arguably the second-most important issue of the campaign after development. At the center of the debate was the Lincoln School annex secured by Smith. While alleviating overcrowding at the school, many, including Vickrey, argued that there was a better way forward.
Smith, who is extremely proud of her record on education, said that the annex was necessary and that without it, another area school would be transformed from a magnet to a neighborhood school.
"My opponent's alternative was to shut down LaSalle Language Academy. That's what she wanted to do," Smith said. "By shutting it down and turning it into just a neighborhood school, it would have resulted in 350 children of color who come to our neighborhood for school to lose their chance to go to LaSalle Language Academy. It was a very serious issue and a seriously wrong position for her to take."
Vickrey, however, vehemently denies those assertions.
"The alderman likes to portray me as being anti-education and wanting to kick kids out of schools, which is flat out wrong. It's just incorrect," she said.
According to Vickrey, her position is that the discussion should have started with the CPS plan to demagnetize LaSalle given the close proximity of the school to Lincoln, and that an honest discussion should have been held on "how can we preserve the LaSalle magnet program, but also help Lincoln."
"She knows that I didn't want to shut down LaSalle and that's because I came and spoke to her extensively about my solution and my proposal, which by the way, she never got back to me and never gave me a response," Vickrey said. "And that's kind of what a lot of people experience when they have dealt with her in the past."
This is an important point to Vickrey's campaign. While she fully acknowledged that her, Smith and the other candidates are not too far apart on broader citywide issues, style matters — and she believes that Smith, who the Tribune endorsed but  acknowledged that she must work with people better, does not have the proper touch.
In the case of the Children's site, Vickrey said that the process would have gone by much faster and would have been less controversial if she were running the show.
"There were lots of public meetings, and that's great, but at some point you have to synthesize all of the different opinions," Vickrey said. "And I don't envy that job, I don't that it's easy, but the way that you do it is through some sort of semi-democratic process of saying that these neighborhood organizations have been around for a while, they represent a large group of people, and they kind of represent kind of a unified voice for the neighborhood."
Vickrey, who was endorsed by the Sun-Times, said that her favorite part of the campaign has surprisingly been doing events as well as going door to door and talking to voters, who "rejuvenate" her. This is probably needed given the negative state of the race, which she dislikes the most.
"What I don't like is sitting next to people at a table and talking about why I think they've done a terrible job," Vickrey said. "It's not fun, it's not in my nature, but I do have to explain to people who don't pay as close of attention as I do what has gone wrong in the past four years."
Vickrey did this by maintaining a hectic schedule of holding two events everyday up until the election for the past week, trying to convince Lincoln Park that it's time for a change.
In her spare time, Vickrey enjoys spending time with her family, especially doing things outside. They love visiting national parks and actively utilize the lakefront trail for long bike rides. A huge DePaul basketball fan, Vickrey is a friend of Coach Doug Bruno. She hopes to build a solid relationship with DePaul if elected.
At the very least, Lincoln Park has a choice to make between several qualified candidates.
View Comments (1)