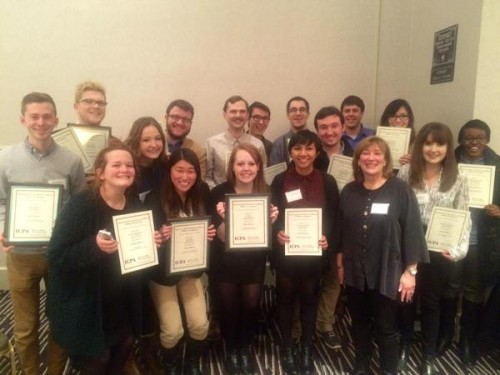 The DePaulia won 17 awards, the all-time high for the newspaper, at the Illinois College Press Association (ICPA) awards Saturday, Feb. 21.
The DePaulia won five first-place awards, including first place in general excellence for non-daily newspapers at school's with enrollment more than 4,000. This is the second time in three years The DePaulia has been awarded with this honor.
The ICPA honors the best in college newspapers in the state of Illinois.
Below is a full list of 2015 ICPA awards and recipients from The DePaulia.
First Place, General Excellence
First Place, General News Photography
First Place, Sports Page Design
First Place, Sports Column Writing
The time for change is now
First Place, Column Writing
Tackling the issue: Time to clear the animosity and ignorance
Second Place, Spot News Photography
Second Place, General News Photography
Second Place, Feature Page Design
Second Place, Sports Feature Writing
Turf wars: DePaul students left out of bounds with access to Wish Field
Third Place, News Story
The power of Relay
Third Place, Column Writing
#YesAllWomen: Discourse about sexual violence must continue
Third Place, Critical Review Non-Film
'David Bowie Is' better than ever
Third Place, Opinion Pages
Third Place, Sports News Story
Honorable Mention, Photo Essay
Honorable Mention, News Story
Vote calls for divestment
Honorable Mention, Shoot Chicago Contest