Old friends make moves as Modern Vices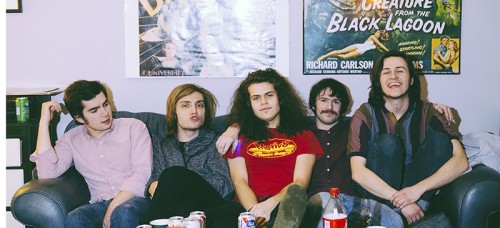 The coach house where Modern Vices lives is cozy. There's movie posters plastered on the walls, old school rock and roll vinyl neatly tucked upright on shelves, and books stacked on the side table. It's by no means a penthouse of any sort, but it's definitely a funky and welcoming place to be.
Alex Rebek, Peter Scoville, Miles Kalchik, Patrick Hennessey and Thomas Peters all call this place home. They work for it, too. Besides each playing in Modern Vices, they all work part or full time jobs to pay the rent. It's a humble abode with humble residents. Even though they've gained local success, Modern Vices is working hard to get their name out there.
The beginning of Modern Vices was coincidental. The Elmhurst natives all went to the same high school, Peters and Hennessey are cousins, and met through previous projects. Even their first full-length album wasn't premeditated.
"I don't know, it's just hard to explain because we just all came together and it was just fun to play with four other people. We were never like 'oh yeah, we're going to write this album and it's going to be the best,'" Peters said. "Truthfully, we just had all had these mix of songs that we were writing here and there with no intention of it being anything."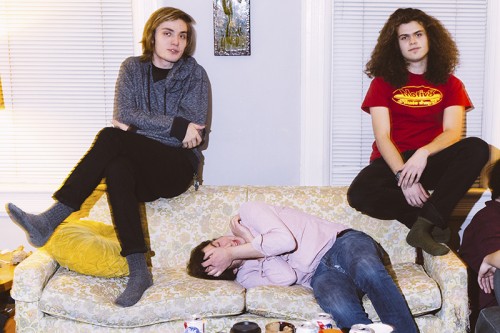 The album has a long list of influences, stemming first from old school rock and roll like Pink Floyd and Jimi Hendrix and then approaching more modern bands like The Strokes. The band describes how they used to watch videos on YouTube when they were younger, feeling jealous of iconic musicians like Ozzy Osbourne and Santana. When asked about their self-proclaimed genre "dirty doo wop," it earns a mix of chuckles and groans.
"It was a joke. A few songs had the doo wop thing," Rebek said. "It's actually helped us out a bit though."
It's true. The coined term does make an immediate separation from the typical garage rock genre. However, the members of the band said they aren't claiming to be doo-wop, but would rather evoke the feeling people get when they listen to it.
Soon after releasing their self-titled project, Modern Vices was approached by Autumn Tone Records, a Chicago label. The five of them decided to drop out of college — three of the members attended DePaul — and pursue a music career. So far, it seems to be working out.
Modern Vices is also taking a step forward by making a name for themselves in the Chicago DIY scene, which Modern Vices had nothing but love for. All five of them agree that Chicago is very communal, and said there are a lot of strong bands coming out of Chicago. Eventually, all of the bands become intertwined, playing basements or shows together with whatever stature they hold. Other local bands, like Twin Peaks, The Orwells and White Mystery, have given the band a helping hand. Modern Vices has played with all three, performing at a smattering of house shows and then playing a sold out show as an opener for Twin Peaks at Lincoln Hall.
"What else would you rather do than go to a show on the weekend, besides talking about the shows that you went to or talking about the bands that you're into? I feel like that's the whole vibe here. So many people are so into music here," Peters said.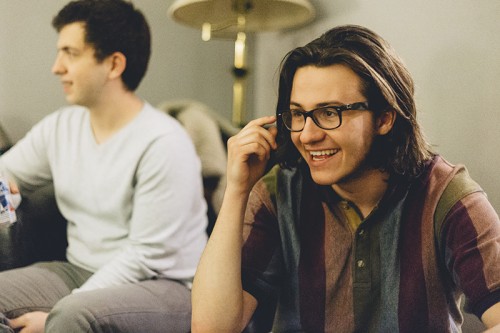 Come spring, they plan on playing a few house shows on the East Coast before heading to Skidmore College in upstate New York. Along with other Chicago bands like Strange Faces and The Boxers, they'll be making the trek down to SXSW to play some DIY shows.
In addition to beefing up their list of live performances, they also recently filmed a new video for their song "Smoke Rings." Although they couldn't give out details of the video, they did mention that the preview they got to see looked amazing. Ryan Ohm, who also created the music video for Modern Vices' "Cheap Style," as well as many Twin Peaks videos, was recruited to direct this one as well. Modern Vices enlisted the help of their close friends for the shoot.
"Like, for the next one, 'Smoke Rings,' it started out as a music video shoot, and then it just turned into a party and like everyone was wasted and nobody was cooperating. But he (Ohm) just got it done. He's always just been able to pull through with it," Scoville said.
In addition to being talented for their age (all of them are 21 or younger), each of them comes accross as modest and genuinely charismatic. The band also has a hard work ethic, constantly seeking shows in different states and writing new music. For now, more Chicago house shows are one of their priorities to continue to get their name out on the scene.
"It's just the best thing to do. I feel like now Chicago is like a mecca for hosting shows," Peters said. "I just want to jam".