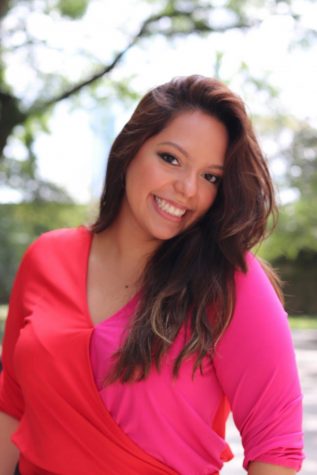 Hillary is the editor-in-chief of La DePaulia – The DePaulia's Spanish section and an undergraduate studying communications and media with a focus in Latino media and communications. Born in Venezuela, she hopes that through her work she can bring light to more voices of the Latino community. During her free time, she can be found binge watching her favorite Spanish soap operas or 'telenovelas.'
Contact Information:
Email her at eicladepaulia@depauliaonline.com.
Follow her on Twitter @hgflores_.
Hillary Flores, Social Media Editor
Jan 13, 2021

FROM THE EDITORS: Celebrating the first anniversary of La DePaulia

(Story)

Jan 13, 2021

Editorial: Celebrando el primer aniversario de La DePaulia

(Story)

Jan 07, 2021

DePaul Art Museum launches LatinXAmerican exhibition

(Story)

Jan 07, 2021

El museo de arte de DePaul lanza exposición LatinXAmerican

(Story)

Dec 02, 2020

La segunda ola de la pandemia causa problemas para líderes comunitarios del suroeste de la ciudad

(Story)

Nov 03, 2020

Cómo el final temprano del Censo 2020 afectó a latinos

(Story)

Oct 13, 2020

Dolores Huerta habla sobre temas relevantes a la comunidad latinx en un evento virtual

(Story)

Oct 09, 2020

Dolores Huerta talks issues relevant to Latinx community at virtual event

(Story)

Jul 23, 2020

Los inmigrantes indocumentados serán excluidos del Censo 2020

(Story)

Jul 23, 2020

Undocumented immigrants will be excluded from the 2020 census

(Story)

Jul 15, 2020

La administración Trump revoca las restricciones puestas sobre estudiantes internacionales

(Story)

Jul 15, 2020

Pruebas gratis de COVID-19 y HIV serán realizadas en Pilsen

(Story)

Jul 07, 2020

ICE: International students must take in-person classes or face deportation

(Story)

Jul 07, 2020

ICE: Los estudiantes internacionales deben tomar clases en persona o enfrentar la deportación

(Story)

Jun 01, 2020

La comunidad latinx se une para defender vidas afroamericanas ante protestas en Chicago

(Story)

Jun 01, 2020

Latinx community unites to advocate for Black lives amid Chicago protests

(Story)

May 14, 2020

The best kinds of face masks to purchase, according to health experts

(Story)

May 14, 2020

Las mejores mascarillas que deben comprar, según expertos de salud

(Story)

May 05, 2020

Las organizaciones culturales de DePaul siguen construyendo comunidades a distancia

(Story)

May 03, 2020

42 niños inmigrantes dan positivo al COVID-19 en centros de detención de Heartland

(Story)

Apr 27, 2020

Cuba envía ayuda internacional para 'proteger la imagen de Castro'

(Story)

Apr 27, 2020

Cuba sends out international aid to 'protect the Castro image'

(Story)

Apr 14, 2020

'She's doing what is humane': Undocumented college students express relief over Lori Lightfoot's order ensuring benefits to undocumented

(Story)

Apr 14, 2020

"Ella está haciendo lo humanitario": Estudiantes universitarios indocumentados expresan alivio por la orden de Lori Lightfoot que asegura beneficios a indocumentados

(Story)

Apr 02, 2020

Latino-owned restaurant provides food to first-responders: 'We're all in this together'

(Story)

Apr 01, 2020

Restaurante de dueños latinos provee alimentos a trabajadores de primeros auxilios: 'Estamos todos juntos en esto'

(Story)

Mar 16, 2020

Bob Fioretti — La DePaulia

(Story)

Mar 16, 2020

Christopher Pfannkuche — La DePaulia

(Story)

Mar 16, 2020

Patrick O'Brien — La DePaulia

(Story)

Mar 02, 2020

La suspensión de los comicios municipales en la República Dominicana causa protestas

(Story)

Mar 01, 2020

Dominican Republic election suspension prompts protests

(Story)

Feb 09, 2020

El apoyo de Trump al líder opositor de Venezuela alza preguntas sobre presuntos intereses egoístas del país norteamericano

(Story)

Feb 09, 2020

Trump's support for Venezuela's opposition leader raises questions of 'selfish-political interest'

(Story)

Feb 03, 2020

Jesus 'Chuy' Garcia launches re-election campaign: 'We represent diversity'

(Story)

Feb 01, 2020

Congresista Jesús 'Chuy' García lanza campaña de reelección: 'Nosotros representamos la diversidad'

(Story)

Jan 29, 2020

Recordando a Kobe Bryant: Lo que él significó para la comunidad latina

(Story)

Jan 27, 2020

Estudiantes indocumentados aún enfrentan preocupaciones después de aprobación de nueva ley

(Story)

Jan 20, 2020

Organización estudiantil revela nuevo mural representando a países Latinoamericanos

(Story)

Jan 12, 2020

Nuevo Local de Música en Pilsen Preocupa a Residentes

(Story)

Dec 12, 2019

Restaurante del Loop provee acceso a la cultura Venezolana

(Story)

Dec 12, 2019

Loop restaurant gives insight to Venezuelan culture

(Story)

Nov 18, 2019

Tribune Cierra Sus Medios En Español

(Story)

Oct 13, 2019

Event highlights benefits to bilingualism and hardships speakers experience

(Story)

Sep 30, 2019

Models show off Mexican-Contemporary designs at Latinx Fashion Show

(Story)