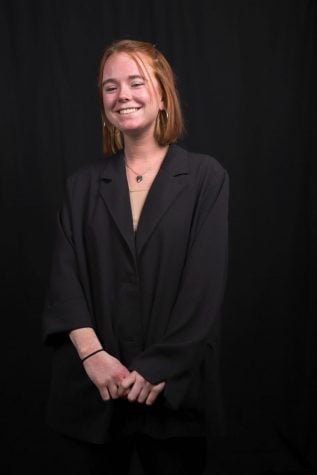 Patsy Newitt is the assistant news editor for The DePaulia and an undergraduate student double-majoring in journalism and public relations & advertising with a minor in American politics. She's interested in issues of housing and education in the Chicago area and is a big fan of walking.
Contact Information:
Email Patsy at news@depauliaonline.com. Follow her on Twitter @pat_newitt.
Patsy Newitt, Assistant News Editor
Oct 25, 2020

Biden leads in swing states as election nears

(Media)

Oct 05, 2020

Tracking Trump's contacts since contracting Covid-19

(Story/Media)

Sep 20, 2020

SGA discusses new appointing vice president, budget at first meeting of the year

(Media)

Sep 07, 2020

Study abroad programs continue despite COVID-19 restrictions

(Media)

Jun 16, 2020

Impending COVID-19 recession to impact women more than men

(Story)

May 14, 2020

DePaul students sue university for partial tuition refund after COVID-19 shutdown

(Story)

May 01, 2020

DePaul faculty, staff send petition to upper administrators requesting protection of adjunct, term faculty as COVID-19 drags on

(Story)

Apr 30, 2020

Jason Hill sues DePaul, upper administration for 'campaign of intimidation and demonization'

(Story)

Apr 30, 2020

Chartwells employee at DePaul tests positive for coronavirus

(Story)

Apr 19, 2020

Timeline of alleged entanglements between DePaul's athletics department, Title IX office

(Story)

Apr 07, 2020

Some DePaul resident assistants left shaken after being forced to leave housing

(Story)

Mar 08, 2020

DePaul alum makes run for contested state rep. seat

(Story)

Mar 01, 2020

McKinley Park residents fighting for clean air try to block controversial asphalt plant on Chicago's Southwest Side

(Story)

Mar 01, 2020

Newly-vacant 12th district seat catches the eyes of many

(Story)

Feb 23, 2020

DePaul workshop bridges design and empathy

(Story)

Feb 16, 2020

50 years of Joan Didion

(Story)

Feb 16, 2020

J.B. Pritzker proposes Illinois to go first in primary

(Story)

Jan 26, 2020

DePaul event encourages attendees to rethink perceptions of drug use

(Story)

Jan 26, 2020

Programming error registers hundreds of non-citizens

(Story)

Jan 20, 2020

Illinois voter registration bill sparks controversy over implementation

(Story)

Jan 20, 2020

Community theatre celebrates MLK Jr.'s legacy as civil servant and peace advocate

(Story)

Jan 20, 2020

Chicago reflects on King more than 50 years after Marquette Park violence

(Story)

Jan 12, 2020

Real ID is coming — here's what you need to know

(Story)

Dec 21, 2019

Holiday histories: DePaul through the decades

(Story)

Nov 18, 2019

DePaul LSP changes could bring program around

(Story)

Nov 11, 2019

DePaul faculty-led committee to address diversity concerns

(Story)

Oct 28, 2019

DePaul duo will use grant to research violence in African American youth

(Story)

Oct 23, 2019

Panel at DePaul event proves power of community art

(Story)

Oct 14, 2019

Critical Language winner ­goes from U-Hall to Jordan

(Story)

Oct 14, 2019

Diversity ratings show inclusion efforts at DePaul fall short of real progress

(Story)

Oct 04, 2019

DePaul president on waning enrollment, diversity concerns in State of University

(Story)

Sep 23, 2019

City Hall comes to Lincoln Park

(Story)

Apr 15, 2019

Trauma-informed response training equips DePaul faculty and staff with survivor-focused direction

(Story)

Mar 04, 2019

Valerie Johnson brings activism to academia

(Story)