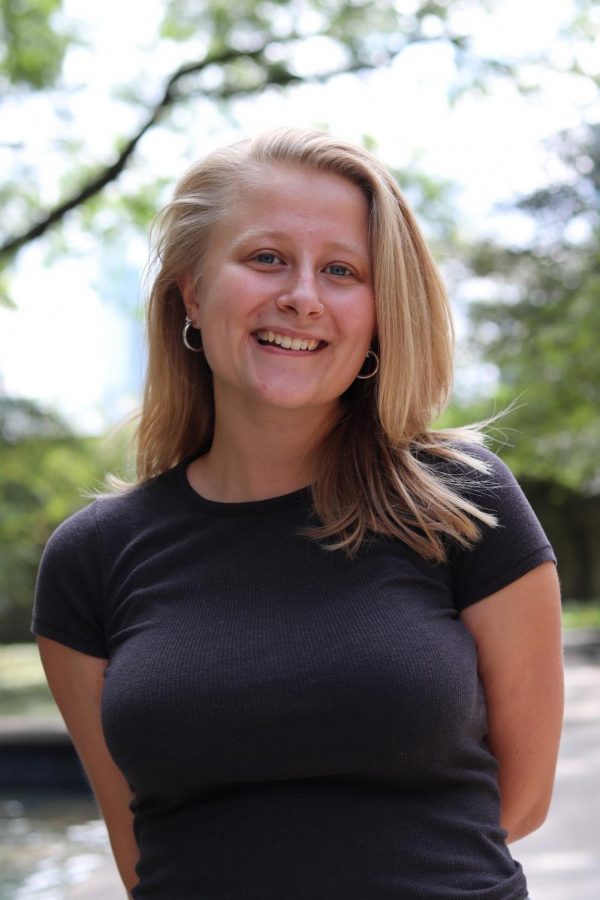 Emma Oxnevad is the Online Managing Editor for The DePaulia. When she isn't downing Diet Coke in The DePaulia office, you can find her listening to music, regurgitating trivia in casual conversation, or downing Diet Coke elsewhere in the city.
Contact Information:
Email her at online@depauliaonline.com. Follow her on Twitter @emmaoxnevad.
Emma Oxnevad, Online Managing Editor
Nov 10, 2020

DePaul announces interim executive vice president

(Story)

Nov 08, 2020

St. Vincent's DeJamz

(Story)

Nov 01, 2020

St. Vincent's DeJamz

(Story)

Oct 25, 2020

Biden leads in swing states as election nears

(Story)

Oct 18, 2020

St. Vincent's DeJamz

(Story)

Oct 11, 2020

St. Vincent's Dejamz

(Story)

Oct 04, 2020

St. Vincent's DeJamz

(Story)

Sep 27, 2020

Contested race for 14th Congressional district seat teeters on youth, commitment to president

(Story)

Sep 27, 2020

St. Vincent's DeJamz

(Story)

Sep 20, 2020

St. Vincent's DeJamz

(Story)

Sep 13, 2020

DePaul floats new Title IX policy amid federal changes

(Story)

Sep 13, 2020

Chicago Police throw maskless gathering in DePaul classroom

(Story/Media)

Sep 07, 2020

St. Vincent's DeJamz

(Story)

Sep 07, 2020

University implements new precautions in preparation for fall quarter

(Story)

Sep 02, 2020

New regulations fundamentally change Title IX at DePaul

(Story)

Aug 12, 2020

DePaul announces new guidelines for on-campus housing

(Story)

Aug 05, 2020

DePaul students criticize reportedly racist culture within College of Communication, university

(Story)

Jul 31, 2020

School of Music students call for dean's removal in open letter

(Story)

Jul 31, 2020

University officials say they are reconsidering plans for fall quarter amid rising COVID-19 cases

(Story)

Jul 24, 2020

REVIEW: Taylor Swift finally grows up with 'Folklore'

(Story)

Jul 23, 2020

St. Vincent's DeJamz

(Story)

Jul 21, 2020

Suspect apprehended for murder of DePaul student Gary Tinder

(Story)

Jul 06, 2020

'He was just a bright, bright light': Remembering Gary Tinder

(Story)

Jun 25, 2020

St. Vincent's DeJamz

(Story)

Jun 22, 2020

University responds to protests regarding police affiliation

(Story)

Jun 16, 2020

St. Vincent's DeJamz

(Story)

Jun 16, 2020

Graduating seniors prepare to face an uncertain job market

(Story)

Jun 09, 2020

DePaul professor sues university for racial discrimination, retaliation

(Story)

Jun 08, 2020

DePaul professor claims broken rules, discrimination led to denial of tenure

(Story)

Jun 05, 2020

DePaul students achieve final exam exemptions after circulating petition

(Story)

Jun 05, 2020

REVIEW: Lady Gaga dances through the pain on "Chromatica"

(Story)

May 28, 2020

Some DePaul students voice concerns over CARES Act grant application

(Story)

May 22, 2020

OPINION: Yes, we still have to do things the hard way

(Story)

May 09, 2020

St. Vincent's DeJamz

(Story)

May 07, 2020

U.S. Department of Education bolsters rights of accused with new, final Title IX guidelines

(Story)

Apr 21, 2020

Acting for a Cause organizes live readings of plays to help keep culture alive during pandemic

(Story)

Apr 16, 2020

How DePaul's Title IX office plays into new lawsuit against university

(Story)

Apr 16, 2020

St. Vincent's DeJamz

(Story)

Apr 13, 2020

OPINION: For Generation Z, COVID-19 is the latest in a series of major traumas

(Story)

Apr 05, 2020

St. Vincent's DeJamz

(Story)

Apr 01, 2020

DePaul's newest Title IX coordinator inherits department distrust but is confident in new role

(Story)

Mar 17, 2020

Biden wins Illinois primary, AP reports

(Story)

Mar 17, 2020

Ion Lincoln Park resident tests positive for COVID-19

(Story)

Mar 13, 2020

DePaul students demand university lower tuition next quarter

(Story)

Mar 11, 2020

DePaul Art Museum cancelling exhibition reception amid COVID-19 fears

(Story)

Mar 08, 2020

OPINION: Women just can't win

(Story)

Mar 08, 2020

COLUMN: DePaul's counseling services reflect priorities

(Story)

Mar 08, 2020

DePaul law professor under fire for saying stop-and-frisk isn't racist

(Story)

Mar 08, 2020

St. Vincent's DeJamz

(Story)

Mar 01, 2020

St. Vincent's DeJamz

(Story)

Mar 01, 2020

The DePaulia ranks the best albums by female artists for Women's History Month

(Story)

Feb 23, 2020

Ion Apartments, formerly 1237 West, described by residents as less-than utopic experience

(Story)

Feb 16, 2020

St. Vincent's DeJamz

(Story)

Feb 16, 2020

'Miss Americana' attempts to restore Taylor Swift's reputation

(Story)

Feb 04, 2020

UPDATED: Associated Press unable to declare a caucus winner

(Story)

Feb 04, 2020

App snafu stalls final Iowa caucus results, muddies race moving forward

(Story)

Feb 03, 2020

St. Vincent's DeJamz

(Story)

Feb 03, 2020

Young voters weigh priorities heading into the Iowa caucus

(Story)

Feb 03, 2020

Bernie Sanders campaigns in Cedar Rapids with help from Vampire Weekend

(Story)

Jan 29, 2020

Second Title IX coordinator leaves DePaul in 1 year

(Story)

Jan 26, 2020

St. Vincent's DeJamz

(Story)

Jan 26, 2020

Protest music nowadays isn't like it used to be

(Story)

Jan 20, 2020

St. Vincent's DeJamz

(Story)

Jan 12, 2020

OPINION: Celebrities should use awards shows to speak out on important issues

(Story)

Jan 12, 2020

Here's what to expect in music in 2020

(Story)

Jan 10, 2020

St. Vincent's DeJamz

(Story)

Dec 28, 2019

End of the decade: women in 2010s pop music

(Story)

Dec 13, 2019

Harry Styles experiments with new album, with uneven success

(Story)

Nov 18, 2019

It's been 50 years since 1969 – what's changed and stayed the same?

(Story)

Nov 18, 2019

OPINION: When facing extreme hardship, it's crucial to acknowledge moments of happiness

(Story)

Nov 18, 2019

St. Vincent's DeJamz

(Story)

Nov 11, 2019

As DePaul's Title IX office rebrands, new director aims for transparency

(Story)

Nov 11, 2019

St. Vincent's DeJamz

(Story)

Oct 29, 2019

Congresswoman Katie Hill resigns after photos out relationship with campaign staffer

(Story)

Oct 28, 2019

Textured hair products to be sold at DePaul

(Story)

Oct 28, 2019

St.Vincent's De Jamz

(Story)

Oct 21, 2019

The legacy of 'Led Zeppelin II'

(Story)

Oct 21, 2019

Sports Illustrated gutted by new media layoffs

(Story)

Oct 21, 2019

St. Vincent's DeJamz

(Story)

Oct 14, 2019

St. Vincent's DeJamz

(Story)

Oct 14, 2019

DePaul SGA-organized discussion lets candidates for various senate seats talk platforms and campus issues

(Story)

Oct 07, 2019

SGA announces initiative to provide free menstrual products in every campus restroom

(Story)

Oct 07, 2019

St. Vincent's DeJamz

(Story)

Oct 07, 2019

OPINION: If unchecked, hustle culture can lead to anxiety and dissatisfaction in one's work

(Story)

Sep 30, 2019

The plight of VSCO Girls

(Story)

Sep 23, 2019

OPINION: Don't pity the accused: sexual assault allegations don't hurt men

(Story)

Sep 16, 2019

St. Vincent's DeJamz

(Story)

May 28, 2019

Students lead the conversation at DePaul Listens

(Story)

May 28, 2019

Reproductive justice rally in Chicago stokes abortion debate

(Story)

May 20, 2019

OPINION: How anti-abortion activists are warping the way we discuss reproductive health

(Story)

May 20, 2019

Students break fast and learn about Ramadan at Interfaith Iftar

(Story)

May 13, 2019

Camp: the theme that means the most – or nothing at all

(Story)

May 13, 2019

Protest against CPD union in Near West Side ends in 12 arrests

(Story)

May 13, 2019

DePaul student government races go largely uncontested

(Story)

May 06, 2019

DePaul Student Government Association candidates prepare for upcoming election

(Story)

May 06, 2019

A conversation with DePaul Title IX

(Story)

May 06, 2019

21 years of Vincentian service at DePaul

(Story)

Apr 22, 2019

Students question Title IX office's accessibility and conduct

(Story)

Apr 15, 2019

A year after ticketing debacle, DePaul students are still willing to pay for extra tickets

(Story)

Apr 15, 2019

Dragged into DePaul

(Story)

Apr 08, 2019

DemonTHON heats up DePaul Student Center

(Story)

Mar 11, 2019

Metra issues further inconvenience commuter students

(Story)

Mar 04, 2019

Chicago treads to the polls with surprisingly low voter turnout

(Story)

Feb 25, 2019

A 'loss to the DePaul community': Lincoln Park mourns Kelly's Pub owner's death

(Story)

Feb 18, 2019

Sex workers push back against panel on pornography

(Story)

Feb 11, 2019

Lori Lightfoot helps rebuild trust during mayoral race

(Story)

Feb 04, 2019

Chicago bands together to help the homeless during deep freeze

(Story)

Jan 28, 2019

Feminists brave the cold for Young Women's March Rally

(Story)

Jan 28, 2019

Sorority for women in STEM inducted at DePaul

(Story)

Jan 22, 2019

Students speak out against proposed Title IX reforms

(Story)

Jan 22, 2019

As mayoral election gets closer, DePaul students lack interest

(Story)

Jan 14, 2019

Mental health in college: More than just a resolution

(Story)

Oct 22, 2018

Clinton family encourages students to remain optimistic

(Story)

Oct 15, 2018

Chance the Rapper will donate $1 million to mental health services

(Story)

Oct 08, 2018

Faculty council meeting gets heated over SNL fate, race issues

(Story)

Oct 01, 2018

Van Dyke trial approaches a verdict as prosecution rests

(Story)

Sep 24, 2018

Student creates a new business to promote acceptance

(Story)

Sep 24, 2018

Bill Daley joins race to become Chicago's next mayor

(Story)

Sep 17, 2018

SGA and Chartwells team up on new sustainability efforts

(Story)

Sep 10, 2018

Students blast changes to meal plans

(Story)

Jul 23, 2018

'Mamma Mia! Here We Go Again' delivers another ABBA-centric feel-good flick

(Story)

Jul 03, 2018

Harry Styles solidifies his rockstar status at United Center

(Story)

Jun 23, 2018

The wait was worth it for 'Incredibles 2'

(Story)

May 29, 2018

'13 Reasons' gets graphic in season two

(Story)

May 14, 2018

Graduation gouging: Lack of commencement tickets means high prices for students

(Story)

May 07, 2018

Review: 'The Handmaid's Tale' season two premiere

(Story)

Apr 09, 2018

Roseanne's Return: A look at the polarizing reboot

(Story)

Mar 05, 2018

The rich history of social movements at awards shows

(Story)

Jan 29, 2018

Walk the Moon ignites Aragon Ballroom

(Story)