June 9, 2015

Filed under News
As DePaul's seniors wrap up their final undergraduate moments, some students are excited to start their first entry-level jobs, some are looking forward to traveling for a couple years, and some are simply waiting for a summer vacation before starting graduate school, while others are contemplating their degrees and if graduate school might be worth it and when. R...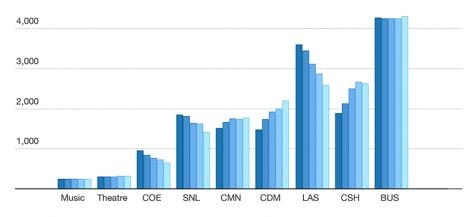 March 8, 2015

Filed under Campus News, News
While higher education enrollment suffers nationally, DePaul is no exception. Since 2011, the total university enrollment is down about 6 percent, while graduate and law enrollment have dropped the most by about 15 percent, according to DePaul's 2014 Enrollment Summary. Read More &raquo...