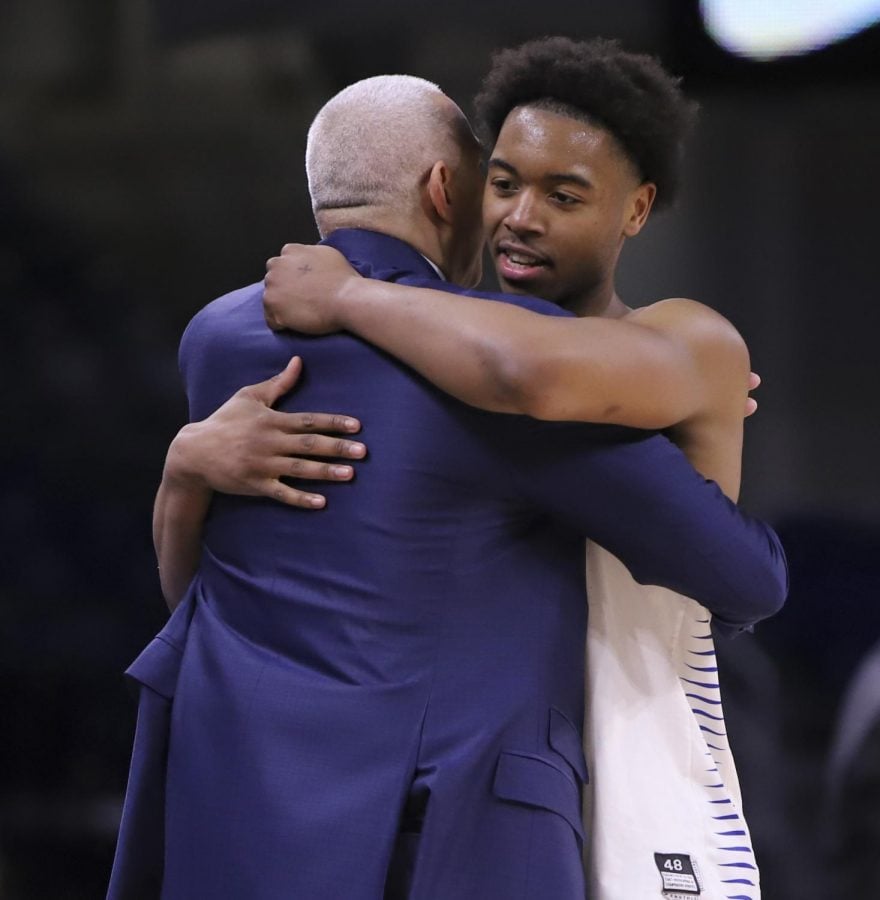 Lone four-year senior shines in final home game
Senior guard Eli Cain never had a true senior day when he was at St. Benedict's Preparatory School. That made what transpired in potentially his final two games at Wintrust Arena that much more memorable as DePaul rallied from a double digit first-half deficit to take down St. John's on senior day, and followed that up with a 32-point win over Georgetown.
Although the senior from New Jersey finished with just two points and five assists before fouling out with 56 seconds remaining against St. John's, Cain departed to a standing ovation and a hug from his head coach Dave Leitao.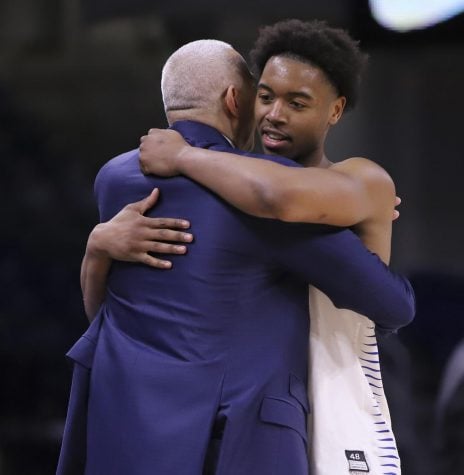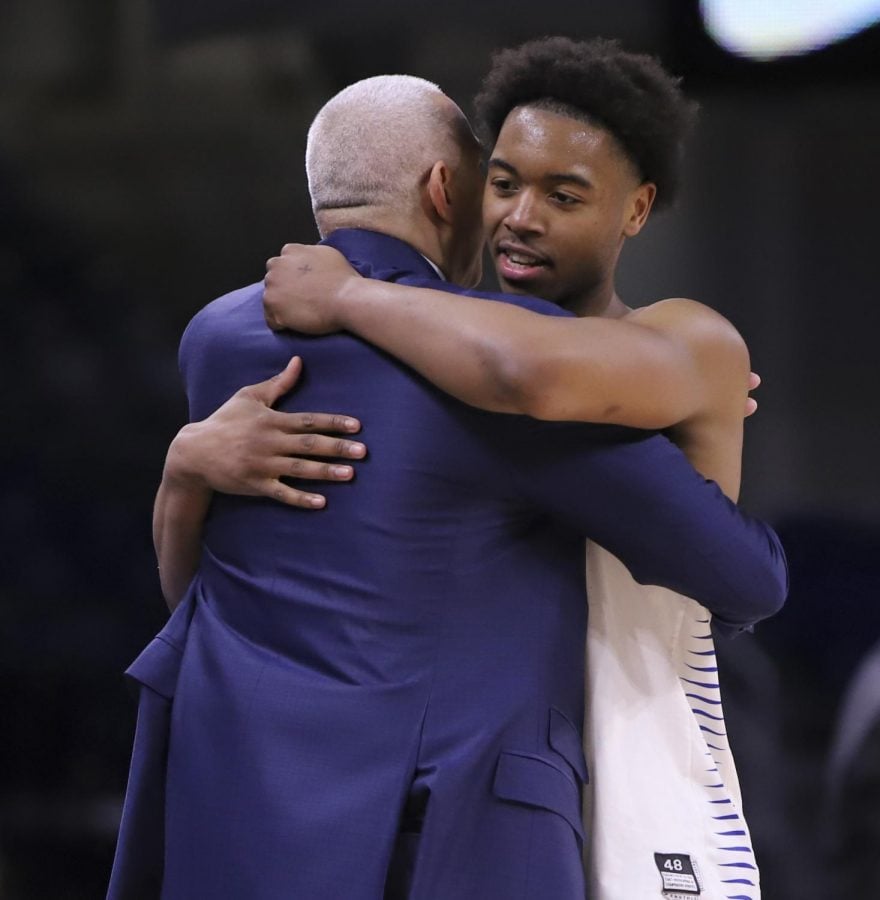 "It was special," Cain said on Tuesday of DePaul's win over St. John's. "I never had a senior day like in high school I never had a senior day, but it was special. I was kind of curious going into it, we didn't know what it was going to be like but we got the win, Max [Strus] went bonkers, I didn't play well I was in foul trouble but I mean we won so none of that matters, Femi [Olujobi] was going crazy to so I'm happy for my two teammates, two seniors."
DePaul still had one more home game to go though and that provided one more chance for Cain to again finish with another memorable win. The game couldn't have turned out better for Cain, who finished with 24 points, five assists and three steals before again departing to a raucous ovation from an appreciative crowd that had just witnessed one of the Blue Demons most complete wins in years.
The way Cain played didn't surprise coach Leitao and neither did the way Cain handled those two days in between St. John's and Georgetown. Cain's even keeled nature is a characteristic Leitao said "he loved most" about his senior guard and something he would like to see the rest of the team take note of how he handled himself.
"[He] was the same guy," Leitao said after the Blue Demons win over Georgetown. "I think that's one of the biggest keys to being able to maintain yourself and play through highs and lows and he had a tremendous, tremendous game today all the way around again starting with how he defended and got through screens which they set a ton of them and that's the way you want to go out as a senior."
Despite the fact Cain will finish his career top five in all-time career 3-pointers at DePaul and top 15 in career points, those have not resulted in a lot of wins. Prior to this season, DePaul had won just four home conference games in his three years on campus and he already matched that number this season with the two late wins against St. John's and Georgetown.
With that win against Georgetown, DePaul finished the regular season with seven conference wins, its most conference wins since the 2006-07 season. Entering Wednesday, Cain said to be able to accomplish that would be huge for him and coach Leitao as they set the goal coming in to at least reach that mark.
"We both came in together four years ago that's the goal we had we went through the trenches those first three years, last year we saw it we were there we lost multiple games by under five points," Cain said. "This year we were able to pull some of those games out."
Through all the downs, Cain finished his time at Wintrust with the highest of highs with DePaul scoring its most points since a 108-69 win against Syracuse on March 2, 2006.
"It's special obviously, it's always special to get a win in general," Cain said on Wednesday. "With a win like this and an atmosphere inside and like we said being the last game for us as seniors at home I think it's just special. But we are not done here it was a good game we got to build on it and keep moving forward."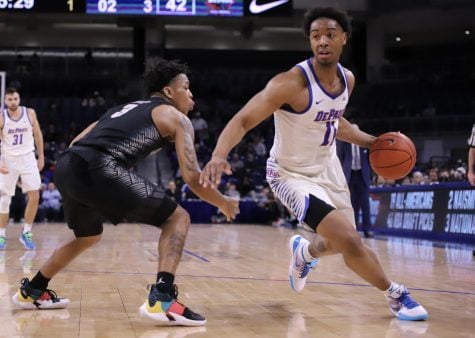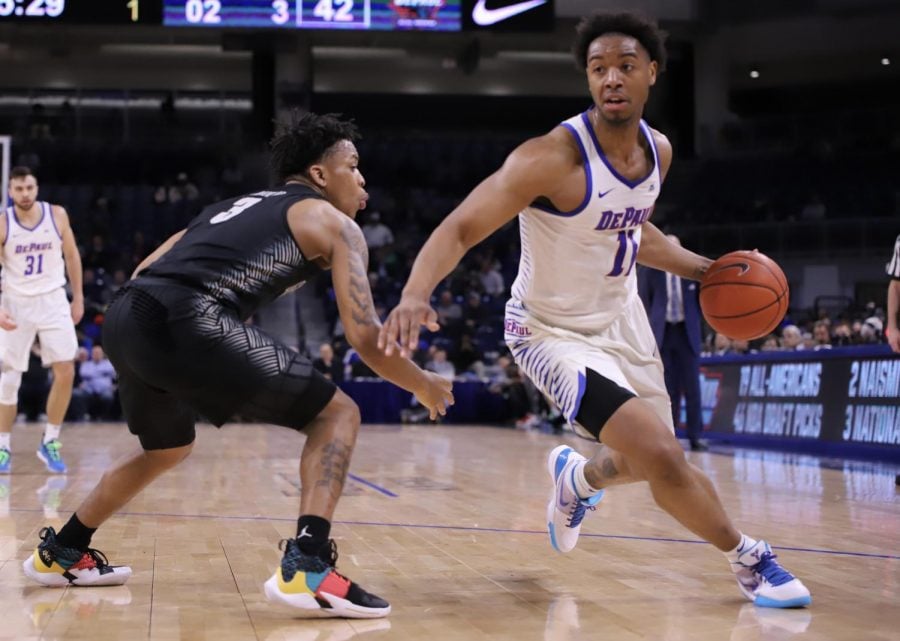 That message was echoed by fellow senior guard Max Strus, who said Wednesday it was a special way for him and Cain to go out.
"That was a special way to go out for us tonight," Strus said. "I mean we were both wide open a lot it was good to find each other so that's what we've been trying to do and we're trying to get this program going up on the upwards trend that's what we're trying to leave our legacy on building this DePaul program and I think we're moving in the right direction I think tonight really showed that and I hope our fans are excited for what's coming next."
As for where the program is heading, Cain was optimistic with the No. 26 ranked class for 2019 that also sits third in the Big East, combined with some of the transfers Cain has already had the opportunity to face.
"I think the program is in special hands," Cain said. "The guys we have coming in next year I think the coaches did a really good job in recruiting. I think it's going to be a different team next year, a lot of guys that are really athletic, really aggressive on the defensive end and I think that team is going to be very hard to beat. We got against a couple of them every day in scout, really talented and special guys and we haven't even seen the freshman that are coming in, just the transfers and the young guys so I think this program is in really good hands going forward."
Before that however, Cain and Strus both hope to keep this season running as long as possible. That challenge starts Wednesday night when No. 10 seed DePaul faces off against No. 7 seed St. John's in the first round of the Big East Tournament at Madison Square Garden.