Made in Chicago: Museum highlights products from the city
October 23, 2022
While strolling through an antique shop in early January 2015, Chicago resident Andrew Clayman noticed a pale green kitchen scale sitting on one of the store shelves. Although drawn at first to its faded, worn-out face, Clayman made a life-changing discovery that would ultimately send him down a rabbit hole.
Barely visible among the faint lettering on the 1930s Pelouze Family Scale's dial was one pivotal word: Chicago.
"I didn't give it much thought right away, but then one day I decided it would be cool to look up the history of the object," Clayman said. "It was kinda fun going down the rabbit hole of where it came from. So I got a couple more objects, and after the snowball effect of growing my own collection of 'Made in Chicago' things, I realized that if I thought this was interesting, maybe others would agree."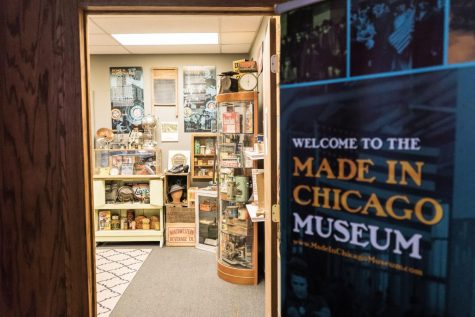 Following this revelation, Clayman launched his own "Made in Chicago Museum" website with the original intent of briefly documenting the Windy City roots of the few objects that he had accumulated. 
Attending the museums for the first time, Turkey-born native turned Chicago resident Barkin Kurumoglu was struck not only by the sheer volume and history of both displays, but also the passion visible in each exhibit.
"Back home in Ankara [Turkey], unfortunately, for various factors, once something becomes considered old and obsolete, it's kind of just left alone to 'be there,'" Kurumoglu said. "Across the city of Chicago, people are proud to say that they're from here and the pride is the difference. There's so much about Chicago architecture that sticks out to me, and the idea of being mindful of the past and cherishing the memories rather than just moving forward with time feels special."
As his site traffic and personal archives began rapidly increasing in number in 2017, Clayman realized he needed to share his growing, already hundreds-strong, collection with the world. At this point, Clayman's entirely self-funded collection of Chicago memorabilia began  a tour of various downtown historical societies, with the website acting as a mobile "tour guide" for the static exhibits.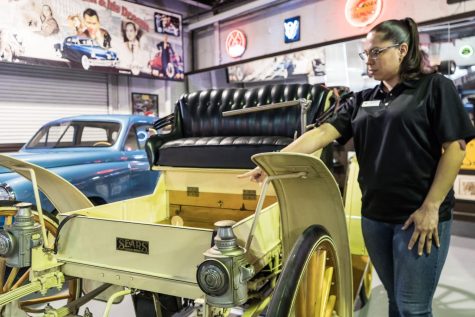 Following the onset of the Covid-19 pandemic in early 2020, Clayman's collection spent nearly two years in storage. Now, with the pandemic largely in the rearview mirror, Made in Chicago found hopes to be a new long-term partner in the vibrant Belmont-Cragin neighborhood, located at the expansive campus of Klairmont Kollections. Kollections is a museum consisting of "over 300 of the most stunning, impressive, and clever vehicles any car enthusiast could hope to see during their lifetime," according to their website.
Within the vast halls of Klairmont lies an automotive and aviation mecca, packed to the ceilings with rare vintage cars and airplanes, brightly-colored posters and neon signs flashing as far back as the early 1900s. Like Clayman, current Klairmont President Robert Olson sees his 100,000-square-foot museum as a hidden gem for fans of Chicago's illustrious history. 
"We love Chicago," Olson said. "It was a Mecca for industry, manufacturing, the steel mills, the stockyards. Chicago could do everything. Anything that we can do to celebrate Chicago we're all about, and we thought there's no better way than to provide a smaller museum that actually had hometown items."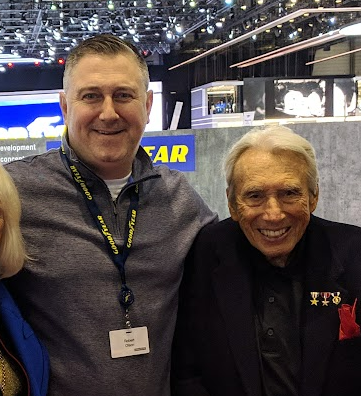 At the end of 2021, Olson found Clayman's archives via a Facebook promotional video and immediately invited him into the vacant space next to Klairmont Kollections founder Larry Klairmont's own memorial. This exhibit dedicated to the late Mr. Klairmont, who passed away in July 2021 at the age of 94, celebrates his life as a World War II veteran and Chicago real estate mogul at the helm of Imperial Realty.
Klairmont Kollections got its start as a private storage facility for Mr. Klairmont's collection of unique vehicles and memorabilia, located in what was formerly the vast W.F. Hall Printing facility. In the months before his passing, he decided to start taking steps to open up his collection to the public, and with the museum having since achieved not-for-profit status, the job of sharing Larry's vision with the world now falls on Olson.
In June 2022, Olson took one of the first major steps towards making this vision a reality as Claymans collection spread tightly across two brightly colored adjoined rooms.
 "They had it all ready to go, and it was just a good fit," Clayman said. "We all thought the same people interested in Klairmont would be interested in what we have to offer. It's the best kept-secret in Chicago, not only as a collection of cars, but also in the attention to detail, and I think people will enjoy seeing another like-minded project."
Following the launch of Clayman's space within his museum, Olson began spotlighting the automotive industry's own Chicago connections. 
"Having the Made in Chicago area is an exclamation point on our message of being Chicago people," Olson said. "The people who come to the museum both as car guys and friends of car guys have preconceived notions of what to expect, and the depth and variety of our facility always blows their expectations out of the water." Iconic cars such as 1948 Tucker "Torpedo" 48 and 1909 Sears Roebuck can be found in the collection.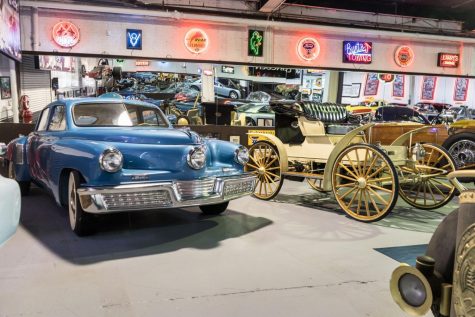 Olson intends to grow his Chicago connections even further. He invited a DEPaul production design class over in the spring quarter of 2022 to create a design for the museum's disused southeast wall. 
"The diorama they created emanates some of the other facades of buildings we have, like Marshall Fields where Andrew sits or our Hot Doug's homage," Olsen said. "They created a pharmacy and a dry cleaning business that was a nod to Mr. Klairmont's own from back in the day and did a beautiful set design. Now our challenge is to engage our stakeholders to bring this vision to life for educational purposes and proudly exhibit this area."
While Olson's involvement with DePaul looks largely to the future, Clayman's own museum has unearthed strong manufacturing ties with the current DePaul College of Liberal Arts & Social Sciences on the Lincoln Park campus.., From 1906 until the1970s the four-story brick building was occupied by the Eugene Dietzgen Company, whose logo is still visible on its exterior. In the back room of Made in Chicago, a 1930s pen-ink filling stand manufactured in the Dietzgen factory is on display, according to Clayman. 
"I generally try to have one item represent a company, but of course there are exceptions," Clayman said. "It's a passion project, so the budget and space can be limited, but there's so much I'm still just scratching the surface on. I especially want to add more from the Bronzeville neighborhood. Finding and telling the stories of female-owned and Black-owned businesses has become a focus, and is something I'm going to work on over the coming year."
Although the length of Made in Chicago's partnership with Klairmont remains to be determined, Olson stressed that he intends to keep the relationship going for as long as possible and hopes that both Klairmont Kollections and Clayman's archives will prove to be an invaluable tool for enlightening future generations of Chicagoans.
"Museums are much more than just static displays of yesteryear," Olson said. "My expectation is that they should be hubs of education, learning, and entertainment. All of those things are represented in the museum, and we're a great reminder not only of what Chicago was, but a reminder of what it could and should be still."