"This is what we're supposed to do" : Biggest win in three years brings life to dormant program
January 23, 2023
As the clock hit zero, the Blue Crew's chants cried out near the Xavier bench. This was what fans have long-awaited. Relevance. Though  just for one night, DePaul finally put the college basketball world on notice Wednesday, taking down an AP top-ten opponent on national television. 
It was a light in the dark of a program's quest to move forward.
When head coach Tony Stubblefield arrived at DePaul in April 2021, the expectations were always going to remain high with him in charge. But what many did not expect was how early he would have an impact on the program. 
"This is what we're supposed to do," said Stubblefield on upsetting No. 8 Xavier. "This is the reason I came here. This should be the norm. I'm very appreciative of the win. I'm glad our guys came out and got it, but this is what my expectation was coming into this year." 
Men's basketball has not sniffed the NCAA tournament since 2004 and have since gone through three coaching carousels without much sense of stability. Stubblefield has changed the culture since his arrival; the team has seen a growth in popularity and had success in the transfer portal.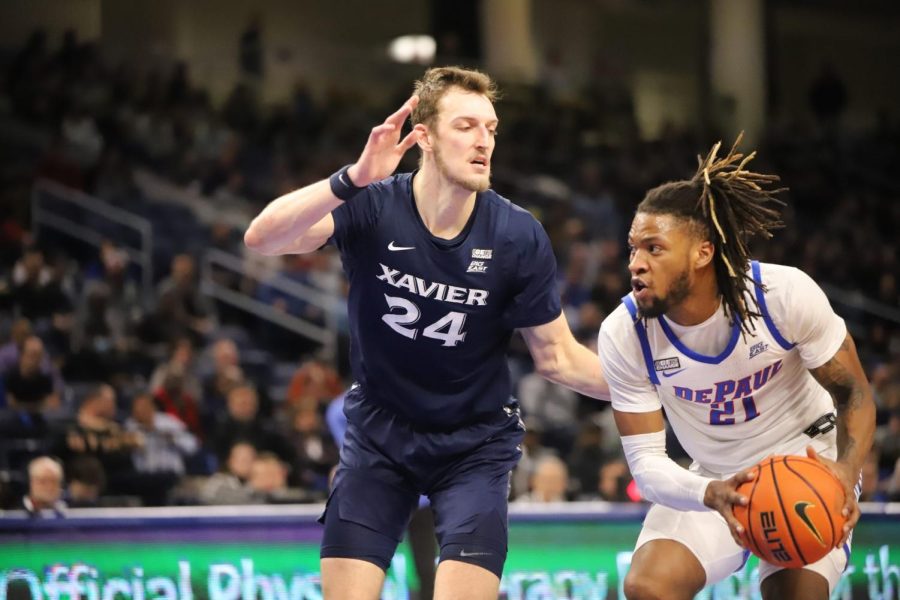 Before transferring to DePaul, graduate guard Umoja Gibson spent three years with North Texas and two years with Oklahoma, but  his newest team's win over Xavier on Wednesday resonated with him as one of the most significant  of career.
"Most definitely [it's] one of the biggest wins that I've had since being in college," Gibson said. "I spent some time at North Texas and Oklahoma and this is one of the best wins not only as a teammate, but as a team."
DePaul improved to 9-10 on the season and 3-5 in Big East play. Wednesday's victory marked the first home win for the Blue Demons against Xavier since 2015. 
Taking down a ranked opponent as tough as Xavier is not the norm at DePaul, and certainly wasn't expected with  a short-handed Blue Demon team that was without senior center Nick Ongenda in the lineup. 
"We knew we could get the job done," said graduate forward Javan Johnson. "It's just a matter of sticking together and playing our game."
DePaul's last ranked victory over a top 10 opponent came exactly three years ago to the day, when they took down No. 5 ranked Butler at Wintrust Arena.
After a win like Wednesday's against Xavier, the fans and students start to buy in on exactly what Stubblefield is building. The win provided a sense of inspiration and joy for people that are not exactly used to this. Stubblefield's phone blew up after the game with congratulations.
"It was a lot of text messaging and phone calls," Stubblefield said on what it was like after the game concluded. "I'm just really happy for our guys and the work they put in. Again, a lot of these guys have had to play out of position, and we've dealt with a lot of injuries up to this point in the year."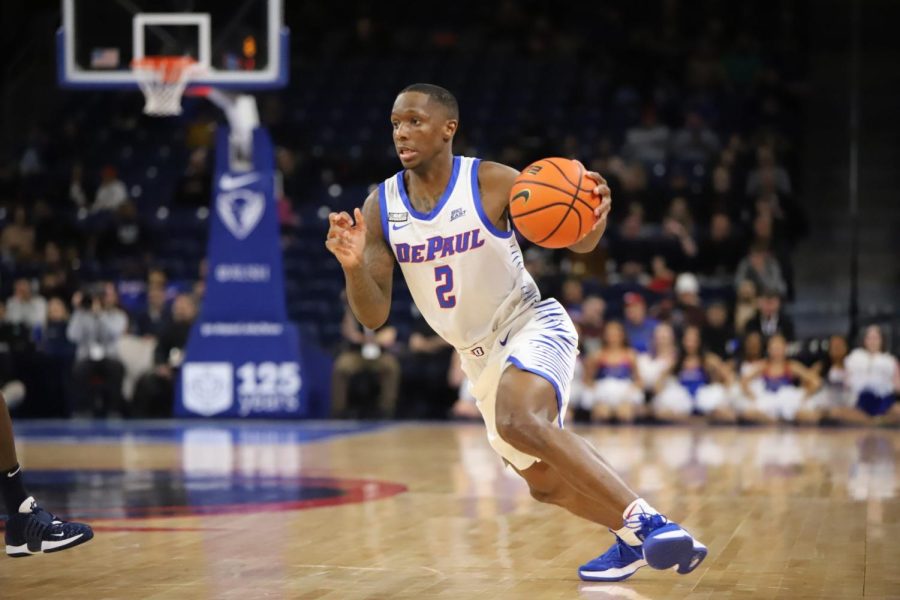 The game was looking bleak early on for DePaul after Xavier started off the game with a 7-0 run, but unlike early in the season, the Blue Demons battled their way back and found a way to stay within reach. 
Johnson and Gibson combined for 31 points in the first half along with making seven out of 10 shots from beyond the arc.
DePaul outshot Xavier from three in the first half, 62% to 29%, and unexpectedly went into halftime with a 45-40 lead over the eighth ranked team in the country. The Blue Demons improved to 7-0 this season when leading at halftime.
The Blue Demons defense played exceptional from start to finish and held an explosive offense that led the Big East in points per game (84.2), field goal percentage (50.6%) and three-point percentage (40.2%) entering Wednesday night.
Stubblefield's defense held the Musketeers to 38% from the field, 20% from beyond the arc and 72 points.
"I think it's a testament to our guards," Stubblefield said of their defensive performance. "Trying to keep their chest in front of those guys, fighting over those screens, and even our guys inside were challenging their shots when they got to the rim." 
DePaul's depth has been their strength this season, and their performance in the second half paid dividends after Johnson entered foul trouble early and had to spend a majority of the time on the bench. 
South Florida transfer guard Caleb Murphy made his long-awaited DePaul debut after entering the game at the 17:36 mark. He ended the night with eight points, two rebounds and two assists with a blocked shot.
"I wasn't nervous, more anxious than nervous," Murphy said on making his debut. "Just ready to play. I wanted to fast forward to the game to get out there, and I thought I played solid in my first game back. I didn't expect to play my best, but I still felt I contributed." 
Murphy's teammates have been just as anxious to see him on the court, and he played a key factor in Wednesday's victory over Xavier.
"That's my roommate, so I talk to him every day," said Johnson. "I was really happy to see him out there. Every bucket he had, I felt like I scored. I'm always happy for my guys but especially for him because he's my roommate."
Meanwhile, junior forward Da'Sean Nelson's hot streak continued as his versatility came into full effect in crunch time, scoring 10 second half points and four rebounds in  Johnson's absence.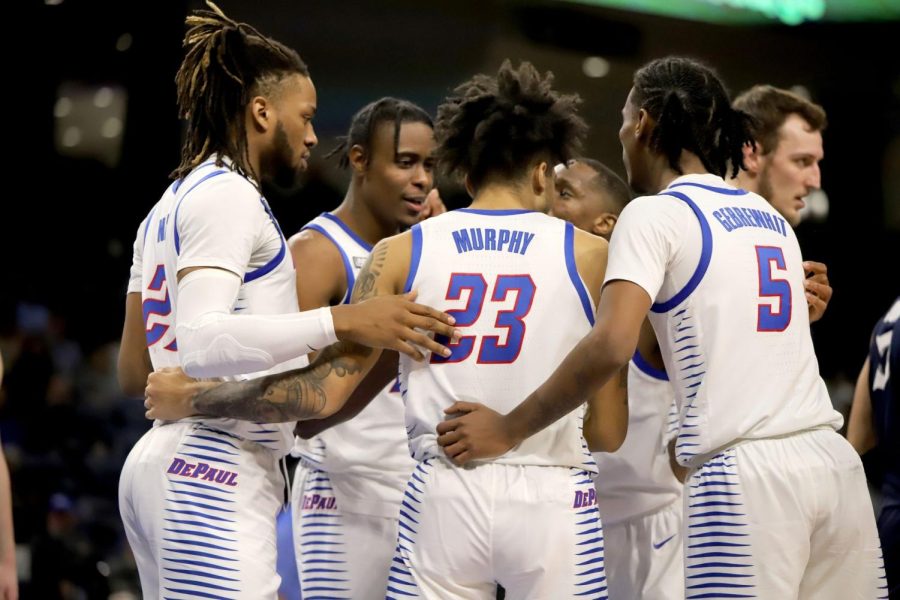 Gibson dished an assist to Nelson for the go-ahead contest layup with 28 seconds remaining, putting DePaul up 73-72. 
On the next possession, Xavier tried their best to put it in, but graduate forward Eral Penn had other plans and used his physicality to will DePaul to victory, coming up with maybe the biggest rebound of his career with 2.8 seconds left.
Nelson tossed in the rebound, but it hit off a Musketeers defender and bounced off Gibson out of bounds, and the play went under review. Xavier kept possession and threw up a shot with 1.2 seconds remaining, but they could not get it off in time before the clock hit zero.
DePaul was declared victorious. Wintrust Arena erupted with cheers of joy as their school had just picked up their biggest win in recent memory. 
After the game, Penn and senior Philmon Gebrewhit ran off the court and jumped into the student section to celebrate with their fans since security forbade them from storming the court.
DePaul has been the laughingstock of the Big East conference for some time now, but with Stubblefield in charge leading the way, there's been a growing sense of respect for the program nationally. 
Since Stubblefield's arrival, he preached that this team and culture is different and that he is going to get DePaul back onto the map, but most importantly, they can compete at the same level as anyone atop of the conference.
"Hopefully it sends out a message that it can be done here at DePaul," Stubblefield said. "That's why I came to DePaul, because of the opportunity, and I know the potential in this job. Obviously playing in the Big East, you're playing in one of the top leagues in the country, night in, night out. The potential of this job is unlimited and I think the win over Xavier just helps us and shows people it can be done here … why not us?"