Socks Off takes first place at battle of the bands competition to play at 'FEST'
March 12, 2023
A large crowd forms, gathering together shoulder-to-shoulder in the auditorium of the DePaul Student Center in Lincoln Park. They eagerly wait as amps are set ups, sounds are checked and guitars are tuned. They are all ready for the Battle of the Bands. 
On March 3, the DePaul Music Business Organization and the DePaul Activities Board hosted Battle of the Bands, which was a live concert where five different bands performed and competed. The five bands that performed were Superdime, John Curry, Ocean Child, Western Bisexual, and Zeno Camera and Socks Off. The winner of the show was awarded with opening at FEST. A panel of judges and audience members voted to pick a winning band. 
Viewers cheered as the much-anticipated Superdime stepped onto stage. This show was going to be much different than their previous DIY house shows.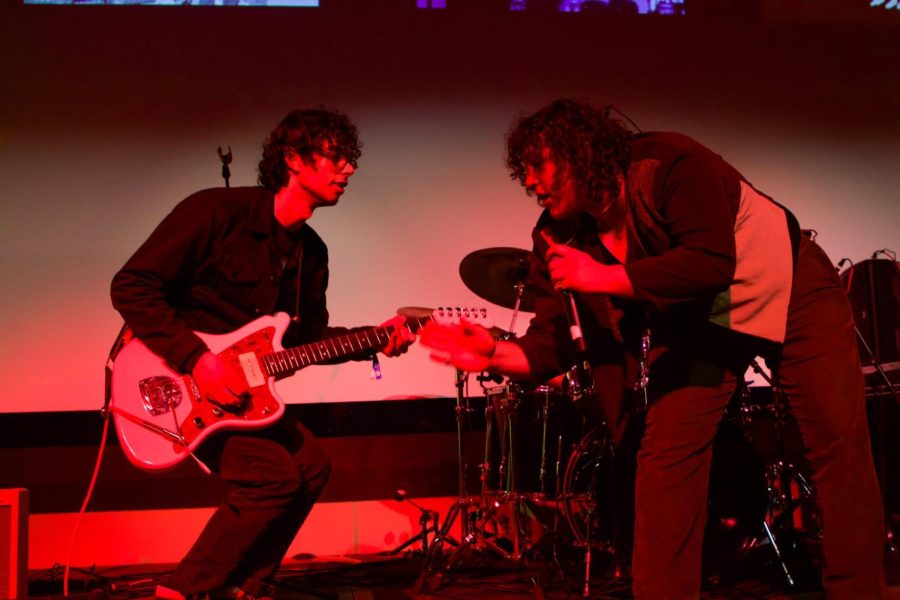 Maggie Smith, the lead guitarist, explained that most DIY venues take a pretty big cut when they host bands. 
"Well like, f*ck it — let's just do it ourselves, so we just threw a show at my place because we couldn't find anybody else's house," Smith said. 
A majority of the attendees stated that they were present in support of Superdime. Christine Hoffmann said she thought and wanted Superdime to win. 
"And it's not because I'm dating the drummer, but because I've really liked their music and their chemistry on stage." Hoffman said.
Superdime quickly jumped into a smooth, Midwest-emo feeling riff. When Nolan Manke began the vocals, the audience knew the lyrics and began to sing with him. Each song they performed had catchy lyrics and vibrant instrumentals.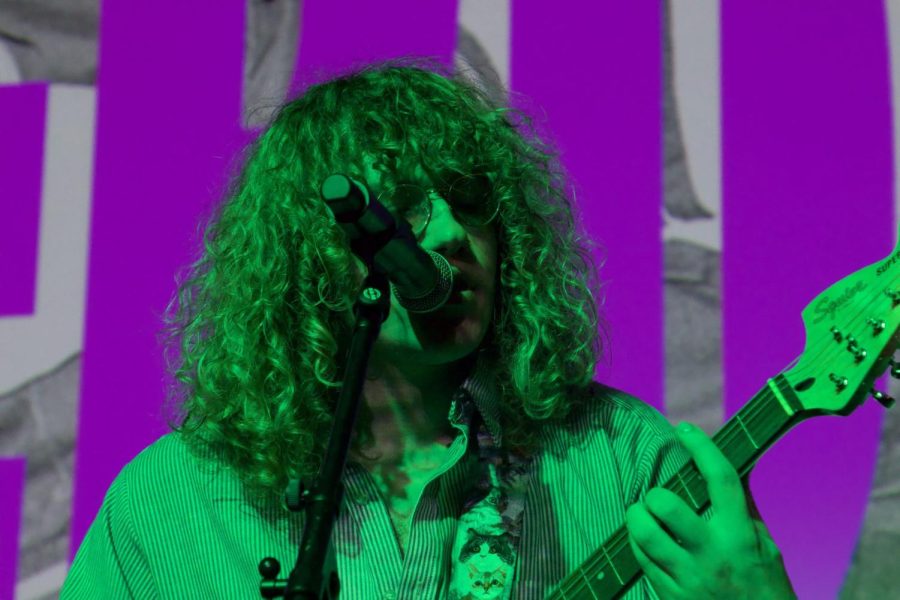 After Superdime left the stage, the stage went dark as the audience waited for the next performance. 
Formed by four freshmen in early November of 2022, Western Bisexual has quickly gained traction in the past several months, releasing their second EP "LUCIDITY" last Wednesday. The band, consisting of singer Ellie Pod, drummer TJ Coppa, guitarist John Kaster, and bassist Jack Riley, released their first EP "JUNCTURE" in early January. Riley felt honored to share the stage with already well-established bands. 
"We make music we like and it shows," Riley said. "It's huge. I still feel like the kid on the block."
Western Bisexual has played at local music venues such as Uncommon Ground and sold out venue BookClub Chicago. 
When John Curry came on stage, a Scott Pilgrim-esque narrator spoke on the speakers, introducing the rock heavy performance of John Curry.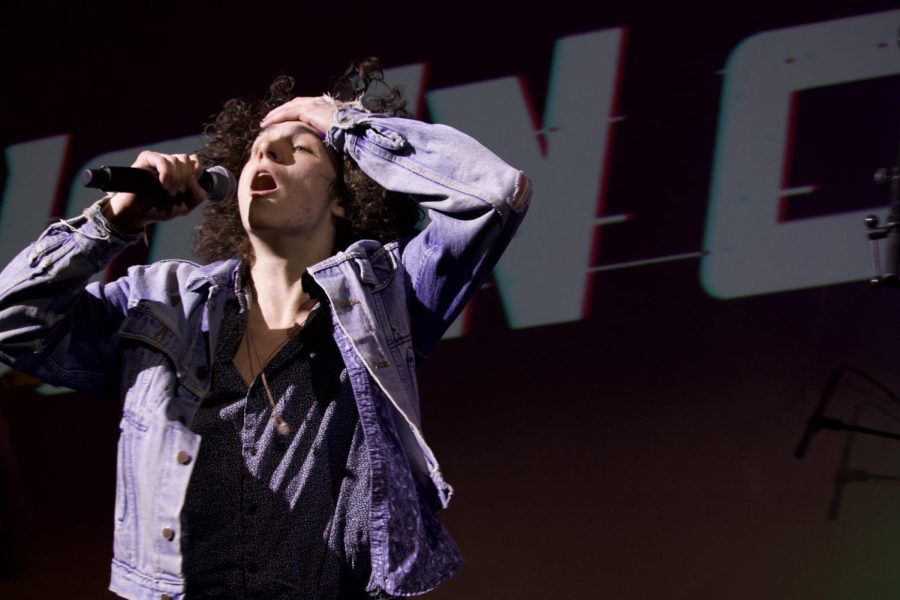 Curry shared some of his inspirations before the show. He named bands like Tool, Foo Fighters, and Muse. 
Lights shined down on his bouncing curly hair, reminiscent of the '80s metal scene. Bass riffs that brought the heavy, "stoner metal," sounds to his performance. He encouraged the audience to move with him as he bounced around the stage and screamed his lyrics into the mic. Whenever Curry did a solo, he positioned himself in a rock and roll power stance. 
"I never really started playing music," Curry said. "It's just something I've always done, you know?"
His music career started with percussion. "My mom used to say that when I was like, one or two years old, I have very fading memories of this, that I would drag all the pots and pans covered and grab big wooden spoons." 
When it came time for Socks Off to take the stage, all members were present except Zeno Camera himself. 
Ryan Toomey, the bassist, took the mic and gave Camera quite the introduction. Camera did the same for his fellow members after he ran up to the stage and the audience screamed in excitement. 
After the band took a break for a few months, they were eager to be back together and performing at Battle of the Bands. 
"Definitely very strong competition and we know where, yeah, yeah, we're happy to be considered on their level." Toomey said. 
They jumped into one of their singles, all grooving together, and Camera dancing with the mic under the multi-colored lights. It was clear the audience loved the groovy instrumentals and smooth vocals.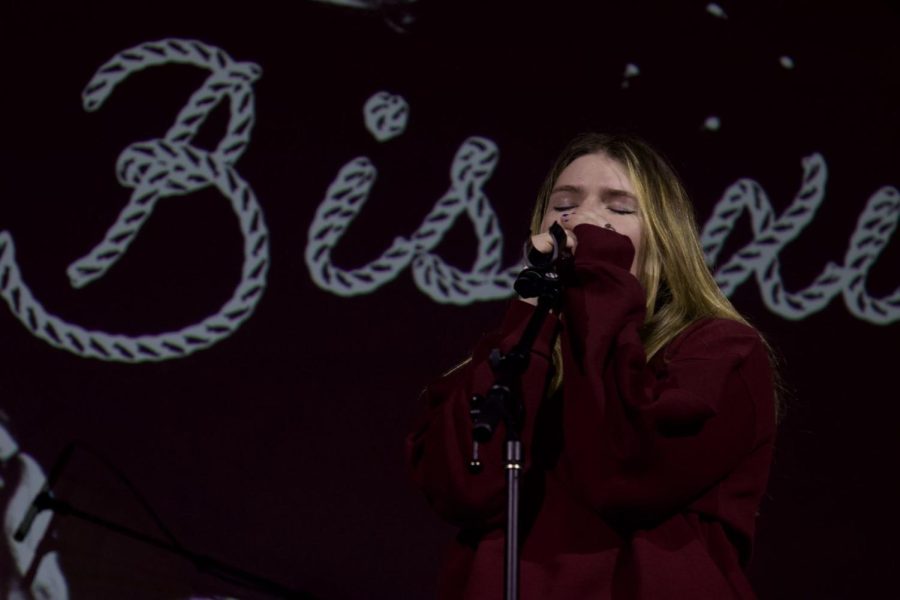 After all five bands performed, the judges and audience picked the top three to perform one more song. The bands nominated were Superdime, Ocean Child, and Zeno Camera and Socks Off. 
Superdime returned to stage with a smooth buildup. As the audience swayed along, the drums started to pick up, and Manke broke out in strong, emotional vocals with fun and chaotic sounds behind him. 
Ocean Child began playing again with a perfectly balanced mix of drums and riffs, which led into a smooth guitar solo. The groovy tunes naturally encouraged the crowd to dance and cheer along. 
Ocean Child's Chicago-based 21-year-old lead singer Marco Lan-Daverde started his performance with a smooth balance of varying tempos and vocals. The band has performed with acts SALES, Irish-rock band Inhaler and indie-punk trio VIAL. 
Socks Off reappeared and squashed any fatigue in the crowd with their most popular song, "Lips Like Chardonnay." The crowd jumped and danced along with the catchy lyrics. Camera shook the performance up by singing bilingually, in both English and Portuguese. 
When it came time to officially vote on a winner, Zeno Camera and Socks Off took the first place award. The crowd and judges loved their performances, sounds, and stage energy. 
"Super thankful to be here amongst the other performances, which were amazing," Toomey said after the show.