'We come alive': Youth voter turnout secures Johnson's spot as mayor-elect
April 9, 2023
Chicagoans voted Brandon Johnson to be the city's next mayor on April 4. The increased turnout of youth voters pushed Johnson to his win.
Youth voters ages 18 to 24 years old had the largest increase of turnout for the runoff election. In the primary election on Feb. 28, this voter demographic made up only 3% of the votes, according to the Chicago Board of Election Commissioners. 
In the runoff election on April 4, 18 to 24 year olds' votes increased by over 5,000 making the turnout by the youngest age group jump to 4% overall in the race. In this voter age group, they increased votes by 32%.
These 5,000 votes contributed a large amount, especially considering how Johnson only beat his opponent, Paul Vallas by 20,213 votes, according to the Chicago Board of Election Commissioners.
Johnson said in his victory speech on Tuesday that many doubted his ability to land the role, especially after Vallas finished first in the primaries.
"But now they know!" Johnson yelled out to the crowd at his victory party. The audience consisted of voters around 50 years of age and younger. 
Johnson and Vallas' election parties had contrasting differences surrounding celebration festivities.
Johnson was blasting DJ music, and at one point, the fourth floor event room in the Marriott Marquis Hotel was shaking from so many attendees synchronously dancing to the Cupid Shuffle. 
Vallas' was a cocktail party that had a bagpipe player filling silent pauses.
Ultimately, while the voter turnout was a large proponent of the race, winning boiled down to two main points: education and public safety. 
Education
Vallas' education platform insisted that standardized testing should be prioritized, according to WBEZ. In regards to budgeting for schools, Vallas planned to let principals and local leaders' have power over CPS spending and programming. 
Johnson led with a different approach. Instead of trying to tackle test scores, Johnson told WBEZ he plans to guarantee "a baseline of resources for every school." He said his priorities lay with ensuring all neighborhoods, especially those in poverty, can offer students a well-rounded and quality education.
"With so many people in the city of Chicago, we recognize value," Johnson said at his victory party when referring to the underfunding of CPS. "But so many of us don't believe that we deserve it. That changes under a Johnson administration."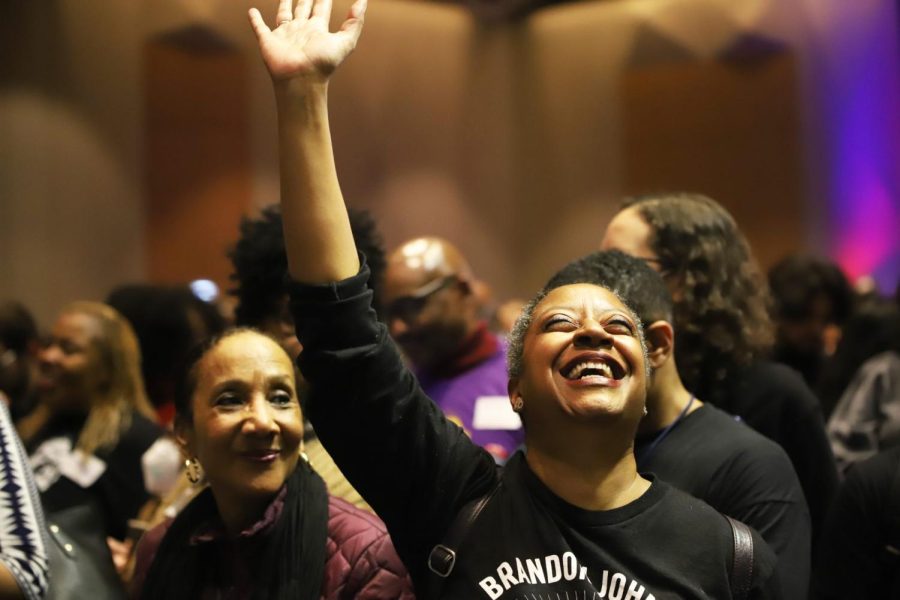 Johnson's values appealed to many, especially those within the 18 to 24 year old category since most are either in school or have recently graduated. 
"I think every kid in the city of Chicago should have quality education no matter how much their parents make," Danaka Kacopich, a Johnson supporter, said.
Many teachers aged below 50 years old sided with Johnson, mainly due to his experience as a CPS middle school teacher prior to serving as a member of the Cook County Board of Commissioners. His role in CPS made a lot of voters, like Yasmeen Ibrahim, a DePaul sophomore in environmental studies, feel like Johnson could relate to Chicagoans better than Vallas could.
"I think it's significant to note that Johnson used to be a public educator in Chicago," Ibrahim said. "He has truly served Chicagoans time and time again, and I'm sure he will as mayor."
To Vallas supporters like Kadin Red, who bounced around to several Chicago schools in his time as a student, making sure that the funding is allocated to the correct places is important because "public school specifically is just severely underfunded." 
"It was hard for me to learn because it almost seemed like the teachers didn't really care to be there," Red said. "I definitely think [there should be] more care [and] more attention to the schools, the teachers that are put in those schools [and] the principals that are put in charge of those schools."
Avery Schoenhals, Student Government Association (SGA) EVP of Facility Operations and sophomore, said that he sees Vallas as "a wolf in sheep's clothing." 
"He's said himself that he'd run as a Republican," Schoenhals said. "He supports the privatization of public schools. I come from a family of teachers, and supporting public schools is an issue that's a top priority for me. That's why I've supported Brandon Johnson since before the initial election back in February."
Schoenhals said now that Johnson has secured the mayor-elect position, he is "feeling proud and excited for the future." 
"Investments in education, improvements to the CTA and public safety, inclusive policies, affordable housing, and better healthcare in our city are all things that were on the ballot this year," Schoenhals said. "I believe Brandon Johnson will deliver on these issues and I'm proud to be a Chicagoan tonight."
Safety
"Let me tell you what every mother needs in this city," Stacy Davis Gates, president of the Chicago Teachers Union and executive vice president of the Illinois Federation of Teachers, said on stage at Johnson's victory party. "Every mother needs you to fight for safety so my child can be safe on the Red Line and the Green Line."
Many Chicagoans like Yarkona Hall, Johnson's first cousin, said they have seen safety drastically decrease over the years. Hall said, as a woman of color, she no longer feels safe walking in the city, especially walking alone.
"I miss walking on the lakefront," Hall said. "We just got to the point where I just didn't feel safe."
Hall said even though Chicago is in a spike of crime, she is optimistic that the city will change for the better under her cousin's administration.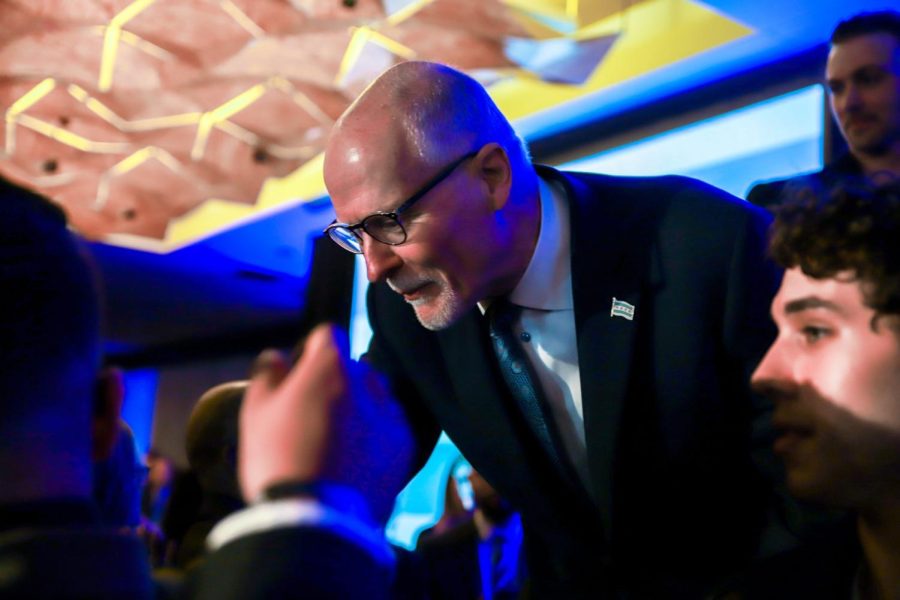 Many Vallas supporters, like Mike Fryzel, also want crime to decrease, but they tend to prefer higher police presence as a solution. 
"Paul and I grew up in the same neighborhood in Chicago, Roseland community on the far South Side," Fryzel said. "So we are familiar with what he's talking about [when he says he wants to get] police back out there, because that's the way it was when I was younger."
Fryzel said the neighborhood he and Vallas grew up in frequently had "police walking up and down the street." Fryzel said Vallas' approach appealed to him because, from his experience, that was what he knew worked in his community. 
Many Johnson supporters strongly disagree with needing more police presence to boost safety in the city. Ryley Albright, a DePaul alum who canvassed for Johnson's campaign, said he prefers Johnson's values of investing "in the people and not the corporations and police."
Ibrahim said that his desire to invest in impoverished and marginalized communities means that Johnson's "ready to protect and promote the rights of people of color."
"A value I like about Johnson is his willingness to actually confront issues," Ibrahim said. "I'm appalled by [Vallas'] call for the increasing of the police force, especially in a city where marginalized communities have historically and to this day have been habitually mistreated and abused by police." 
Ibrahim said some citizens may believe extra policing will increase their public safety, but they believe "it would just cause more fear and harm for many others."
Many Johnson supporters, like Hall, are excited to see safety increase over time under Johnson's administration. 
"He wants a better Chicago, and I'm so excited because I want a better Chicago," Hall said.
What's Next?
Many Chicagoans, like Laura Stream, DePaul sophomore and active member of the university's unofficial Rise Up 4 Abortion Rights chapter, are anticipating an increase of confidence in the city's safety, education and Chicagoans' quality of life once Johnson takes office. 
"Before the election, I was speaking to friends," Stream said. "They expressed how they believed Paul Vallas would win, because he represents wealthy white men. Not because they wanted him to win or voted for him. They simply have lost faith that their vote matters, when status and wealth can mean more than actual qualifications."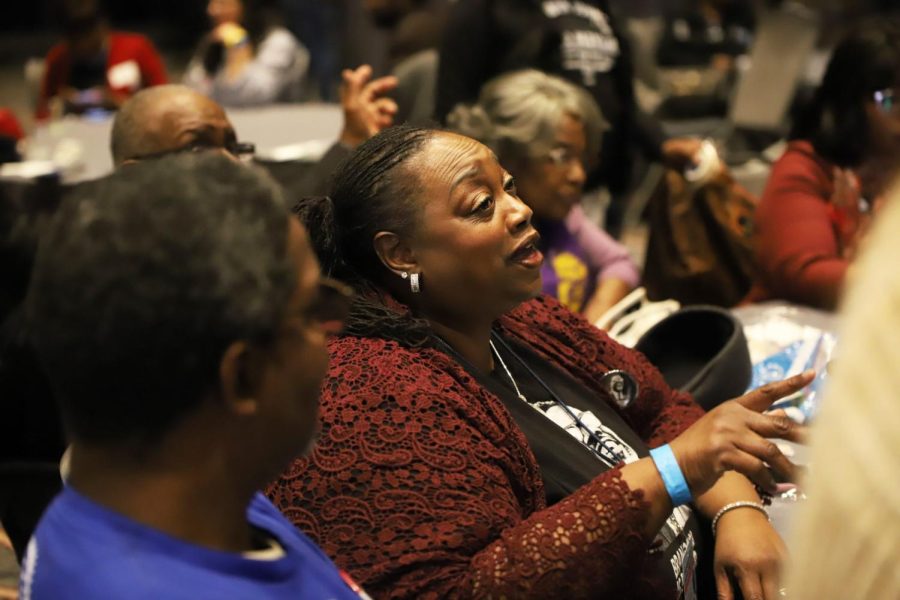 Stream said that after the election of Trump, "people have lost hope in our system of democracy."
"Brandon Johnson's win brings hope and confidence back to people," Stream said.
Hall said she is looking forward to seeing Johnson's administration make Chicago regain its sense of "togetherness" that the city is now lacking. Hall said Johnson "has a gift of making everyone feel connected," and he has always been that way.
"You cannot be around Brandon without changing or becoming better," Hall said. "It's the essence of who he is."
Hall said she knows Johnson will try to care for everyone in Chicago in any way he can because that's the type of person he is. 
"That's our family legacy," Hall said. "We can't just think about ourselves, it's just not in our DNA."
Johnson will be sworn in as mayor of Chicago on Monday, May 15 at City Hall.