The record 'shrine fortress': Miyagi Records opens in The Washington Park 'Arts Block'
April 16, 2023
Off the Green Line's Garfield stop, DJ Nigel Ridgeway organizes records, ranging from Afro Jazz to Chicago house music. Miyagi Records, owned by DJ's Marco Jacobo and Ridgeway, opened this Friday in Washington Park's "Art Block." Miyagi means "shrine fortress" in Japanese, an image Ridgeway and Jacobo portray in their record store, protecting the music rooted in the community. 
As a "BIPOC"-owned record store, Miyagi serves Washington Park and the larger Southside community, reflected through music endemic to the area, according to Ridgeway. Artists such as Marvin Gaye, Shaggy, Bob Dylan, Michael Jackson, and Pink Floyd line the shelves and walls of Miyagi.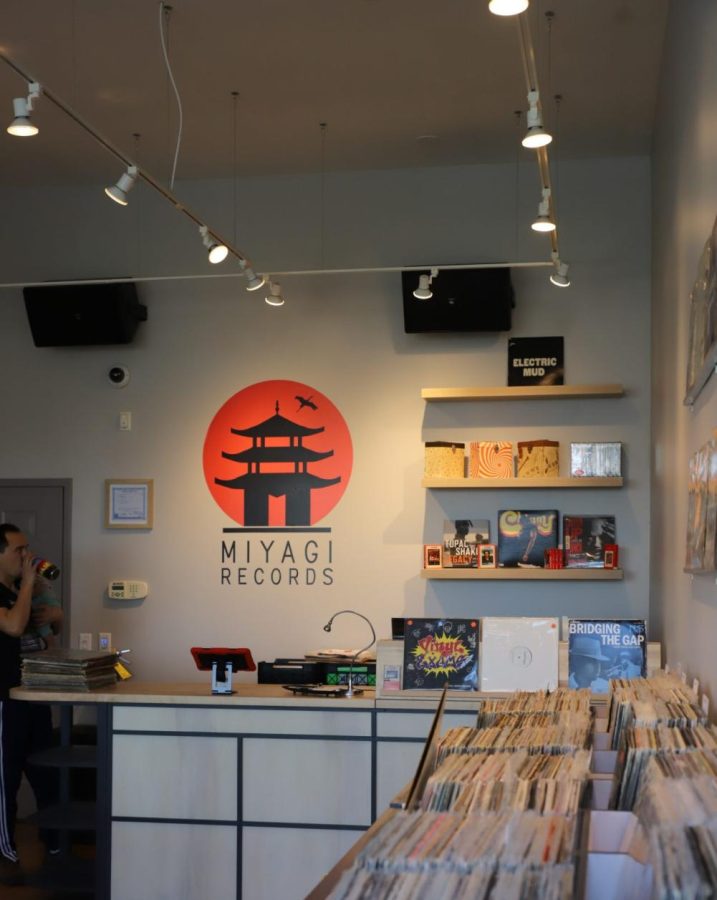 "We saw how the Southside was divested in and wealth was extracted, that's 100% not our intent," Ridgeway said. Miyagi is in the Washington Park Art Block, a collection of cultural spaces a part of the Rebuild Foundation.
The Rebuild Foundation's mission is to create a platform for art, cultural development and neighborhood transformation for the South Side of Chicago. Founded by University of Chicago professor and artist Theaster Gates, it addresses the need for Black spaces in the Washington Park community. 
"It's meant to show the neighborhood that the university isn't just here for itself," Ridgeway said. 
With longstanding roots in the Hyde Park community, the University of Chicago has received ongoing requests for reparations to Southside neighborhoods. Last year, student group UChicago Against Displacement and community groups Southside Together Organizing for Power, Not Me WE and the CBA Coalition requested to give more than $70 million per year for affordable housing and education programs as reparations for its role in segregating and gentrifying the Southside, according to Block Club Chicago.  
"Arts and public life were meant to sort of address that," Ridgeway said. "How can universities work better with the community to be more inviting to the community?"
For customer Kyle Hodges, Miyagi Records creates space for community members.
"Given the context of where it's at, it's a complementary piece of a larger puzzle," Hodges said.
For Ridgeway, record shops were a place where he always wanted to be, a place to listen to music beyond the local radio stations, before the digital age. 
"It's a creative atmosphere, but it's also conducive to sharing knowledge," Ridgeway said. 
Moving to Chicago in the '90s from the Baltimore area, Ridgeway had his best friend and his passion for music here. Much of his career included DJing in the Chicago area, starting before the digital age as records incorporated themselves into his work. 
"You could use your turntables to control your mp3 like they were records, so that's how we got into it," Ridgeway said. 
Networking and making his face known in the scene way has always been part of his work as a creative. 
At the start of the pandemic, Ridgeway had plans to push his DJ career to a whole new level. But as Covid-19 hit, he saw gig after gig get canceled. His path suddenly redirected itself. 
As DJ buddies and former roommates, Ridgeway and Jacobo sold records out of a storage unit packed to the brim. 
He advises young creatives to put in the work and the time to perfect the craft.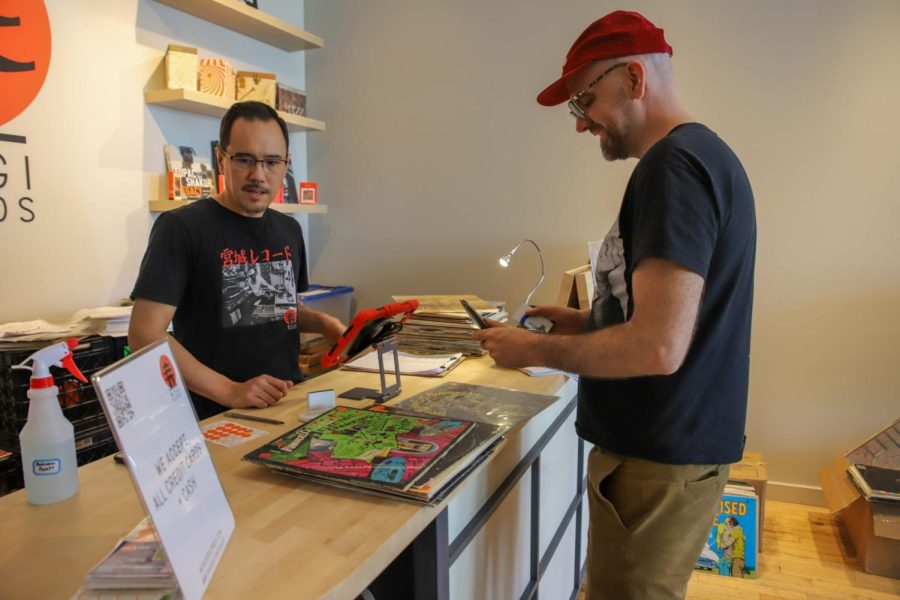 With the resurgence of records, young people attributed to the increase in vinyl sales. Revenues from physical music formats continued to grow in 2022 as vinyl record sales grew 17% to $1.2 billion according to RIAA. With easy access to digital streaming services such as Spotify and Apple Music, many young people are looking for something different. 
"For your demographic, it's discovering this whole new way to enjoy music," Ridgeway said. "That is completely different from what you have been doing."
For customer and artist Mathen, browsing in a record store brings him a sense of nostalgia. 
"The activity of going to a record store and searching for a treasure is way different than cruising Spotify," Mathen said.  
Miyagi Records is open Thursday 4 p.m.-9 p.m., Friday noon to 9 p.m., and Saturday and Sunday 11 a.m. to 7 p.m at 307 E Garfield Blvd.