Homan Square: An isolated case or systemic issue?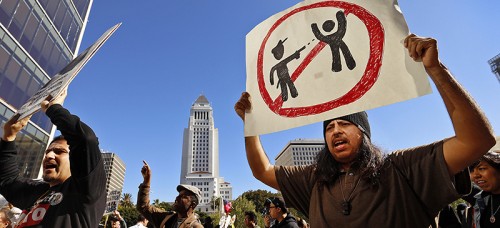 The Guardian, a British newspaper, published a series of articles about a Chicago Police Department (CPD) facility known as Homan Square, painting the site as a "C.I.A.-style black site." The story went viral and compelled some to attend a protest at the facility demanding its closure.
The CPD denied any wrongdoing and the story seemed to end with that. One thing that I noticed was the lack of comment made by a major Chicago news publication until days later. The Tribune published an article that essentially said the civil rights violations exposed in The Guardian's article was already a widely known problem.
Richard Dvorak, a veteran criminal defense attorney, told the Tribune, "Everything that was described (in the Guardian story) was something that happens every day. I think it's pretty systematic throughout the CPD."
The article suggests that rather than a CPD-Guantanamo, Homan is a place where "improper detention and interrogation techniques" are the main problem. Homan Square is a story that generated a lot of attention, however, it is only a glimpse into the whole problem; Police abuse has a much wider scope than one facility.
In Los Angeles a few days ago, police publicly shot and killed a man on skid row. In the conflict created by the Los Angeles Police Department (LAPD) the man, not officially identified, was tased and shot five times after allegedly struggling over an                      officer's weapon.
An onlooker videotaped the shooting as well as its aftermath. In the video, cries and shouts of anger are heard from other onlookers. Bystanders were both shocked and outraged after witnessing the killing of the man.  One arrest was made after a woman attempted to pick up a nightstick dropped by an officer. This is unfortunately not an uncommon scene today.
We have seen it many times. Onlookers cry for help. People push and yell. Police swarm to contain the crowd and subdue any who resist. Videos of police beatings and killings are posted to the web on a weekly basis.
According to a study by USA Today, a white police officer killing a black person is a bi-weekly occurrence. There are an average of 400 police involved killings each year. We hear some of the names of these people, but just as often their stories go untold.
Names like Kenneth Chamberlain, 68, Eric Garner, 43, Michael Brown, 18, Kimani Gray, 16 and Tamir Rice, 12, all made headlines and sparked outrage and controversy, and they all faded out of the spotlight, waiting for the next addition to the list of names. These, along with many others, represent the people shot and killed by police in situations that arguably did not require lethal force. While anger and harsh words are often quick to follow, they are almost quicker to fade away.
It may be fashionable to rant on Facebook about police oppression, but when the buzz dies down and normality resumes these names are forgotten by many. The crimes against them are allowed to pass into irrelevancy.
When Homan Square is no longer a hot topic, the police will carry on in their secret interrogation sites, more underprivileged men, women and children will be shot to death, and more killers will walk free on "temporary paid leave."
Professor Allison Tirres of the DePaul College of Law pointed out a major flaw in the justice system. "The criminal justice system has a number of key structural inequities that disfavor the poor, and racism is unfortunately embedded at many levels within the system," Tirres said. "In high-crime areas poor policing can amount to constant harassment, particularly of blacks and Latinos. 
As we saw from the Justice Department's investigation into conditions in Ferguson, some local governments openly encourage their officers and judges to conduct stops, make arrests and give tickets as a way of making more money for the city or county.  Ferguson officials were also openly racist in internal communications.  Such behaviors, in addition to being unconstitutional, disproportionately burden those with fewer resources.
For a large number of people, calling the police is not an option. Risking the consequences that come with a swarm of police in an underprivileged area is too great to even consider dialing 911. The blatant racism and institutional abuses that are engrained in law enforcement make it clear that while police exist "to protect and serve" and act as peacekeepers, that only applies to those with the privilege of police protection.
View Comments (1)