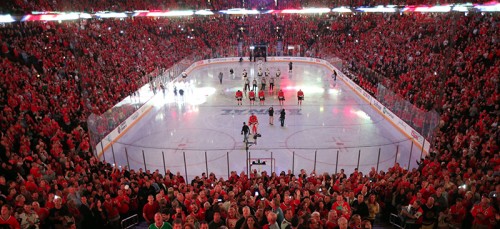 As the mercurial weather of April arrives, the Bulls and Blackhawks both breached the playoffs again – appearances that seem to mark the arrival of spring far more reliably than the weather these past few years.
The Blackhawks apparel is abundant around campus. There's no denying as an onlooker that Hawks apparel far outdoes Bulls apparel.
But the Bulls fans are there, perhaps less outspoken, more inconspicuous than their frozen-floored fans, but perhaps more cautious lest another Derrick Rose injury snuffs the resurgent spark of interest.
Either way, fans for both teams are optimistic. Derrick Rose looks like he's back to his former MVP self and there's a new Blackhawk Darling to root for. As of this week, both teams look to skate and soar past the first round.
The question is, who will go farther?
The DePaulia asked around campus, who's your team and why?
Junior Amanda Crane is an outspoken Hawks fan. She says she hasn't yet washed the jersey she purchased before the playoffs started.
"It's lucky," Crane said emphatically. "I wear it for every game."
Crane said she's not so much into the Bulls.
"But the Blackhawks are going to win the Cup," Crane said. "I love my Toews – or, actually – Kane too, because he's a little fireball."
Then there's Adam Chalifoux, outspoken Bulls fan and voice of Radio DePaul, who has worn a Bulls jersey almost every game day.
When asked how far the Bulls can go, Chalifoux exhaled deeply. "I don't think it would be a miracle if we beat the Cavaliers next round," Chalifoux said. "If you look at that series on paper, the Bulls are a lot deeper and can wear the Cavs down."
"If we can limit our mistakes, there's no reason we couldn't beat Cleveland," Chalifoux said.
Chalifoux says he's "beyond a diehard Bulls fan."
"When I'm watching a Bulls game, I like to have laser focus," he said. "I prefer to be at home."
He said he couldn't wear his Notre Dame gear since the color scheme matches the Bucks' color scheme.
"I have a vintage pinstripe Dennis Rodman jersey I like to wear," he said.
Then take Stefani Szenda who wears Blackhawks gear almost daily.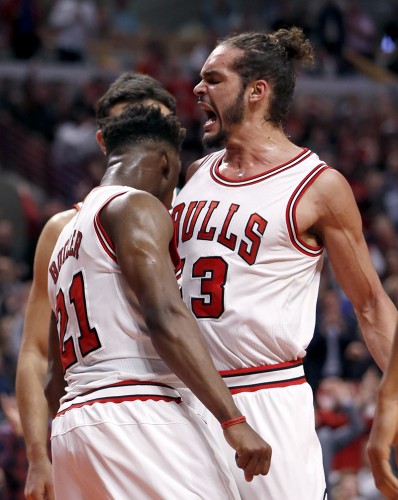 "I watch every game I possibly can," Szenda said. "Even if my friends want to go out, I'll often stay in to watch the game."
Szenda said her dad and uncle both played hockey along with two of her brothers, so she's grown up with a comfortable grasp of the game.
"I have a big hockey family," she said. "I love to watch the games with my family and if I can't watch it with them we have a group text so we can stay together during the games."
When asked if the Blackhawks would win the Stanley Cup this year, Szenda replied dryly, "I don't talk about the Cup."
The DePaulia asked a question – What about the students who aren't from Chicago, but whose teams are also in the playoffs?
Few have the looming situation on their mind like the Minnesotan Taylor Bissonette, who has been witnessed wearing Minnesota Wild paraphernalia and is anticipating a second-round matchup of Blackhawks vs. Wild.
"It's going to stress me out," Bissonette said of the possibility of the Blackhawks playing the Wild. "I already get stressed out with the Wild games but this will add a whole new element."
Last season, the Blackhawks eliminated the Wild from the playoffs.
"That was a really dark time for me," Bissonette said.
Bissonette also said of Blackhawks fans, "A lot of 'em are bandwagon-jumpers."
Brenden Welper is another transplant student, hailing from Lake Orion, Mich. The sophomore journalism student is a basketball fan who reveled in the 2004 Detroit Pistons unlikely NBA title.
"Before I came here, I hated the Bulls with a passion," Welper said. "But now I actually love being in a city where basketball is so loved."
Welper said he enjoys watching the Bulls now.
"It's good to see Bulls fans so happy," he said. "It's been a dark few years with the Derrick Rose saga and now they're finally the team they're supposed to be."
Welper said he'd be happy if the Bulls won it this year. He thinks they can.
"I don't necessarily root for the Bulls," Welper said. "But I'm happy for my Chicago friends who love them so much."