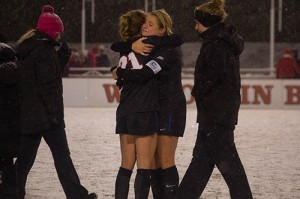 The reigning Big East conference champions are already looking to build off the successes of last season. After going undefeated (15-0-3) in the regular season, the DePaul women's soccer team had a successful postseason picking up the Big East title before losing in the first round of the NCAA tournament to Wisconsin.
Senior forward Elise Wyatt says the team isn't too focused on the most successful season women's soccer has ever had. Instead, they're already setting goals to better it.
"We want to do better and go farther with this season coming up," Wyatt said. "The expectations are pretty high to do well and also to go undefeated in non-conference (play) to lead up to conference play and we hope that we make the tournament again and go pretty far in the NCAA tournament."
It's not going to be an easy task, though, and head coach Erin Chastain is well aware of it. She believes the quality of the returning players will give them an advantage early on.
"We have a lot of veteran players and returners from last year's team that did well, so I think we certainly have high expectations," Chastain said. "[The veterans] helped set the tone in our preseason and our training every day."
Though it is only her second season with the team, sophomore Jessica Weaver understands the expectations that come after such a great season last year. She recalled something Athletic Director Jean Lenti Ponsetto told the team during the first meeting they had.
"She said in order to be successful, you have to be well prepared," Weaver said. "That really stayed with me."
Weaver believes it might've stuck with the rest of the team too, because they're coming into this season already strong.
"Every single person on our team came in really fit for our fitness test," Weaver said. "Our coaches, our staff, the training room, everyone has done a great job getting us prepared for every game."
The Blue Demons thumped Northwestern in a preseason match last weekend 3-0, something Chastain thinks will help the team start strong against Cincinnati on Friday.
"Going on the road for our opener is tough, so it's going to be a tough environment against a good team," Chastain said. "We'll be focused on how we can compete and how we can get better, so I think we'll be as ready as we can be."
With expectation at an all-time high for the team, Weaver is well aware of the pressure that comes after an undefeated season. She feels they'll use it to their advantage, though.
"It's a good pressure," Weaver said. "We're setting our expectations high based on that, but we also realize it's a new year and not everything is going to be perfect, but we're going to do our best to go ever farther."
The Blue Demons open on the road against Cincinnati on Friday before returning to Wish Field on Aug. 23 to host Utah in the first home match of the season.