EVP candidate Miroslava Mejia Krug faces DePaul community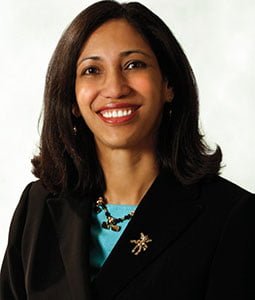 Executive Vice President candidate Miroslava Mejia Krug held an open campus meeting with the university community on Monday to answer questions from faculty, staff and students. Krug, who is the external candidate vying for the position alongside current DePaul treasurer Jeffrey Bethke, is currently Senior Vice President and Chief Financial Officer of Roosevelt University.
Like Bethkes' open campus community meeting, approximately 30 to 40 community members attended the event, including Student Government Association President and Vice President Vanessa Cadavillo and Ric Popp.
Community members asked Krug about the institutional differences between Roosevelt University and DePaul and what attracts her to DePaul.
"One of the things that I'd be looking forward to is to be able to contribute to Vision 2018 at DePaul," Krug said. "I've been at Roosevelt and have been part of change and transformation and I've been able to really contribute."
According to her curriculum vitae, Krug, "Oversaw the development of Roosevelt University's new "vertical campus" ($123 million) and athletic facility," As Chief Financial Officer of Roosevelt University, Krug has also led all financial and operational systems at Roosevelt.
Community members questioned Krug's ability to transition to DePaul and understand DePaul's mission and values.
"I don't know a lot about DePaul; I haven't met enough people," Krug said. "This would be a lateral move from Roosevelt to DePaul. All the functions for the role of EVP are what I manage at Roosevelt."
Krug also said she had navigated similar problems in the field of higher education at Roosevelt that may mirror issues DePaul faces.
For Director of Community VIP at the Office of Advancement Francine Souliunas, not recognizing the difference between DePaul and other higher education institutions is a mistake.
"I think when you think about higher education, it's difficult to put DePaul in the same box as a Roosevelt, that doesn't have a religious tie, and doesn't have different sectors," Souliunas said in the meeting."DePaul has a unique character."
Vice President of SGA Ric Popp asked VP candidate Krug how she envisioned working with students.
"I work completely in service of students," Krug said. "In 2008, we didn't even have WiFi for students. That's like unheard of, even in 2008. So we reorganized ourselves and started talking to the student organizations and asking them, 'What is important to you? What are the things we have to do in order for students to succeed and have a great experience at the university?'"
Krug also highlighted her past work with technology innovation as an example to how she can help students at DePaul succeed.
"Out of that came a system that followed our students from when you register to what courses you're taking to what grades you're getting, so we send you warning signs if you're slipping a little bit and have to see an adviser," she said. "We leveraged a lot of technology to help our students succeed and to make sure we support our faculty."
Toward the end of the meeting, Krug asked the community members what makes DePaul a great place to work and what she could do to serve the DePaul community.
"I think that what I'm looking for in our next EVP is having that opportunity," Director of Housing Services Rick Moresi said. "Obviously not every single faculty member, every single staff member, every single student is going to have daily interactions with EVPs and Provosts. I think it's important to have that openness and truly understand the needs of the institution and the people that work here."