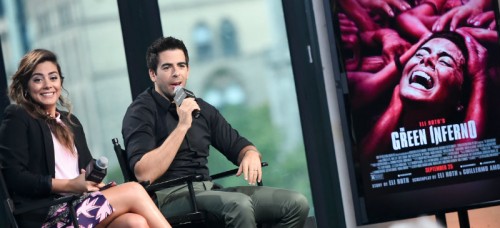 The DePaulia had a chance to sit down with "The Green Inferno" director Eli Roth and star Lorenza Izzo (Justine) to talk about their recent film.
The DePaulia: As a kid, watching horror films in the movie theater would make you throw up. When I watched "The Green Inferno", you could hear people in the audience several times on the verge of puking.
Roth: That's like a standing ovation. It's hard to get people to react that way in a movie anymore. You can't just put something disgusting, it's got to be crafted and set up in a way that's genuinely disturbing. It's like the last forbidden thing, the idea of cannibalism. It's interesting if we can get over that idea it would solve many problems like hunger. If we can get over that hump then we would be fine. World hunger will be cured. Think about how many people die if we can turn them into food. Everyone would be fed. Everybody.
"The Green Inferno" was set to be released back in 2013 but due to distribution issues the film was pulled. How was it dealing with that as a filmmaker?
Roth: It was a very frustrating and strange situation because it was at no fault of the film. It played at festivals and people loved it. Critics were calling it my best movie, saying it blows away "Hostel." The posters and trailers were in theaters, then in June they say the release is getting pulled. Nobody has ever heard of anything like that. It's very rare for this to happen. Movies get delayed, but for movies to get dropped like that with almost no explanation, it was an unfortunate situation between two companies but to everyone's credit we sat and worked it out.
That was the first time in this type of situation in Hollywood that didn't turn into a lawsuit. I knew if this was going to turn into a lawsuit, I knew this was over then it's tied up in courts and you're done. It was so frustrating because we would watch this with audiences in the crowd and they would lose their mind on this roller coaster experience.
How does it feel knowing it's finally being released?
Izzo: I think the most interesting part of this whole thing with the release having been delayed is the whole thing that happened with the disrupters. A major fan following started, and there wasn't a day that went by where I didn't get a tweet asking when "The Green Inferno" was coming out. I think the universe made it happen for it to come out at the right exact time that it needed to come out. When all this started happening, you couldn't go on social media without being told that you're doing something wrong and that's actually what the movie is about. It's showing these privileged white kids getting their asses handed to them for thinking they're better and that they're going to save the world.
It was strange hearing the film was pulled given your success with your past films. It left many wondering how it happened.
Roth: Yeah it's getting harder and harder to make any kind of independent film to release. It's so different from when I made "Cabin Fever" and "Hostel." It's just rare to find the slots because you're up against such huge studio movies, no matter what time of the year your film is released.
The fact that we actually have a movie this violent that's original with new stars with great new talent- it's really satisfying to finally have the movie coming out. I think there's a lot of people who've never seen a movie quite like this.
[box]Review: "The Green Inferno"[/box]
With the announcement of the delay of "The Green Inferno," a lot of fans came together in support of its release. How much did the fans play a factor in the new release?
Roth: It was entirely the fans support that kept everyone from suing each other. They would try to use the argument that since the movie is six months old now, it's stale and nobody cares about it. I would show them the tweets, posts on Facebook, and posts on Instagram about "The Green Inferno" that we received every day.
We first saw you (Izzo) in "Aftershock," but this is the first time we're seeing you in a lead role. With another lead role in the upcoming film "Knock Knock" opposite Keanu Reeves, how has that move been to the mainstream?
Izzo: It's interesting I think when I shot "Aftershock" I was still a baby. I had no idea what I was doing. I was 21 when that happened. It was my summer partying out every night when I got this opportunity. During that movie I decided to move to Los Angeles, and a couple of months after the move I got a gig to do a pilot with John Stamos. For me I got really lucky and it was sort of a domino effect. My job is to go to auditions and do the best that I can. When the opportunity comes that I love and I want to tell the story of it. It's a gift to be on set and to be able to tell stories.
What was it like to shoot on location in the Amazon?
Roth: I had to have a place that looked like a real functional society. I wanted people to really believe that people lived there. I went to Peru with my producer Miguel Asensio and we went out through the jungle hacking with a machete looking for places we can use for the village. We drove an hour to this little town that's filled with shacks, dirt roads and one bar with electricity. Eventually, I saw this little straw hut with a girl washing clothes with leaves, and at that location, anywhere you point the camera is mountainous jungle. It was beautiful and there was no sign of anything.
We were in the middle of the jungle in Peru, in the Amazon Rainforest, so it was rough. The boats that you see in the movie were our ride to set every day. We all had this experience where because there was no cell service we were forced to communicate. We were there in that village for three weeks and everyone bonded and we got so close with the people in the town that we became this big family. It was really amazing.