Pope Francis' many Vincentian values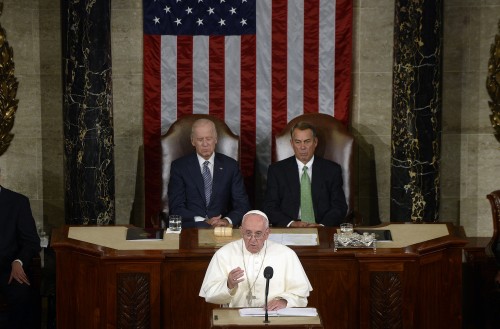 There's a lot in a name. Take Pope Francis, who took his papal title after St. Francis of Assisi. The Italian priest was known for advocating many leftist causes including protecting the environment and helping the poor. While the pope may be named after Francis of Assisi, there is another historic Catholic figure that he shares a multitude of core values—a figure whose teachings are emphasized at this very university: St. Vincent de Paul.
De Paul spent his priesthood helping the poor, the homeless and the hungry.
"Vincentian values often focus on meeting a person where they're at and recognizing their human dignity, regardless of religion, regardless of sexual orientation," DePaul senior Alli Grecco said. "It's meeting that person, recognizing that they're a human being and that the face of God is in them, regardless what differences politically they see."
Francis is arguably his modern day equivalent, using the international spotlight to put a focus on widespread, continued and elevated inequality. A recent example of this was during his UN speech on Sept. 25.
"We must resolve now to live as nobly and as justly as possible, as we educate new generations not to turn their back on our 'neighbors' and everything around us," he said in reference to the current migrant crisis. Fighting for the safety and spirit of a group, most of whom are not Catholic, is the perfect demonstration of what makes the pope so widely appreciated.
Another striking move by the pope is his vocal opposition to the misuse of natural resources. The pope stated there is an undeniable "right of the environment" and that abusing it contributes to poverty worldwide. This very Vincentian approach should not be seen as radical. The church is much better-suited combating poverty and pollution than attempting to convert the world to Catholicism.
[box]Read additional coverage of Pope Francis' D.C. visit[/box]
Francis has also publicly critiqued the violent nature of capitalism.
"Why are deadly weapons being sold to those who plan to inflict untold suffering on individuals and society?" Francis said. "Sadly, the answer, as we all know, is simply for money: money that is drenched in blood, often innocent blood. In the face of this shameful and culpable silence, it is our duty to confront the problem and to stop the arms trade."
Although capitalism was not a prevalent issue when de Paul was a priest in the 1600s, advocating peace over profit is absolutely a Vincentian value. De Paul, too, would undoubtedly oppose an industry that profits off of violence and war. After all, he once said that "in the kingdom of charity, one prefers to suffer some inconvenience rather than inconvenience the neighbor." If not being able to make millions by selling deadly weapons or polluting the environment, so be it. In Francis and de Paul's point of charitable view, it is much better to protect others than it is to protect oneself.
Francis did not take on controversial issues such as abortion or LGBT rights during his U.S. visit, other than a few short lines during his speech to Congress. He urged the legislators to "protect and defend human life at every stage of its development." As for discussing the LGBT community, Francis also followed traditional Catholic beliefs.
"I cannot hide my concern for the family, which is threatened, perhaps as never before, from within and without," Francis said. "Fundamental relationships are being called into question, as is the very basis of marriage and the family."
This is where Vincentian values differ from those of the pope. DePaul's LGBTQA Student Services aim to foster an inclusive environment, whereas the pope promotes more traditional relationships. Still, Francis once famously said of the gay community, "Who am I to judge?"
The most notable difference between Francis and his predecessors is how widely he is accepted by people of varying religious backgrounds. According to a Febuary 2015 Pew Research Center poll, 68 percent of people who had no religious affiliation approved of Francis. This is the reason politicians take what he says seriously.This is the reason he has been able to make actual change in the world, be that acknowledging human's impact on the environment or advocating for countries to take in displaced people from wartorn regions of the world.
"I think he just doesn't allow the dogmatic teachings that have caused many people to dislike Christianity and Catholicism explicitly," DePaul senior Nick Cuba said. "He's kind of expelling those and teaching what many people believe is the actual message: caring for people."