Commentary: Kane allegations bring divided response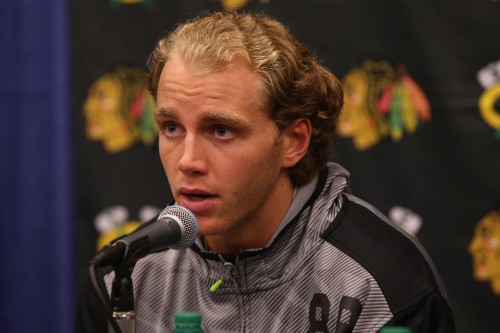 At the end of the hockey season last year, the Chicago Blackhawks were once again hoisting the Stanley Cup. The celebrations lasted a few months, but then it was back to thinking about the next season.
When August rolled around, National Hockey League (NHL) fans were starting to gear up for the new season. The Blackhawks and their fans, however, learned Patrick Kane was the subject of a rape investigation in Hamburg, N.Y.
Now, the preseason is about ready to begin and Kane is still under investigation with the case going back to the grand jury. The grand jury was suspended before because of possible settlement talks, according to a Forbes Sept. 26 article.
Despite still being under investigation, Kane attended training camp on Sept. 17. Fans are divided as to whether Kane should be participating in training camp while the investigation is ongoing.
Peter Lygiros, a freshman at DePaul University, said he should be allowed to play.
"You're innocent until proven guilty," Lygiros said.
Mike DiGiovanni, also a freshman at DePaul, agreed, saying the player shouldn't be treated differently "unless something comes out."
However, not everyone feels the same about the Blackhawks' move. Some think they shouldn't let Kane participate in training camp or play until the investigation is over. Sean Gentille, a writer for Sporting News, wrote an article on Sept. 17 after the Blackhawks held a press conference saying he believes they shouldn't have even held the conference.
"If the Blackhawks really respected the process, the severity of the allegations, the opinions of their fans and the intelligence of public at large, Kane would be sitting at home in western New York right now," Gentille said.
Gentille also mentioned the press conference was pointless as no one on the panel really answered any questions. Kane was accompanied by Blackhawks' president John McDonough, general manager Stan Bowman, and coach Joel Quenneville.
"I think the media would have been mad if they didn't do it," Anne Kennedy, a junior at DePaul, said.
The media had to have known the Blackhawks wouldn't answer their questions as the investigation is ongoing and that it prevents a lot of things from being discussed. At the same time the Blackhawks had to have known the questions wouldn't be focused on hockey and the team.
"It was kind of a dumb thing that needed to be done," Kennedy said.
So whether fans think Kane should be at camp or not, fans do agree that what is done outside of the sport does relate back to their opinion of the player within the sport.
Lygiros said sports are "not just a reflection of athletic ability. It's a reflection of character."
DiGiovanni added that it "just shows who the person really is."
The team has stood behind Kane before. In 2009, Kane and his cousin were arrested in Buffalo after an altercation with a taxi driver.  Kane and his cousin pleaded guilty to a noncriminal charge of disorderly conduct.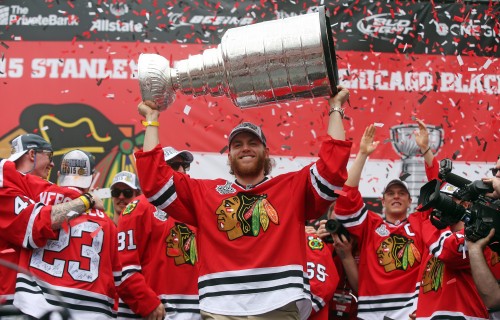 But that was when Kane was young and just getting a taste of the spotlight as he was drafted by the Blackhawks in 2007. Fans now believe Kane has matured. Lygiros said he thinks Kane has recently become more professional. The team is standing behind him once more by allowing him to be at training camp and by holding the press conference with him.
However, some say this isn't a good look for the Blackhawks. In a Sept. 20 Daily Herald article, Barry Rozener wrote, "with 4,000 fans in attendance, Kane got a huge ovation when he took the ice and another when he was credited with an assist during the Friday scrimmage."
He then went on to say we may never know what happened, but "it's a fair guess that [Kane's accuser] didn't get chills when she heard the Hawks fans stood and cheered for their superstar hockey player," Rozener wrote.
It seems Rozner isn't looking at whether Kane is innocent or guilty; he is looking at the fact that the Blackhawks aren't respecting the situation.
"It is not an easy watch for them right now. Seeing a franchise so celebrated, so stuck in a box, passively supporting Kane and showing no concern or compassion for his accuser," Rozener said of the daughters, sisters, mothers and wives within the fan base.
Though Kane jerseys weren't being sold at Notre Dame during training camp, Kennedy mentioned people are still wearing number 88 and she thinks fans would be more upset if Kane wasn't playing.
"I think fans would be upset if they released Kane right now," Kennedy said. "I think it would almost be a bad business move."
But again these fans think Kane should be allowed to practice because one is innocent until proven guilty. They add that just because he is a superstar hockey player doesn't mean he should get special treatment.
"If he's guilty, he should go to jail, he's not above anybody else," DiGiovanni said.
Too often athletes or celebrities get lax repercussions for incidents just because they are seen as above everyone else.
"I hate it when professional athletes, sports stars get away with things because they're famous," Lygiros said.
Although some are okay with Kane participating and others are losing respect for the Blackhawks, it looks like the team and Kane will continue to focus on hockey as the season and the grand jury draw closer.
The Blackhawks are slated to start their season on Oct. 7. So far, there are no indications whether Kane will or won't play in 2015-16.